As some of you might remember, I asked a while back about desktop sound systems for a work application.
I tossed many ideas around, and ended up buying a pair of Samson reslove a6's. I received them only to find one of the tweeters defective. To the distributors credit (birmingham recording) I got a replacement pair on the way in very short order.
I received my second pair, and to my dismay the same issue was immediately apparent. I tried multiple sources, multiple cables, I even took them to a musician's shop and made sure I wasn't doing anything wrong.. long story short I decided it was fate telling me that I should but the speakers I wanted all along...
So I ended up buying the Swan 200mkIII's. The spec's told me reference level response from 50hz to 20khz. I thought what about the <50hz stuff? So I bought a sub to go along with them..
Here is some Quick pics I took from my phone.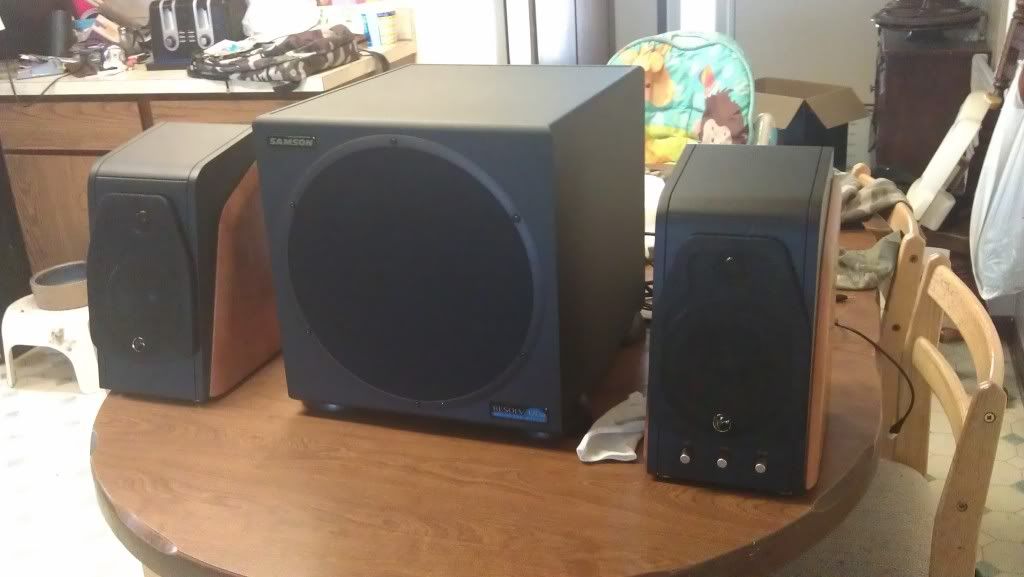 That's the pair on my table with the sub..
Here is a shot with the grilles off..
For those wondering that is a 250 watt 10" Samson long throw sub..
The combination sounds amazing, even before the recommended 80 hour break in period on the Swans..
Totally recommend these to anyone looking to enhance there computer, or iPod to sound to levels approching home stereo levels. (surpassing some htib setups by far).
Total price isn't the cheapest about 600 for everything, but for high quality sound...