I purchased a Pioneer SW-8 subwoofer from newegg at the last sale for a secondary system in my house. The sub had great reviews on newegg and was purchased at a price that mirrors the monoprice subwoofers -- which is to say unfairly cheap. Unfortunately I seem to have given the single SW-8 subwoofer a bit more of a workout than it can handle in my ~3500 cubic foot room. This is the same room used in the subwoofer shootout links in my signature. I turned off all external EQ in my Onkyo TX-NR 1007 receiver (no Audyssey, no dynamic eq, mains crossover set to 100hz, sub LFE set to 120hz) and just measured the SW-8 response in my 3500 cubic foot room using my Omnimic. The sub was placed in an optimal position to get the best frequency response from the listening position. (identical placement to the measuring position for the BIC F12, BIC V1220, and Klipsch RW-12D single subs I've previously measured). The mic placed at the main listening position. I'll link those previous measurement threads for the BIC and Klipsch subs here for easy access...

BIC sub omnimic thread -
http://www.avsforum.com/avs-vb/showthread.php?t=1391243
Klipsch sub omnimic thread -
http://www.avsforum.com/avs-vb/showthread.php?t=1390563

Distance calibration in the receiver is accurately set for all the tests I do. The frequency response graphs are taken with no smoothing but averaged over 10 captures each from my main listening position (8-10 foot away from the subwoofers). The sub placement for this measurement is on the left side of my projector screen with port facing outward toward the outside room wall. You can see this layout in my room pics linked in my sig. This configuration is the best/flattest position I've found in my room.

This sub is NOT a heavy hitter. Not that I expected it to be, but so much a lightweight that I coudn't even hit the standard 75dB level calibration test tone from my listening position that I've used without issue for every other sub I've demoed. In fact with +12 gain on the AVR sub trim (max), a y splitter in use to engage both L&R plate amp inputs, the sub's plate amp volume maxed, and the crossover at the highest point on the plate amp (basically everything maxed) I couldn't even quite hit 70dB at my listening position using the Onkyo's subwoofer AVR test tone. It was measuring at 69.x dB (and sounding a wee bit distorted on the test tone even at that level) ----
--- Not a good start. I backed it off full volume on the plate amp to about 3/4 volume (left it at +12dB on the AVR) and proceeded to grab my FR graph. Keep in mind my room offers zero low end gain even when compared to outdoors measurements -- this verified multiple times on multiple different subs in the two subwoofer meets I've hosted.

First I'll post the other budget subs I've gathered frequency responses for in my room under identical settings to compare:

Single BIC F12





Single BIC V1220





BIC V1220 pair vs. Klipsch RW-12D pair




And now time for the Pioneer SW-8 Subwoofer FR Graph - no smoothing - 10 captures averaged - 2dB spacing.
Single Pioneer SW-8





Um -- that's right. I could not get this sub beyond 85dB no matter what I did. Using the same graph settings used for the other budge subs this little guy barely registers. The AVR was at 0 (reference volume) the sub was 12dB hot, and it was getting distorted before it hit 70dB on the AVR test tone(was incapable of higher), and at about 80dB on the omnimic sine sweep. All of the subwoofers previously measured were no were near maxed at these arbitrary test levels I used for their graphs above. Those darn BIC subs can hit low 120dB in pairs at my buddies house and probably 115dB in my room. This little SW-8 sub can't break 85dB even in distortion. It's funny cause in the SW-8 thread I read one guy say he could hit 115dB in his room with this little sub according to his rat shack meter! I don't see how that is possible period - no matter how small the room, no matter how much bundary gain you were blessed with. The truth is I had a hard time getting the SW-8 above the noise floor in my room!!!! It just has so very little spl output to give in my black hole room!!!



Here is a look at the frequency response of the SW-8 when the graph is more aligned on the y axis to its spl capability - This is more of it's true ability for max spl, because this is at a point where I wasn't audibly hearing distortion in the track 2 sine sweep that the omnimic uses. The SW-8 is not very flat without EQ -- about a 10dB variance in the FR --- where other budget subs like the Klipsch RW-12D were actually flat within 4-5 DB in the exact same testing location also measured without EQ.







For what it's worth - when played at very moderate levels this subwoofer sounds good for music. I'm listening to it right now as I type this up at -40 with random dubstep/club mix off pandora with the sub running about 7dB hot and it sounds perfectly fine. The problem is it looses the ability to keep pace with the mains quickly. As I start increasing the volume, it begins to reveal its weakness. By -30 it seems to not be raising in volume parrallel to the mains, and by -20 the previously enjoyable subwoofer sound has lost its quality sound and is both bloated and unclean. So within its limits it sounds good -- but it runs out of steam in my room way too fast. I've been using the sub upstairs in the living room for the last week and while it was never loud - it sounds fine. But, even upstairs in my small living room I had trouble hitting the 75dB typical calibration setting, and my living room is pretty small as far as living rooms go --as anyone who has attended my sub meets will attest. Despite the SW-8's inability to get loud - in my living room I've been reasonably happy with the sub, as I'm not looking to do anything but fill in a bit of bass to the satellite polk RM7 speakers that I'm using for L & R channel. My wife doesn't like loud at all, and she barely puts up with this little 8 inch sub, so I guess it suits the purpose I purchased it for. It has reasonably good sound quality for typical generic use, and sounds much better than your typical home theater in box sub --- but probably isn't nearly as loud (though 'loud' with typical home theater in box subs is really just terrible sounding distortion, port noise, and driver's bottoming with any HTIB sub that I've heard)

Here's a picture of this little guy sitting atop my JTR Captivator.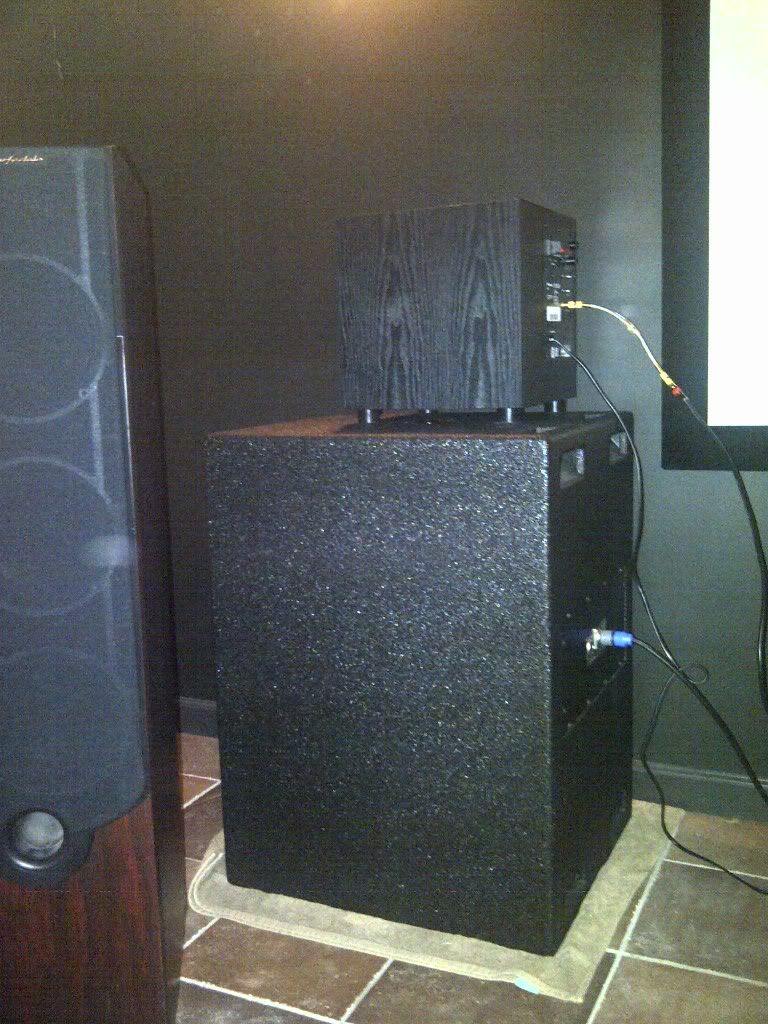 In conclusion - this sub has pretty decent sound quality for the price. It does sound accurate within its limits and will fit the bill for a VERY small entertainment room, bedroom music listening, or perhaps an oversized pair of headphones.
However, I cannot recommend this sub for any enthusiast system. It rolls off hard at 32hz and has absolutely no volume capability whatsoever. Secondary casual systems or PC based speaker setups only need apply.
Edited by Archaea - 8/20/12 at 8:15pm