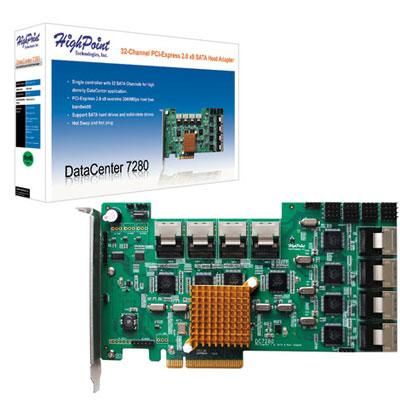 I was in search of a SATA controller with a bunch of ports for my Windows Home Server and came across the HighPoint DC7280. It has (8) SFF-8087 ports on it which each break out to 4 SATA connections, effectively giving you 32 SATA connections total. Perfect for a media server where you need a ton of storage space.
Many other RAID controllers and SATA controllers cost $500+ and don't even have that many connections. I found this HighPoint DC7280 on Ebay this morning for $170 shipped, with factory warranty. Just thought I'd let people know so you can keep an eye out if you're looking to upgrade your file server.
There aren't too many reviews on it that I could find, but some people say it works great with WHS v1 and WHS 2011. I plan on purchasing a rackmount Norco 4224 soon and sticking it in there, using WHS 2011 and StableBit Drive Pool. My current WHS v1 box has about 16.5TB of space over 14 HDDs. It hosts about 1100 Blu-ray rips and 50 TV series for my HTPC's. We'll see how it goes. Now to transition all my crap and transfer it from one server pool to another.