Hello all,
I will be finally stepping up and installing a projector in my home. Moving from my 60" Plasma to something a little larger
I will be putting this in my upstairs gameroom. It has 3 windows /w blinds so some semi light control.
I've been wanting a projector for a while but when I saw the w6000 on sale i jumped on it..I have purchased the Benq W6000 projector from frys for $999 last week. Apparently got the last one in Dallas. I will have three theatre chairs as pictured..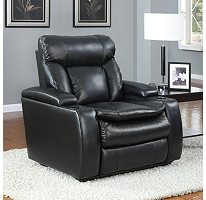 Anyways, I've been looking and doing alot of research and can't decide on what step to take first.I am looking at different screens and setups. I have read cheif ceiling mounts are very good and will probably go with that. Let me tell you about the room.
The room is approx 15ft deep and 18.5 wide. Seating can be anywhere from 11-14ft ( need at least 6" to recline theater chairs) back in the room as that will be the viewing wall. 10' ceiling. Definitely want to ceiling mount this or can put in the corner if it will allow for larger screen if necessary. Will be going on a 7.1 surround with in wall/ceiling speakers.
Im wondering if a 130 inch screen would be too large or if i should go with 110-120 instead. Will be mostly used for night watching movies on weekends, and the occasional sports event during the day/weekends.. Is there certain screens that work better in daylight? Not against painting the wall in a DIY setup and framing, will take extra as I have some wood framing already on the wall but I can make it work as well.. I think the w6000 should have enough light output for daylight viewing but want to optimize it for all around viewing.. I appreciate any advice on what you think on this setup.. I can post pics of the room soon if it helps!