I do not feel too good about this right now.
I bought a Mitsubishi WD65734 from HHgregg on Fathers Day in 2007 and purchased the 5 year ESP plan on tip of my one year factory warranty.
I have never had any problems out of this tv until March 1st when I got the dreaded green blinking timer light. Four visits later from A&E service they finally talked with Assurance and decided that .....yea its messed up and needs to be replaced.
Now I'm waiting on a phone call from the warranty company with an offer?????
Anybody ever had to deal with this before and what was the outcome?
I see that Mitsubishi is not making 65" tvs anymore and the smallest they make now is a 73". Where does Assurance get the tv from and do they try to give you a referb?
Please give me some good news on this. I have already been without the TV for a month.
This is what the repair guy did....
3/1 ....called in for repair of no picture and blinking timer light

3/8......looked at it and decided to order a new main board

3/16.....put in new main board and tv turned on then 10 seconds later turned off saying it overheated......after troubleshooting for 2 hours he ordered a temperature sensor

3/26....plugged tv in to check it and now its clicking and will not turn on at all (no blinking light) to try the heat sensor.......after 2 more hours ordered a power supply board

4/3......replaced power supply and it is blinking green again (back where we started on 3/1)......swapped main boards and still has problem.......said he would need to order the light engine with the other board (over 900).
Talked to his boss and Assurance and they decided to replace TV....now I'm waiting.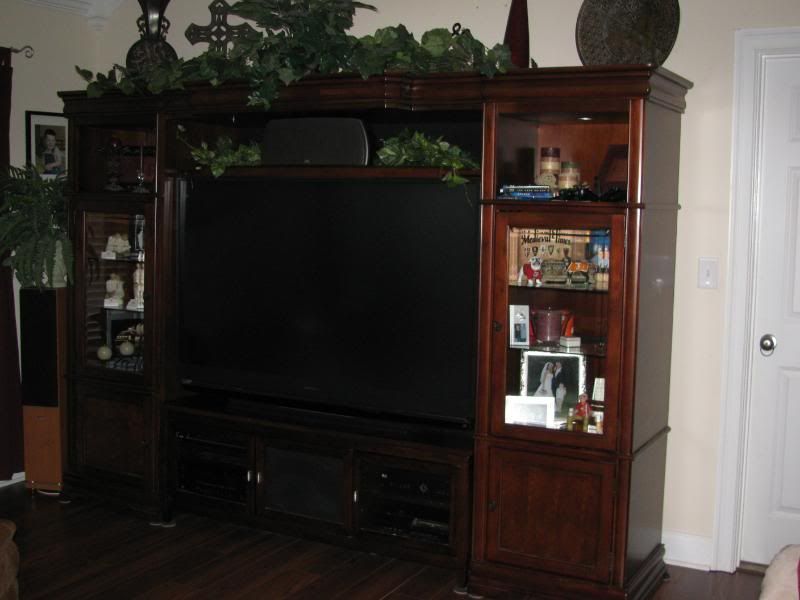 I just want a TV that will fit in this space and have a picture just as good as the one I had