Quote:
Originally Posted by
threephi
My 50" GT50, which I've had for about three weeks, has what may be a similar issue--there's a vertical band about eight inches off the left edge that is slightly brighter than the rest of the screen. The line of demarcation is fairly sharp too. At first I thought it might be due to early asymmetric pixel aging or IR, but the band does not correspond to a letterbox margin, and with now close to 300 hours on the set, the defect hasn't lessened at all while other IR has come and gone.
Here's two pictures that I hope illustrate this issue. I used a green slide because IMO it shows the band most prominently, but it is visible in all primaries and whites as well. It occurs under all inputs and viewing modes.
The first image is the original iphone snapshot (altered only by me adding the arrow, and photobucket reducing the size). I should mention again that it is only a small difference, but under the right conditions can be distracting during normal viewing. To my eye, the defect is actually a little bit more noticeable on the actual set than in this image.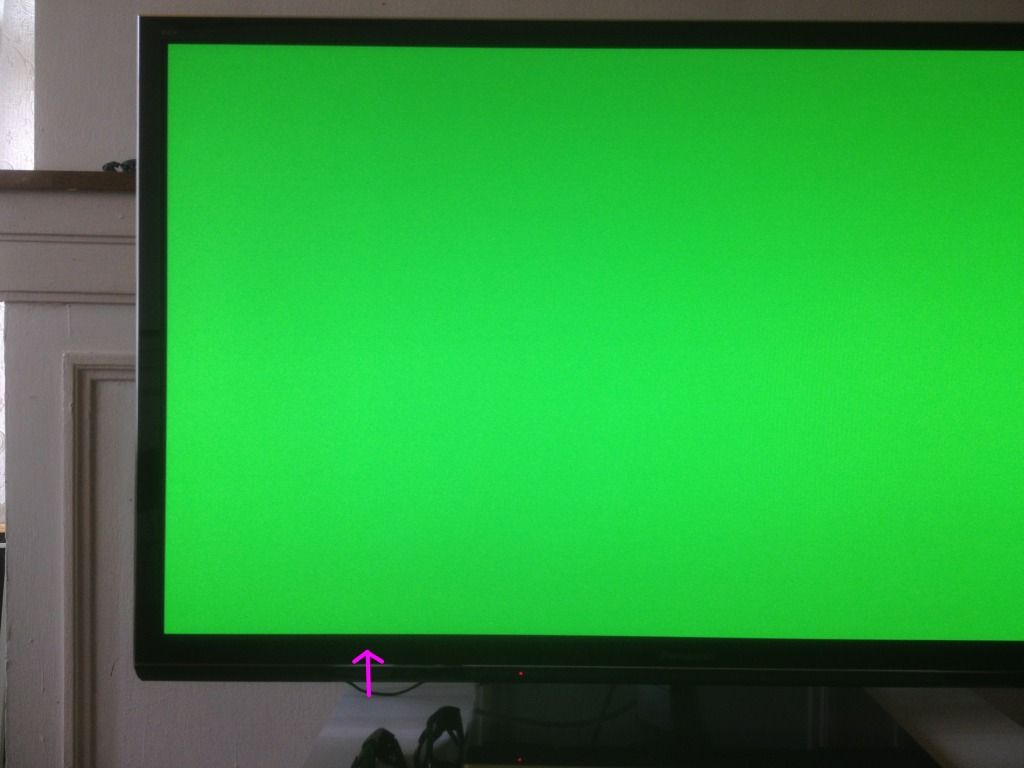 Below is the same image with the levels manipulated in GIMP to show the vertical bar more clearly. (The top-to-bottom differences seen here are caused by unrelated factors and can be disregarded. The camera was only about three feet from the screen so the overall gradation is due to the pixel grid being viewed over a range of angles. And the smaller and more localized differences are transient minor IR that I am not concerned about.)
I have been letting some time pass to see how much this little issue bothers me, but at this point it seems clear it's here to stay and I'm considering contacting Panasonic. Can anyone speak to how common this kind of issue is, and whether it is considered a defect?
The other flaw I have been struggling with is line bleed. Noone seems to discuss this much, and granted it isn't noticeable very often, but when it is, it can absolutely ruin the image IMO.
I bought this set because of the spectacular color and contrast, and those qualities do not disappoint, but I have to say, I am a bit heartbroken that the few small flaws that are there detract so significantly from my enjoyment of what is otherwise a truly excellent TV.
This set is my first experience with a plasma screen so I'm still trying to figure out how much of what I'm taking issue with is considered "normal" for the technology, and how much rises to the level of defect.
I think that is banding, which is different from what I am experiencing. Mine is only visible when the camera pans, and not otherwise of perfectly uniform stationary content. I think you definitely should have Panasonic look at that. I don't think banding of any sort or degree should be tolerated.