Hello,
I am finishing up my HT ststem, for a while, anyway. Since receiving my Outlaw EX, I needed a new subwoofer cable. The obvious choice was to buy two new cables, one for the new EX and one for the not as new Plus.
For the Plus, I had been using a ten year old, 16' Monster Cable THX SUB cable. It sounded great, never had any problems.
For the EX, I was using one of the smallest (diameter) RCA cables I could find; hey, it's what I had.
However, to move the two subs to the sides or one to the front, I need a little more than 16'. I also wasn't happy with the piddly little RCA I had come up with for the EX.
I kept coming back to two options: Tartan Cable (by Blue Jeans Cable) and Tech Tent (Who I don't see as a sponsor, anymore).
In the end, I decided I would rather have extra cable versus too little. TT only had sub cables to 20' for $4.26ea, TC had 25' for $6.00ea. Both use RG59.
I also needed a 15' HDMI cable, for my laptop. I preferred the idea of the flat one from TT for $5.90 versus the TC 15' 28 AWG for $5.40; becasue it is going under the rug between the display and listening positions (high traffic area).
Wanting to get the TT HDMI with the TC sub cables would cost $35.60. To buy them all from TT would cost $21.17. To buy them all from TC would cost $28.35.
I decided I needed the extra five feet, per sub cable more than I needed a flat cable and I would save a few dollars instead of getting the flat one I really preferred (damn shipping).
The HDMI cable has two burrs on it, under the cover, one much more noticable than the other; not a deal breaker, especially, at this price point. We'll see how the cable holds up with regular traffic and a two and four year old who regularly play on the rug the cable is under. The ends of the cable, the plugs, are very secure and I have no concern about their durability. Transfer of data is as expected, flawless. This was compared with a Belkin, a Sony, and a no name HMDI cable that came with an old display. No reason to pay more for the "name brands", in my experience. Even if the cable needs replaced due to being walked on, alot, the cost-beneift ratio is still favorable (I will probably opt for a flat one, if that's all I need next time).
Here's a pic of the larger burr (it's really not that large):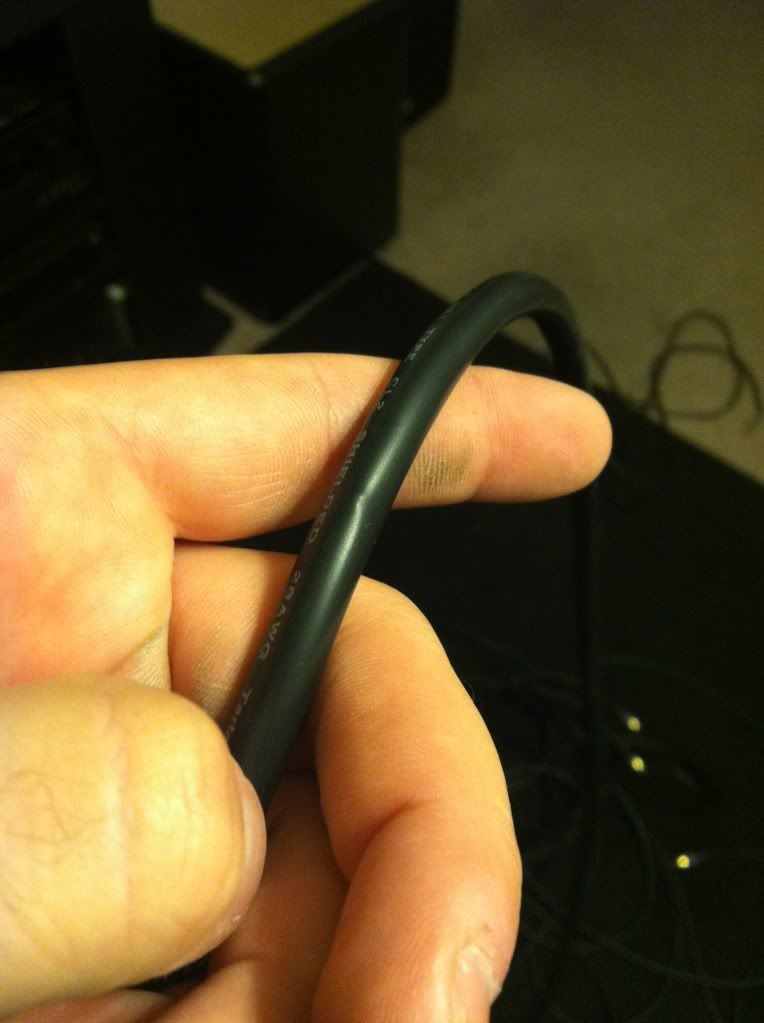 The sub cables appear very well made. The gunmetal grey connectors are great looking and look nicer than their price point would allude to. The purple rubber/plastic is the only cheap looking part. It is so small it really doesn't detract enough to matter. I did find one, out of four, that needed to be tightened. After screwing it tighter, no probelms. All termination points (inside the gunmetal grey connectors) are very secure. The RCA ends are very tight on the sub and back of the AVR, much tighter than necessary, but not too tight to get everything connected. My only complaint of the TC sub cables is one is a little over an inch longer than the other. I did not measure them to see how close to 25' they are, got too excited to get them plugged in!
Here's a (poor quality) pic of the difference in length: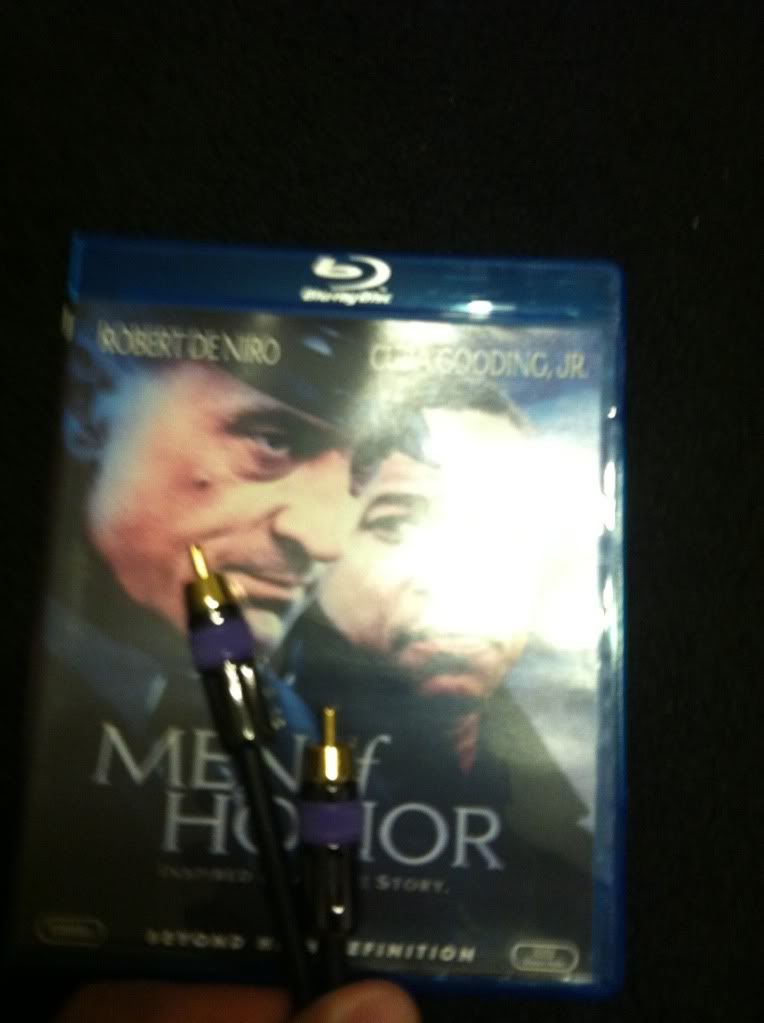 In the end, the TC sub cable sounds noticably better then the skinny RCA I found in my extras box and the same clarity as the Monster Cable THX SUB cable (did find a bent post on one end).
I ordered them at 4:22 PM on 04/03/2012 and receiverd them today, 04/10/2012.
At this point, I am happy with my purchase. Even with the burrs and the different lengths, I would still purchase these products, at this price point. The subs will be moved around to try different placement options, in the near future. I will update this if anything relevant is observed.
For the record, my setup consists of:
Samsung PN51D7000 (2011 model) Plasma display w/ two pairs 3D glasses
Onkyo TX-SR608 (bought in Feb 2011) AVR, everything goes into (A&V)
Sony PS3 (bought Feb 2011; used for music and occassional games)
Samsung BD-D5500 (2011 model, came with display; used for movies)
DISH Network ViP722K DVR
JBL S312ii Fronts
JBL S-Center
JBL HLS 810 surrounds
JBL HLS 610 rear surrounds
Outlaw LFM-Plus
Outlaw LFM-EX
Belkin HDMI from AVR to Display
Belkin HDMI from BD player to AVR
DISH Network supplied HDMI from DISH DVR to AVR
Sony HDMI from PS3 to AVR
This is posted here and in the subwoofer sub-forum.