Hello, long time lurker here starting a home theater project. I'm on a budget, I'm currently selling off my vintage video game collection and turning it into a home theater. I have everything picked out (already bought front floor standing speakers and reciever) except the subwoofer. We're coming from a htib setup, so the 2 speakers are already better. We had the polk audio psw10, but we sold it because it just wasn't enough on the low end.
I can't measure exactly right now because the tape is in my gf's car, but the room is roughly 20x20x10ft. The budget is about $250 for the sub, ouch. Here is what I have picked out so far:
Unfortunately it won't let me post links because I am a new member, so I will have to post model numbers for you to look up, sorry
$200 until the 18th on newegg
psw505
and this is out of my range, but would be nice
Dayton Audio C1500K 15" Powered Subwoofer Kit
I'm not too sure about the polk audio. But I do have an alternative and that's why a came here to the diy section. I happened to have these sitting in my basement for last 4 years, here's the pics and specs:
Sony XS-L1236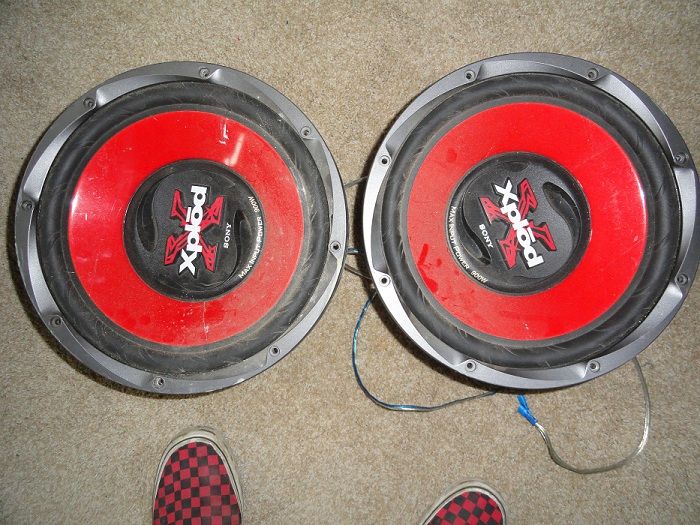 Audiobahn AW121T
infinity 1252W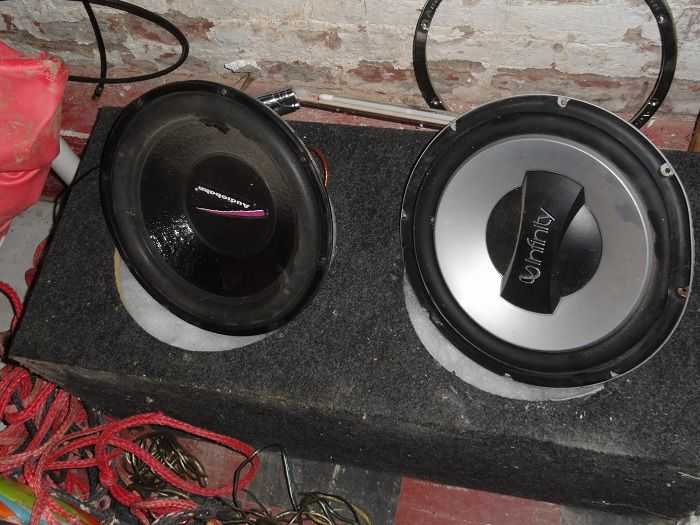 What I would like to know is if say, I could build a box for the 2 cheap-o xplods and purchase an amp that can power them both, and have better results than the two retail choices that I'm looking at. Time and work is not a factor, I'm always doing some pointless tinkering with my spare time. I know making 2 separate boxes for 2 of my subs would be ideal, but I figured it would be cheaper to drive them both with one decent amp in an upright standing ported box. Just gotta come up with some kind of fabric grill to cover the horrid looking things.
edit: They are 4ohm's, so if I have to run them in series, no big deal.
I've been reading a lot, and you guys get a lot of questions about car subs in home theater, but I don't know what to think since I already have the subs, so this really brings down the price with my low budget. And if I do go this route and don't like the sound of these old cheap subs, I can always just buy some real ones down the road and toss these things (although if I were to buy real ones I would prefer 15", so I may make the box a little wider if I can just in case).
Thanks in advance for your input!