Edit: Title change since I finished reviewing these, you can click
here
to read it, hope you enjoy.
Per Joe Daileda (VP of Sales and Marketing) MEElectronics will be releasing a new balanced armature IEM mid to late May 2012. The A161P will be replacing the CC51 (dynamic driver IEM) as their new flagship IEM becoming the A151's heir. As far as I have heard there will not be a new dynamic driver replacement for the CC51 but for now the A151 will not be discontinued.
In my opinion balanced armatures seem to be faster, more accurate, more detailed, with better clarity and to my ears they separate instruments very well (adding to the soundstage). While on the other hand dynamic drivers give me the feeling of little speakers; you feel the movement of air, the vibration of the bass and low frequencies. Honestly I can't say they're any less clear and they add a fun factor, they're hard to beat in many cases. I guess each of us can find great examples of how great either technology is and both can have advantages and drawbacks.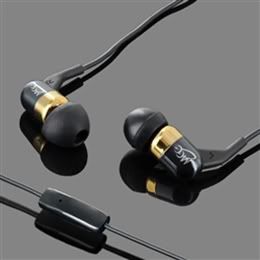 The A161P will be a single full-range armature IEM similar to their A151 which I reviewed
here
. Although it will be housed with a different armature driver than the SR series from
Knowles
, currently used in the A151. And will not have the nice twisted cable that the A151 uses as it did not work with the stress relief on their newly designed housing. Even though it is still supposed to be easy to wear over the ear or straight down depending on your preference. The new IEM is supposed to have an inline mic/remote but I have not heard back from Joe if there will be a model without one. I don't know what you're thinking, but I think this new IEM looks very nice and I'm excited to test and see the finished product.
When asked in facebook
How will it sound compared to the A151
? The response was
We think the treble is smoother than it would have been with a Knowles TWFK armature and hope the bass roll-off is lower as well
and
Better bass & treble extension, better overall balance, clearer and more resolving. A151 fans will still like it but it should appeal to a broader range of listeners. It is not v-shaped or bright/treble-heavy
. I find one point in that response strange as I do not find the A151s to have a v-shaped sound signature but it's possible it was just a statement and not a direct comparison. All I can say for now is lets wait and hear how they sound.
Per MEE: Full specs will be released closer to the pre-sale date, but they did post a response graph on their site and I provided it below:
I should be hearing back from him soon to find out if the plug will be a TRS or TRRS, right angled or not and a few other questions. But for now you know as much as I and when I find out more I'll update this post.
*Information for this post is from an email from Mr. Joe Daileda, MEElectronics facbook posts here and MEElectronics website here.

Edit: Joe just replied to my email, below please find my questions & his responses:
Will the male jack be right angled or straight? -

45 degree plug

I understand the A161P will have an inline mic and volume control, does this mean you will be using a TRRS plug VS a TRS? - Yes, the plug is a TRRS and will be Apple compatible. We will also be including a TRRS adapter for compatibility with a much wider range of phones. You can see here for our compatibility and here for the adapter compatibility. We will also include a computer/Skype adapter.
Will there be another A161P without the inline mic and volume control? -

This unit does not have inline volume increasing compatibility. We will not have a version without the mic/remote, but the mic used is different than our previous mics.

Will the armature be another Knowles armature? -

Knowles

Which specific armature? -

I am not at liberty to discuss the specifics of the driver.

What are the armature specifications? -

I am not at liberty to discuss the specifics of the driver.

Is the housing proprietary? -

no

Any other information that you can provide will be helpful -

We originally had this product at the 2011 CES but delayed it until this year with subtle changes

.
.