Good day to you gentlemen. I have an interesting appeal for help today as I'm trying to find the perfect receiver for a PC situation. I'm going to be blunt. My budget is tight, I'm a highschool student looking for a the best option. The receiver will be bought and paid for via my own hard work, something I've come to be rather proud of in other cases. The utmost price I think I can budget is about $400 but that's really, really stretching it. The ideal solution should have a $200 price tag.
My main objective is to find an A/V receiver with analog multi channel input for use with the HT Omega Claro Halo XT located here:
http://www.htomega.com/clarohalo_xt.html
Specifically the XT expansion for 7.1 channel sound -
(the connections on this are all mono-RCA)
The ideal receiver would have this for connection with the sound card: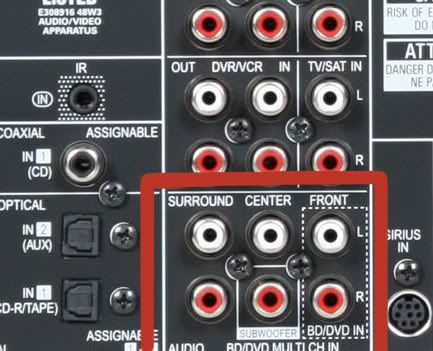 Gold plated connections are always a plus because, rather unfortunately, as a pianist I am a horrible audiophile. I plan to use the regular RCA output on the Halo Claro for new headphones I'm planning to purchase as well. I will probably end up using them with Xbox too so they will be run through the receiver as well. Gold RCA input on the receiver would be nice for this as well. Again, I take my audio very seriously. I suppose there is also the possibility I will output S/PDIF from my Xbox and run it through the soundcard to the receiver as well. I remain undecided on that. I may switch HDMI from the PC and XBox through the receiver but I do not believe my graphics card can run audio so I have ruled the audio part of HDMI out.
The frustrating part is I can't find a receiver with the analog 7.1 on mono-RCA for the XT part of my soundcard at any beginner price. I know of several that have it but they are 7.2 or more channel receivers.
Any help is appreciated. I've thought about digital/optical for surround, I'd prefer the analog if I can. If I think of anything else I'll add on below. Cheers.