Ok I guess I am ready to show off what I have so far. This is not a finish product, but what Home Theater is a finish product??? Here are my specs:

Room Dimenision 21'9"Length 11'10" Width 8' Height
 
UPDATE 8 July 2012

TV - Sharp Aquos/Quattron LC-40LE810UN
- I ordered the Sharp Aquos/Quattron LC-60C8470U from Costco got a great deal and two 3D glass are included as well. I order two more pair on Amazon for 45 bucks each as well. Hopefully with in the next 10-15 days I will see my new TV on my media center
.

A/V Receiver - Onkyo 709
- New Onkyo 5010 is schedule to come out soon, would like to get it but looking at the specs it might be too big for the media center
, which would suck height and depth wise. Plus while the it would be nice to get my hands on this will it be worthwhile to get it or hold out since the 709 is holding its own.  
Blu-Ray Player - Oppo BDP-93
- PS3 is now retired as the sole Blu-Ray player and this Oppo is one heck of a machine. I already notice a huge improvement in the audio section and can't wait to test out the 3D capabilities on this as well.
Cable Box - Scientific Atlanta Explorer 8642HDC
- Didn't have much choice in this as my cable provider Ocenic Time Warner gave me this, so far no major complaints.

Media Player - Patriot Box Office Core
- While its not the end all of all media players I got a great deal on it and plays 95% of the things I throw at it. I hope they do some more firmware updates on this thing as it has a lot of promise.

Power Line Conditioner/Surge Protection - Monster Power HTS 3600 MKII
- I know a lot of people feel different about the Line Conditioner but I found a great deal on Amazon on it and it serves its pupose if an oversize surge protector.

Gaming Console - PS3 (Fatty 40GB)
- Now that this is strictly for gaming I guess I should buy some new games lol. I don't play much games on here but I guess I could finally finish up Grand Theft Auto IV and order the new Madden.
Speakers:

I currently have a 5.2 setup and eventually I am going to go 7.2. I would love to go 9.2 once I get my hands on an Onkyo 5010 receiver. I am still in the air about what rear surround backs I am going to use. I have been checking out the Mythos Gem XL's and I am pretty much about to pull the trigger on these. I am just not sure where I am going to mount or place them in my setup. My goal is to do 9.2 with front wides. to do this I will need to get a pair of Definitive Technoligy Mythos ST's speakers which are not cheap lol.

Current Speaker setup:
Fronts Left and Rights - Definitive Technology Mythos One
Center - Definitive Technology Mythos Eight
Surrounds - Definitive Technology Mythos Five
Subwoofers - BIC PL-200 dual setup

Cable Management is pretty much down just waiting on the new TV to finish up and I will more pics.

Pic's
Full shot of living/family room



Full Component Shot



Offset Shot of Components and Speakers with no grilles and Patriot Media on-screen



Mythos One standing tall no grille next to Blu-Ray Collection before I hooked it up to main system.



Patriot Box Office Core Media Player



Netgear Wireless Router and Switch



Poor Mans wire management system lol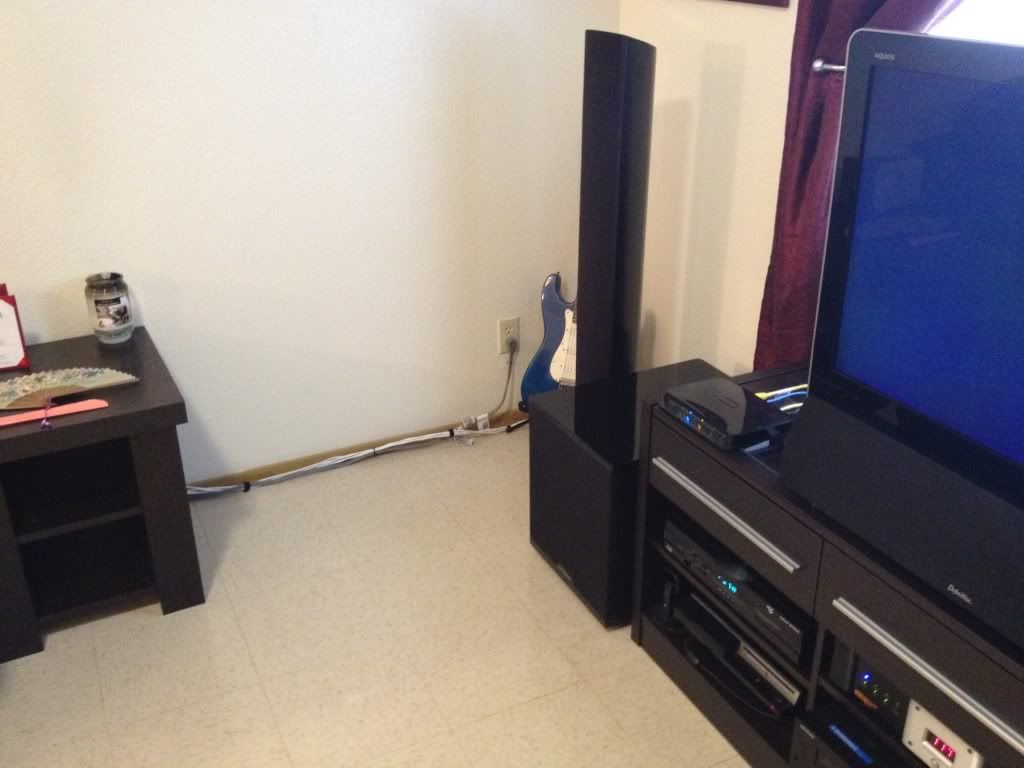 Mythos Five rear left



Mythos Five rear right



Mythos One Right next to BIC PL-200 Sub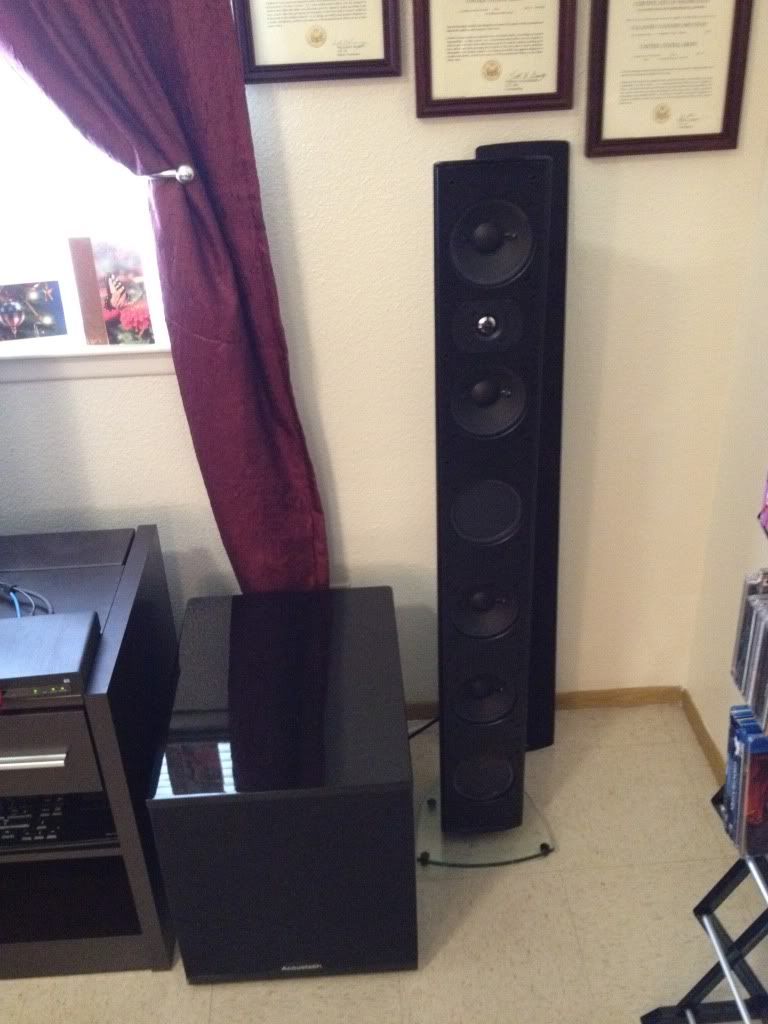 Mythos One Left next to BIC PL-200 Sub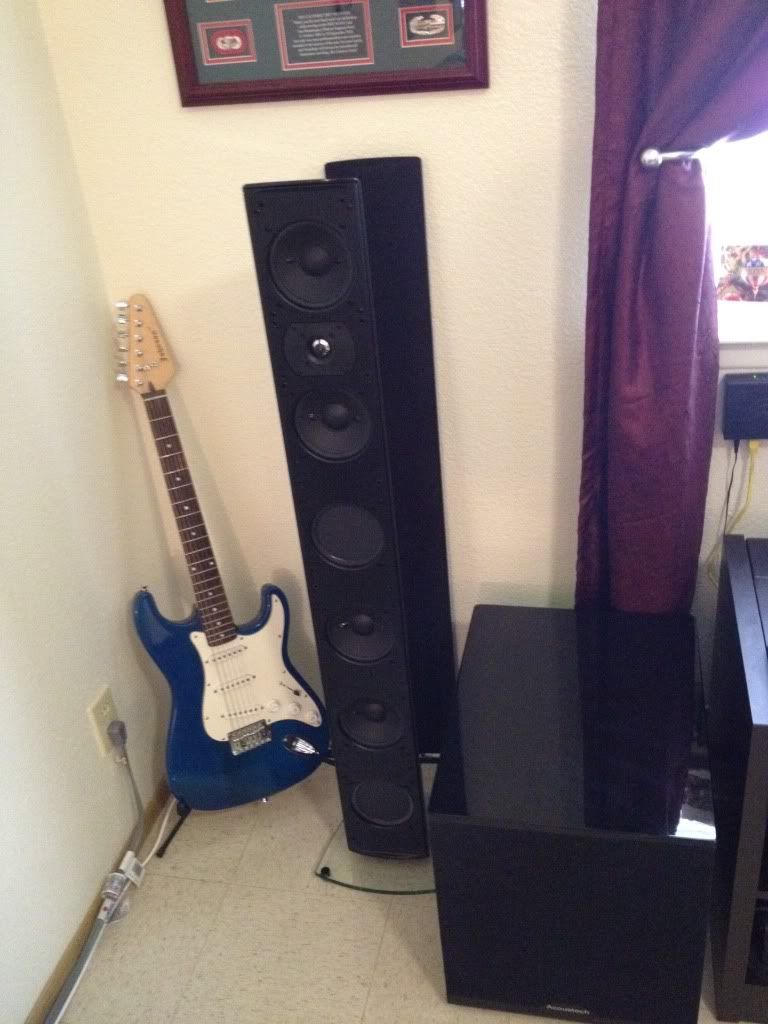 Edited by skiman24 - 7/8/12 at 4:51pm