4 years ago we finished our basement, but set aside a 12' 4" wide by 20' 8" long space to be finished as a home theater "at a later date". This space was chosen because it was the largest unencumbered space without significant ceiling height impediments (i.e., duct, beams, etc.).
Well, now it's "a later date". Although I'm very intrigued by all the DIY efforts on this forum, I have neither the time nor the skill to pull it off. So, after interviewing several A/V designers/installers in the Connecticut area, I contracted with Dean Smith at Design Installations.
I wanted the job done by professionals, but since I'm a bit of an enthusiast, it was important for me to find someone that would allow me to be fairly involved in the whole process and who was willing to listen to my input. Dean will be managing the project and will be fully responsible for all the gear, but will be working with AcousticSmart Home Theater Interiors for the design and construction of the room, acoustic treatments, and seating.
No work has actually been started yet, but we're moving along in the planning process, so I thought I'd start posting here in case anyone's interested and hopefully to get some tips and suggestions along the way.
Although technically this room will be a "dedicated home theater", I'm planning to get a lot of use out of it for general TV watching as well. Usage will probably be weighted more towards TV than movies. Also, I don't plan on going too crazy with soundproofing as it's not really a priority.
The Basement:
Here's the floor-plan of my basement, which is all fully finished with the exception of the future home theater:
Gear:
(all equipment not yet purchased/owned except as noted)
Projector - Runco LS-12d
Screen - 120" 16:9 Stewart Luxus Deluxe Firehawk G3 Microperf acoustically transparent screen
LCR speakers - Triad Inwall Gold/6 LCR
Side and rear surrounds speakers - Triad Inwall Silver/4 Surrounds
Receiver - Denon AVR-4311CI (or possibly AVR-4520CI if it's out in time)
Amp for LCRs (surrounds powered by receiver) - Emotiva XPA-3
Subwoofers (2) - JBL Synthesis S4s in-wall subwoofers
Sub-woofer amps (2) - Triad RackAmp 600
Remote - Universal Remote MX-980 with MRF-350 RF base station
Rack - Strong 32-U rack with casters
Power conditioner - Panamax 5300
Blu-ray player - Oppo BDP-93
Other sources I already own - Roku 2 XS, AppleTV Gen3, Motorola DVR, Dune HD Smart H1 media player
Seats (9) - motorized recliners by AcousticSmart (probably their Metropolitan or Murano line)
Front row: 2 loveseats |xx|xx|
Back row: loveseat-single-loveseat |xx|x|xx|
The Plan:
The layout so far (still subject to change) will have the screen located on the wall closest to the entrance door. All speakers will be in-walls with the LCRs about 6" behind the AT screen and the two subs built-in to the screen wall below the screen (lying on their sides). The projector will be housed outside the room in a utility area, so there will be no projector or speakers encroaching on the already small space. I will try to post more specific plans once I check with AcousticSmart to see what it's okay to post.
Here's an initial rendering of the concept: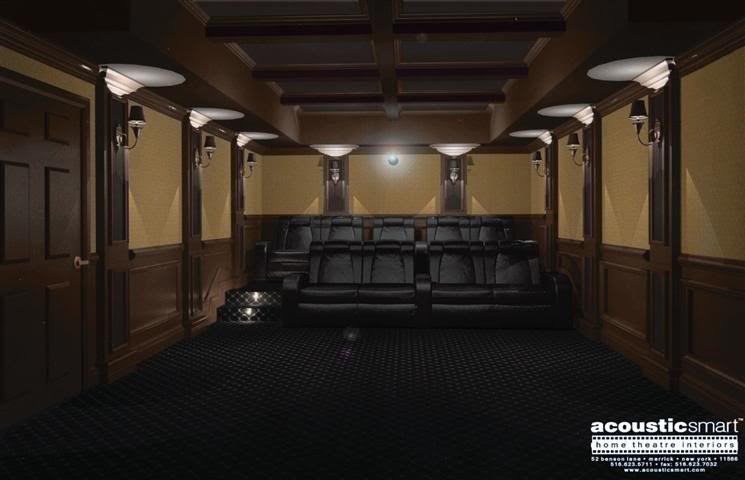 I know the seating is a little cramped and probably a compromise acoustically, but I want to be able to share the fun of this room with as many people as possible.