I didn't say that something is "going on" with small area patterns, only that they may not be the best choice for this particular problem. The effect itself is present for any shape/size of pattern, it's inherent in the display. The question is how best to optimize the calibration given this behavior.
The easiest way to see what's going on is this plot. This plot shows you that independent of the various pattern sizes used to do this measurement the shape of gamma vs. APL very consistently shows that it's lower at low APL than it is at mid-APL.
Each of the curves below was measured after calibrating the display to a flat 2.3 gamma using the pattern type shown in the legend. So if you look at the red curve (15% windowed) it tells you that even though you
think
you've got a nice flat 2.3 gamma you don't. Your actual display performance will vary from a gamma of 2.22 at APL=5% up to 2.33 at APL=40%. We
cannot
change the shape of this curve, that's how the display drive works, all we can do is move it up and down. So we can argue where that ought to be but the effect is real and measurable.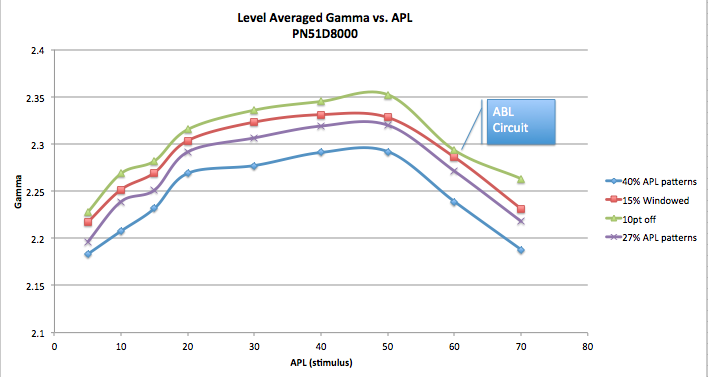 Quote:
Originally Posted by
Chronoptimist
While they average out at 20 APL, the range is far greater, and
most
scenes were either below 15% APL (often in the 5–10% range) or above 30% APL. There were very few in the 20–30 range.
I have yet to see any compelling argument made for going against the display's native response—how it was
designed
to operate—and intentionally calibrating it in a power-limited state. While it's obviously a very limited selection, this seems to be the case with most content I watch, and if you play games at all, APL is considerably higher than 25%.
Thanks for that data, it's very interesting but limited sample. I agree that more data here would be nice to define a typical APL. Maybe someone has done this in more detail already but you would need a histogram of a variety of different films to do a good job. If it has a peak then that is where you want to calibrate gamma if your display has APL dependent gamma. I am not suggesting we calibrate in a "power limited" state, I'm suggesting we calibrate in an operating mode that avoids both ABL (like we do now)
and
low APL luminance manipulation.
The latter effect is not an engineering limitation of the display (as Tom has shown, pioneers don't do it) but rather a choice by the manufacturer to achieve some unknown picture advantage but only succeeds in skewing our gamma measurements.
[edit: subsequent measurements by Tom show that his pioneer does exhibit the behavior at certain stimulus levels]
Regarding games you are correct, but I would gladly sacrifice some accuracy there in favor of a film-based APL. By using small windows you have already made a choice to calibrate the display under very low APL conditions, why? This is not the typical operating APL of the device. It works fine for displays that don't muck with low level APL but for others it will give you a gamma reading that only applies at that very low APL.
Edited by zoyd - 6/20/12 at 3:17pm