Hi Guys, I thought it appropriate to make a new thread rather than continue to clutter the biwiring thread with the off-topic comments that were coming in. The original questions on the biwiring thread can be found here:
Page 5:
http://www.avsforum.com/t/1221438/speaker-cables-and-jumpers-vs-bi-wiring/120
Page 6:
http://www.avsforum.com/t/1221438/speaker-cables-and-jumpers-vs-bi-wiring/150
Page 7:
http://www.avsforum.com/t/1221438/speaker-cables-and-jumpers-vs-bi-wiring/180
Page 8:
http://www.avsforum.com/t/1221438/speaker-cables-and-jumpers-vs-bi-wiring/210
Quote:
Originally Posted by
AJinFLA
Rutgar, hope you don't consider this photo childish, but here is where Raife is sitting, "hearing" differences in soundstaging after he gets up and goes and changes a "low noise" "directional AC(!!!) fuse" or some other placebo widget, sits back down a minute, hour(?) later, somehow without his 2 ears changing exact position relative to his speakers in a reflection rich environment...and starts diagramming "changes" in the soundstage (amongst other symptoms).
Oh and there is mention of a using a "level meter" and how "blindfolds" (as opposed to "blinding") are restrictive and disruptive to such tests.
This is fantastic stuff!
In all honesty, you can't make stuff up this good.
cheers,
AJ
Quote:
Originally Posted by
AJinFLA
I'm not bashing the system or listening room (although the dual side by side MTM centers is, shall we say, "unusual"....but irrelevant for stereo illusions). It's the Descriptive Evaluation Methodology for Consumer Audio Equipment methods within that environment, that has the alarm bells ringing.
Ammar, the picture you posted was not childish, but it was not a picture of my two channel stereo system. It was a picture of my home theater system. Regarding the dual MTM centers, a single center speaker did not provide adequate "presence" and balance due to the large front speakers. With dual centers, I get a more cohesive front stage with heavier center fill and more dialog detail. It is a fine sounding room, although for home theater, I am not as concerned with fine details as I am with my two channel stereo system. For the HT system, my main goals were a large cohesive front stage with clear dialog and strong, articulate low frequency effects.
In addition to listening, I also frequently take before and after room response measurements and input/output time domain and noise spectrum measurements with an oscilloscope.
My two channel listening room is shown below. My seating position is 3.5 feet back from the rear edge of the glass coffee table: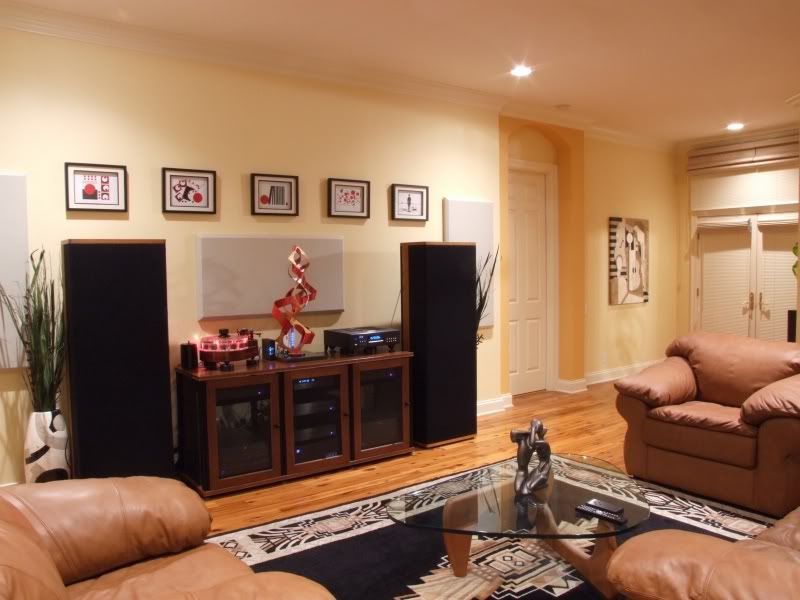 Two Channel Listening Room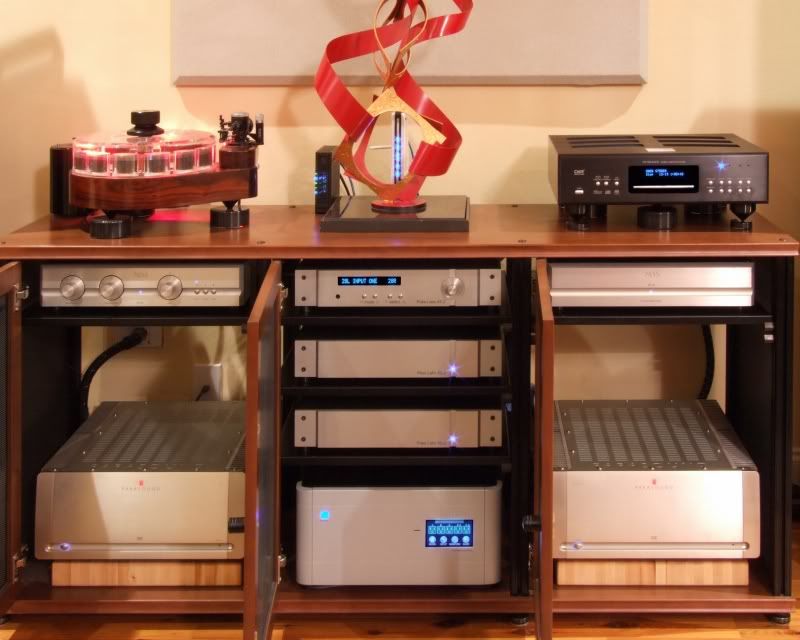 Two Channel System Electronics And Source Components
While we are on the subject of listening rooms, I found a picture of your listening room that you posted on 6/30/12:
Ammar, I am curious as to what your stereo sound stage is like (dimensions, focus, clarity) with all the other speakers, unfinished speaker cabinets and cabinet panels, adjacent speakers, and ceramic tile floor. I assume you have some type of room treatments, but I cannot tell from the tightly cropped photo.
I certainly would consider the Cary combo to be squarely in high-end territory. I have a Cary CD 306 Pro Version SACD/CD player and had a Cary CD 306 SACD/CD player before that. You made an excellent selection in electronics.
Thanks for the clarification. I assume your sales volume has increased substantially since you attended last year's Capital Audiofest? The reason I ask is that one of last year's attendees mentioned to me that you said you were building your speakers at your house on weekends. The picture of your listening room seems to indicate recent speaker building activity at your home.
Audio shows seem to always come up at inconvenient times for me. I was planning to attend Capital Audiofest this year, but a business commitment cancelled those plans. Perhaps next year.