Link to the results thread.
OK - It's about time we got serious about replanning this event. This is a continuation of the original thread posted late last year. Since I'm redoing my basement setup, I'll volunteer to host this time. The details
Date:
now set to Saturday, October 20th. Start time 9:30 AM. End time? When we're done.
Location:
My place in Thornton, PA. Further details to follow as the date approaches. I'm in a relatively convenient location from I-95, 295, 495, Route 1, etc. To give some perspective, I'm 25 minutes Southwest of the Philadelphia airport, an hour and a half from Baltimore, 2 hours from NYC, and 2.5 hours from DC.
Food:
Update: I'll ask for a nominal $10.00 donationfor any member attending to cover lunch and snacks for the day. Anything over this I will cover.
BYO for the beverages of your choice.
I will have a few cases of beer handy as well as well as most mixed drink stuff at the bar.
Stuff for sale:
I know I ALWAYS have some equipment I need to sell, so if any others are in the same category, feel free to bring it. Swap meets are fun.
Room:
The viewing/listening area is 13x22x8 (open) in my basement. Just behind this area is the bar area which is another 19x22x8 so we should have ample room for a good crew. The floors are concrete of course and there is a drop ceiling. Just an FYI it is NOT a dedicated theater but it should serve quite well for some informal listening sessions.
More info:
http://www.avsforum.com/t/1428456/gorilla83s-humble-basement-hangout
In addition, if there is interest, I could set up a music only setup upstairs. The room is a bit larger, but would probably serve nicely for this purpose.
Additional:
It is not mandatory that you bring any equipment with you. I will however ask that you share your thoughts/opinions with the online community after the event so that all can benefit.
Equipment:
Receiver/processor: Denon 4311ci
Testing equipment: Laptop/omnimic
Current main speaker inventory
CHT SHO-10
Definitive Technology BP30
Definitive Technology BP7002
Definitive Technology BP2002
Magnepan MMG
Current amps
Acurus 200x3
EP4000 (fan modded)
Crown XLS5000
Projector: Epson 8700UB
Screen: Jamestown Custom 120" Matte White
Electric: 2 x 20A dedicated circuits, 1X20A shared circuit.
Details of testing:
Movie/Music clips to follow. Looking at 30-40 minutes of listening time for each sub as well as 15-20 minutes of setup.
Per Ironmike's suggestion, we will probably be doing some basic sweeps of each sub at the LP prior to the demo session.
EDIT: As of 9/10/12 we are at capacity for the event. As members confirm/unconfirm we may free up some space.
Should be a blast and look forward to meeting alot of you guys.
Confirmed attendees - List is CLOSED for now:
1) Gorilla83 (Andrew) - Passive JTR Captivators powered by a Crown XLS5000
2) Spyboy - Arthur, Montgomery county, PA, SVS 20-39 PCi CONFIRMED
3) ironhead1230 (Mike) - Seaton submersive hp, Seaton submersive F2, 120 minute IPA! CONFIRMED
4) Bone215 - Beer/food CONFIRMED
5) Mark Seaton from Seaton Sound - Catalyst 8C x 3, Submersive HP CONFIRMED
6) pennynike1 ?
7) Reefdvr27 - Dual PSA XV15's, CONFIRMED
8) MIkeDuke - CONFIRMED
9) raehza ? - Hsu VTF15H
10) Archaea CONFIRMED
11) jclif77 ?
12) realjetavenger - Rythmik E15, plus guest. CONFIRMED
13) Pianist718 ?
14) popalock - VA, LMS5400, FP14000Q clone amp, Definitive Supercube, iNuke6000? CONFIRMED
15) rush2049 - Hsu ULS-15, KRK powered monitors, test/demo CD for audio- Ben CONFIRMED
16) JimWilson - Jim, NW New Jersey, Warren County area PSA XS-15, Case of magic hat, water CONFIRMED
17) mmiles? Tannoy Sub15
18) Ryansboston? Arx A5 towers. PS3 and SACDsCONFIRMED
19) Mac.Concierge - Joe, Staten Island - Music/Bluray collection CONFIRMED
20) dstew100- David, Virginia Beach. Fv15hp, pulled pork CONFIRMED
21) Sibuna - Western NY, music clips CONFIRMED
22) rx-8 - Bill, Toronto, plus guest, CONFIRMED
23) shifler123 - John from Wilmington, DE, Dual custom MFW-15s CONFIRMED
24) Jeff P from JTR - Noesis speakers CONFIRMED
UPDATE -
t looks like we have 9-10 different CONFIRMED sub setups. Since we already have a heck of a lineup and one of my amps went bad,I'm going to pull my empires out of the main demo area and leave them upstairs. They will be available for demo'ing though with the main speaker setups though if you want to listen.
JTR Captivator Passive Pair / Crown XLS5000
Seaton submersive hp / Seaton submersive F2
2x LMS5400 / LG clone and/or iNuke6000 amp
Dual PSA XV15's
DIY Dayton 15's
Rythmik Fv15hp
Rythmik E15
Definitive Supercube Reference
Hsu ULS-15
PSA XS-15
SVS 20-39 PCi
Possibles -
raehza - Hsu VTF15H - haven't heard from him yet as far as a confirmation
In the interest of time, we will likely have to audition some of the speaker setups in parallel with the subwoofers. I have a feeling some will need a break from listening to those sub clips so many times anyway.
Main speaker setup
Seaton Catylst 8C main stage (LCR) / Definitive BPX surrounds
Upstairs - paired with my Epik Empire / Yamaha Receiver / Acurus A200x3 amp
KRK powered monitors
Arx A5 towers
JTR Noesis
Here is the living room area: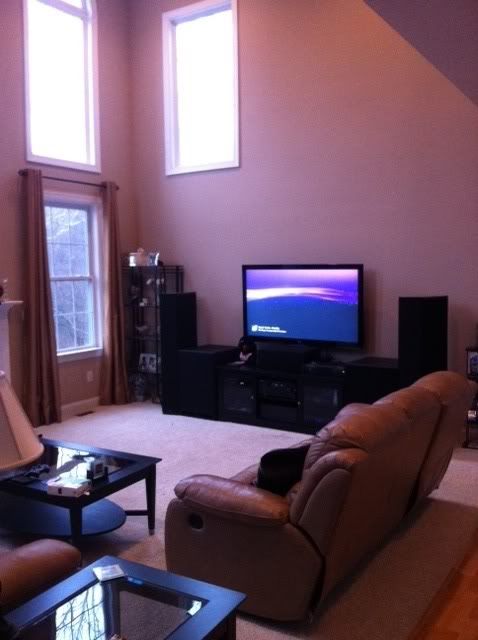 Thanks guys,
Andrew
aschutsky@verizon.net
Edited by Gorilla83 - 10/21/12 at 12:53pm