Quote:
Originally Posted by
Gorilla83
OK - It looks like we have 9-10 different CONFIRMED sub setups. Since we already have a heck of a lineup and one of my amps went bad,I'm going to pull my empires out of the main demo area and leave them upstairs. They will be available for demo'ing though with the main speaker setups though if you want to listen.
JTR Captivator Passive Pair / Crown XLS5000
Seaton submersive hp / Seaton submersive F2
2x LMS5400 / LG clone and/or iNuke6000 amp
Dual PSA XV15's
Rythmik Fv15hp
Rythmik E15
Definitive Supercube Reference
Hsu ULS-15
PSA XS-15
SVS 20-32Pci
Possibles -
Outlaw EX - not sure if reefdvr wants to bring this to audition/possible sale the group. I know space is going to be a problem in the car with dual XV15s in there already.
Dual custom MFW-15s - need to confirm with shifler123 that he is bringing these
raehza - Hsu VTF15H - haven't heard from him yet as far as a confirmation
In the interest of time, we will likely have to audition some of the speaker setups in parallel with the subwoofers. I have a feeling some will need a break from listening to those sub clips so many times anyway.
Main speaker setup
Seaton Catylst 8C main stage (LCR) / Definitive BPX surrounds
Upstairs - paired with my Epik Empire / Yamaha Receiver / Acurus A200x3 amp
KRK powered monitors
Arx A5 towers
I also have my stuff available if anyone would like to listen including Various Definitive Towers - BP30, BP2002, BP7002, Magnepan MMG, as well as the CHT SHO-10s
Here is the living room area: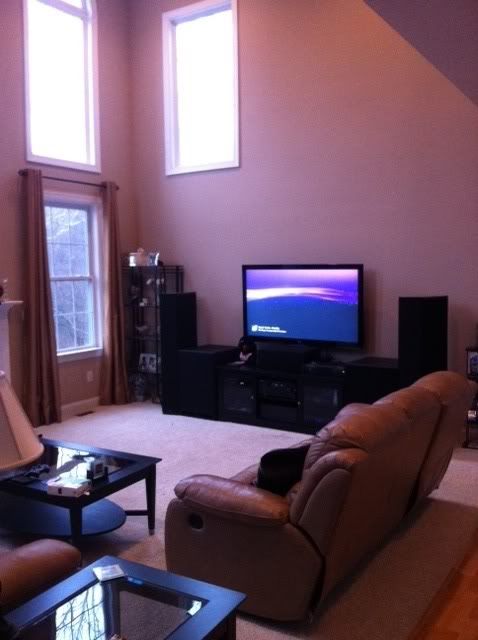 I would love to hear the Seaton Catalyst aswell as the SHO-10's. This is a bonus!!
As I said I was going to originally bring my Outlaws, but I just traded in my truck and I got a smaller UTE, so I am not sure if they will all fit. If there is any interest to hear or sale for a LFM-1 Plus or EX, I will see what I can do to bring them. If not I will not even bother to fit them.
Edited by Reefdvr27 - 10/9/12 at 1:57pm