Hey guys, I have a Panasonic 46" RPTV that I have been using on my Sim Racing rig for about a year now. The TV is great and the Color is better than most LCD or Plasma TV's I have seen so I would like to stick with the RPTV for as long as I can. The only issue I have, is that I screen is not close enough to me. All the electronic bits that make the TV work are in the bottom section, so I cannot move the TV forward any more than it is. Here is a pic for reference:
The ultimate desired screen position for the perfect FOV is right behind my steering wheel. So last night I started thinking...I have seen people take their screens off and add a larger screen, further away, to make a "Movie Theater" type setup, and I work at a metal shop so this was my Idea:
I want to build a two foot deep box out of aluminum at work, to wrap around the section of the TV where the screen normally goes, and then place the screen itself on the other side of the box, something like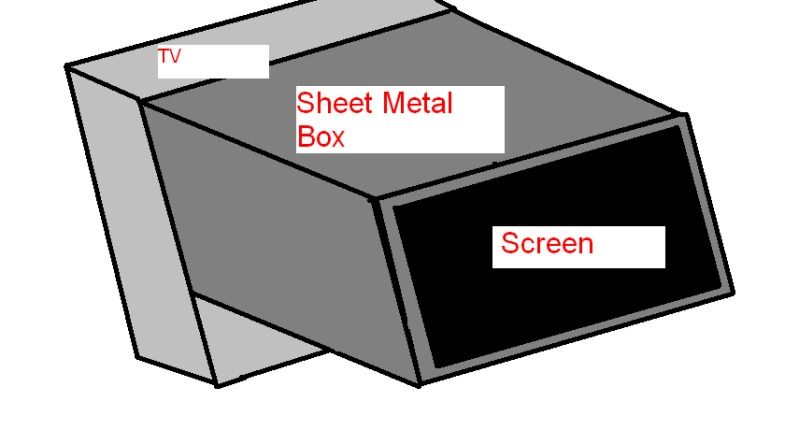 I have been into the service menu to fine tune the convergence, and I know that I would be able to shrink down the size of the image being projected to actually fit on the further away screen. The only thing I am concerned about is it becoming out of focus.
What do you guys think? Is this even possible, I have owned two RPTV's in my life and one LCD, the Two RPTV's are twice as old as the LCD and the LCD has twice the problems. I love my RPTV But I need my close FOV, HELP GUYS!
Thanks.