First post here, been a long time lurker.
My girlfriend and I recently took the leap and bought a home. It was one of the first homes we saw, and after visiting over 30 other houses, we finally came back to the one we really loved. The best part for me...HUGE basement space! So after some convincing, the girlfriend allowed me to take the space and turn it into a theater. She knew it was inevitable, the first time we viewed this home, I told her exactly what was going to happen. Once we decided on the home, i started my quest to find all the components i would need for my setup. Her stipulation was that it not be TOO crazy, basically that it still be a comfortable living area, but i could do what i wanted. And the basement celing was already finished out, so running wires around the room was an issue. But it's all done, and i've been enjoying it for about 2 months now. I even made her Dad theater-crazy...when he came over and got to watch the NBA playoffs on the screen, he was blown away and immediately started planning for a theater in his own home.
Pics:
How the room looked before we moved in. It's a truly enormous space. The room is a big L shape, and i made the theater out of the long end. There's still room for a snack bar, pool table, fish tank...that's undecided right now, but down the road.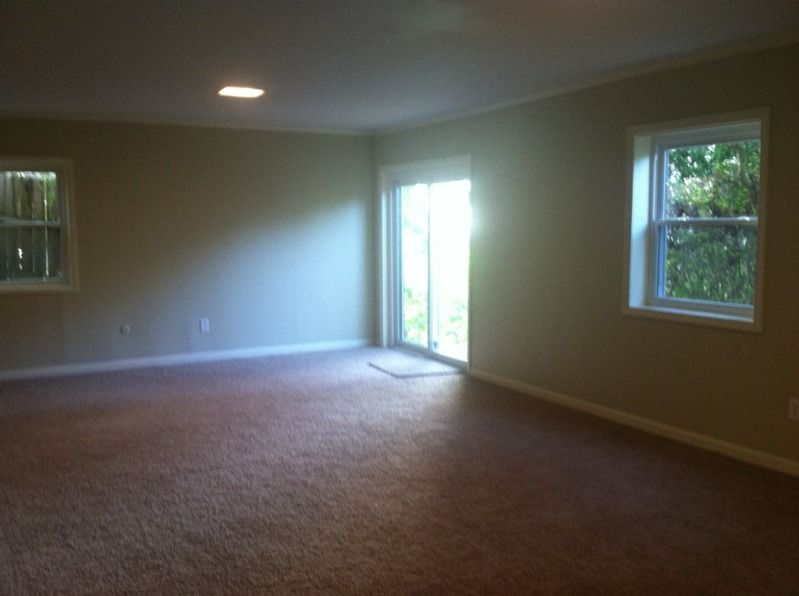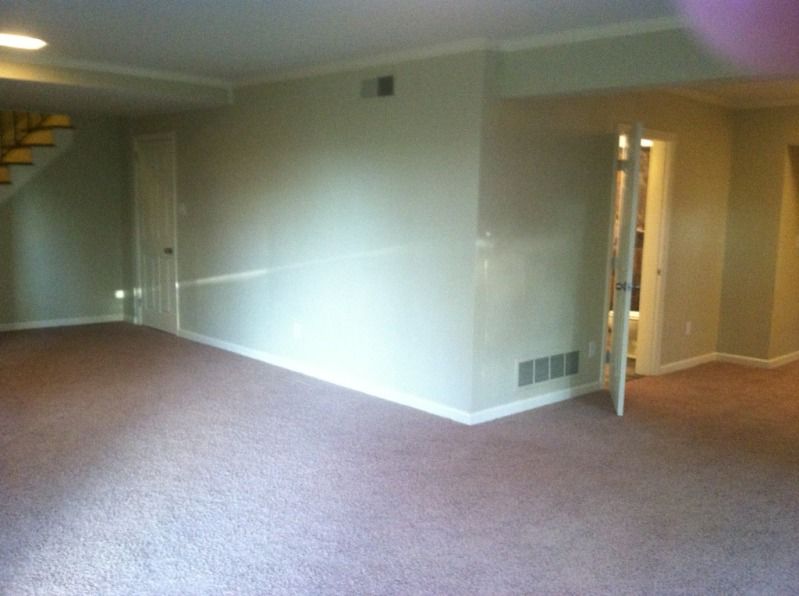 You can kinda get a feel for the layout. It was all recently renovated, so new carpet, drywall, celing, etc.
Then the pieces. First, I lucked out and found a projector (Epson Home Theater 8100) and screen on Craigslist. I ended up paying less for the pair than i would have for a big flat screen..alot less. The bulb was dead in the proj, but I replaced and still came out under $1100.
Next was a receiver. I already owned a Pioneer VSX820 in my living room, and thought something similar would suit just fine. The VSX-821 was on sale at NewEgg for $170, so I went ahead and bought one before we even moved in. Then i found a set of Paradigms...another craigslist score! Titans and a center for the front, Atoms for the rear channels and a big sub. I already had my PS3, HDDVD, and I bought a new XBOX that had an HDMI out so everything could feed to the receiver and then to the Proj with just one HDMI.
But where to put it all? This was the big sticking point with my girlfriend, because it involved cutting a hole in her newly purchased home. Lemme splain. On the outside of the theater room was a long hall way with a linen closet at the end. That linen closet became my media closet. I had direcTV run a hookup to that closet. Then I had a contractor cut a hole in the wall, and finish the hole with a wood frame and cabinet door with glass. Then i built the shelf to hold all the components, and voila! No media stack in the room, and wires are all hidden away. I LOVE the way it turned out, it looks really professional and keeps the room clutter free.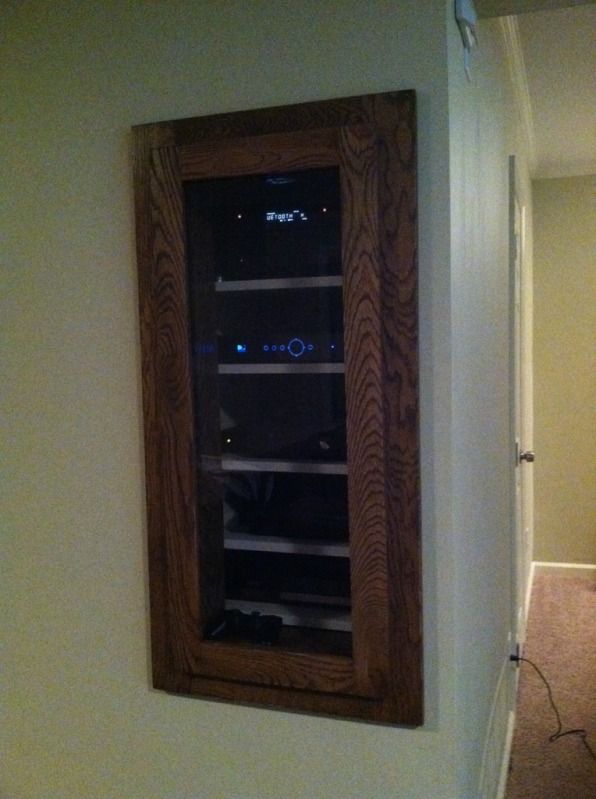 Door Open, added a little tap light at the top in case i need to see in the dark.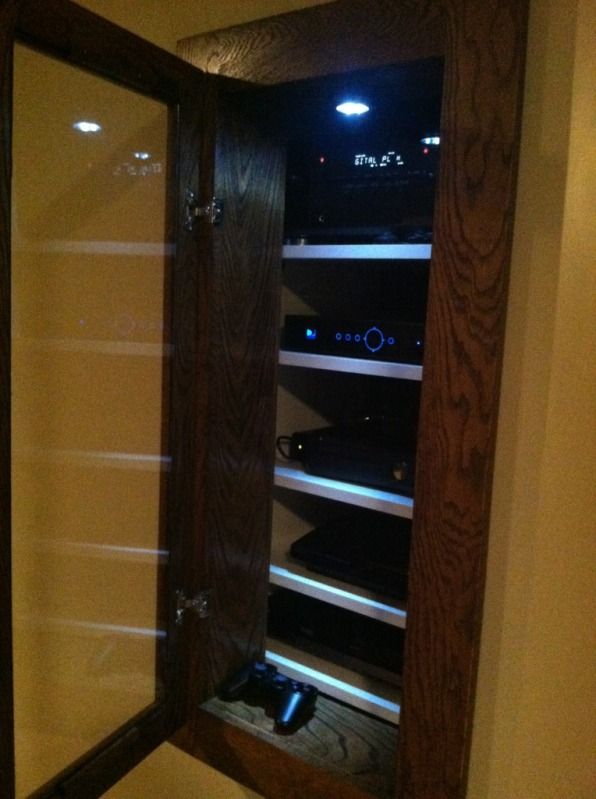 The same contractor also mounted my projector in the ceiling, and dropped an outlet in the ceiling so the proj power was just a foot away.
I ran wires for the 5.1 surround sound around the room just below the crown molding. I used plastic raceway that i found at Lowes, and it sticks pretty well so far. With them all in place, you barely notice them, and it hides the wires great.
So here's how it sits now. Big sectional couch we already had, curtains and blackout shades for the window and doors. My neighbor is a handyman and I had him put the speaker stands together for me, so they're at the proper height.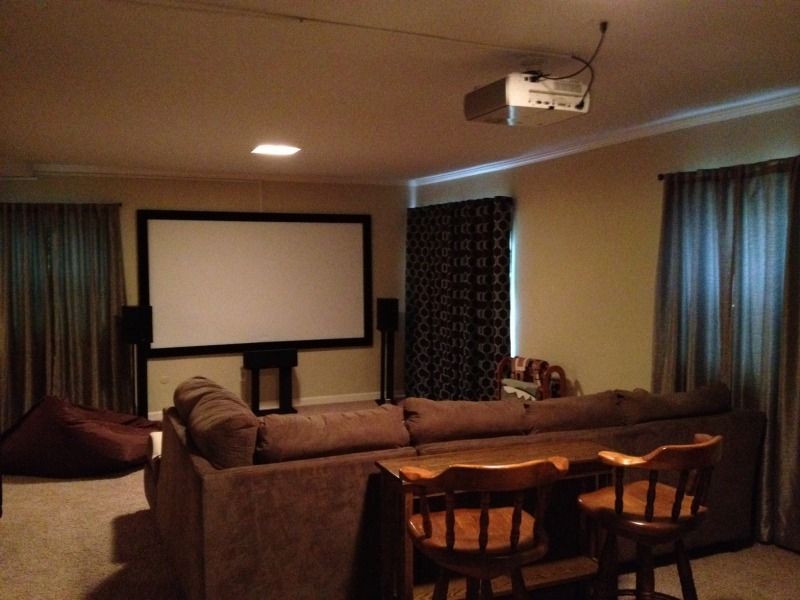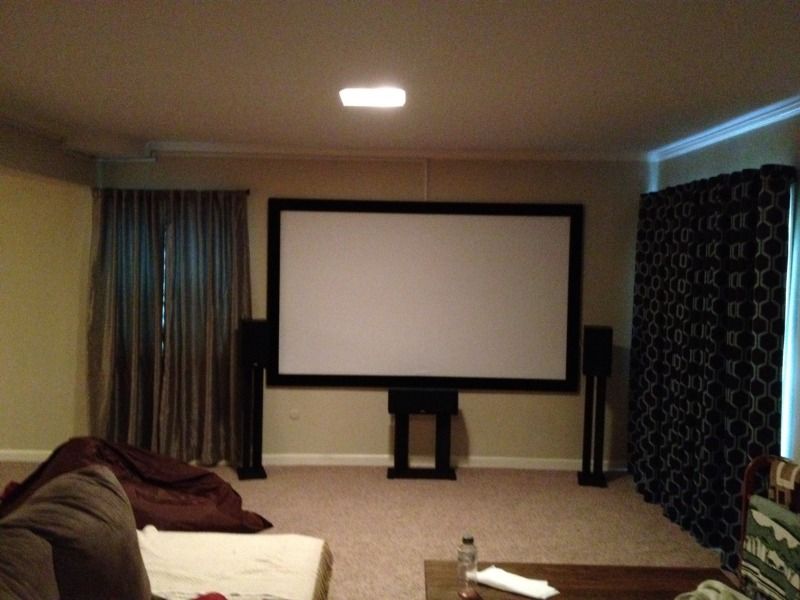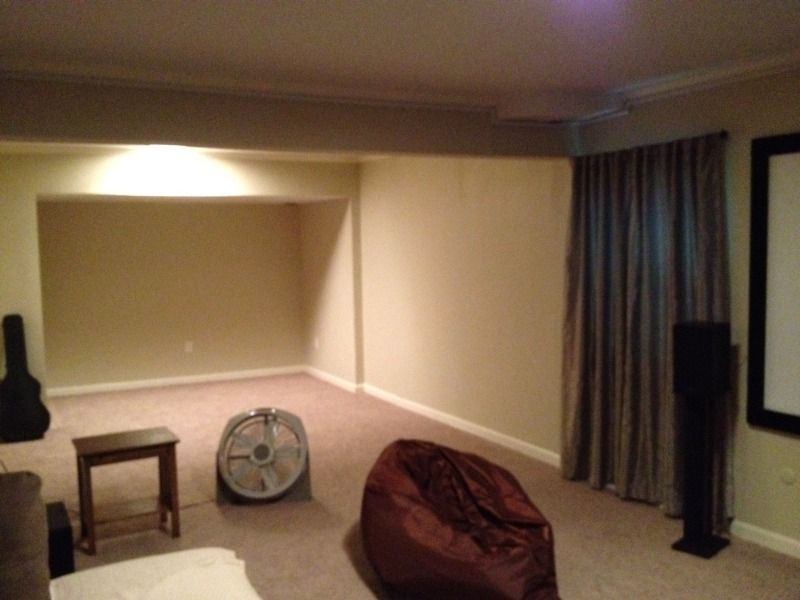 Still more room to grow!
I'll get some more pics soon, if you'd like to see something in particular or if you have any questions let me know! Also, I'm looking for ideas. I've thought about pulling the curtains and instead doing floor-to ceiling fabric panels or something to make it a bit more 'theater-y'. Any ideas, comments, criticisms would be appreciated.