Hello AVS'ers,
It's been a while since I have been active on the forums, but the time has come once again to begin planning for a new basement home theater. For anyone who cares, you can check out the theater build from my old house
here
.
My wife and I built that theater knowing we would only be in the house a couple of years. But this time around we are planning to be in the house for much longer, and thus want to step it up a notch or 2. Or 4.
Enough with the chit chat, I'd be super appreciative if I could get some feedback or ideas on the plan for the new house, first draft shown here: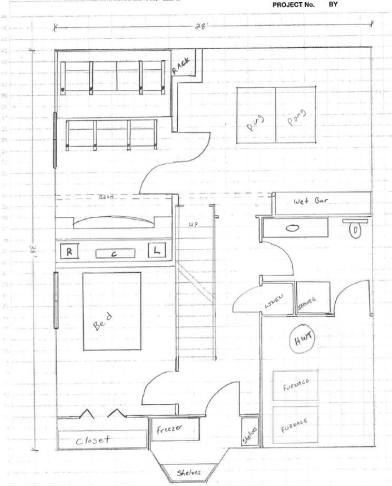 Some comments regarding design, wants, limitations, etc:
-Need a bedroom on a window
-Need a bathroom, located where it is. Well, it would be ALOT of work to move it all...
-Furnace area not relocatable
-Want a multi-purpose room, drew a ping pong table in there for now
-Want a wet bar, which will have a beer fridge, wine rack and wine chiller under the counter, and shelves above for all the good stuff
-Need some storage area, which will have the deep freeze
-For the theater room, want seating for more than 4, ideally at least 6. 7 fits nice here.
-Screen will be AT, with speakers behind, all up on a stage
-Back row of seating up on a riser
-Would like to have the double doors so we can open it up to the other room, should we be watching a sporting event of some kind with many others or having a party. Side question - has anyone else done this kind of door, how hard is it to seal up without having a support down the middle of the 2 doors?
-Theater walls will all be staggered studs, very likely with DD and GG. Will have some amount of acoustic treatments in the room.
-Likely put in a trey ceiling to house the lights and ducts.
-Ceiling is 8'6" for the most part, drops down a bit where the beam is drawn in (dashed lines)
-Drawn it up several ways having the entire top portion of the basement as a large theater/general area - we decided we didn't like any of the options for what we want.
I have this built up in Google Sketch-up, I'll see if I can pull off a couple images tonight to post, give you a bit of a visualization.
Construction will begin next spring, so there is still lots of time to get the plans together. Just wanted to get some ideas flowing, so we can finalize plans, and begin getting permits, planning etc.
Thanks so much in advance for everyone's help on this!
Steve