Today we compared a pair of discontinued and ridiculously sale priced Jamo Sub 650 (MSRP $900 each -
sale price $250 each
) and a pair of discontinued and super sale priced Klipsch RW-12D subs (MSRP $700 each -
sale price $300 each
) at my brother's house --- in the same room under the same setup criteria. As an unexpected bonus we also lined these two systems against KCNitro07's DIY Dayton 15" Titanic MKIII 3.5 cubic foot sealed box pair of subs powered by an Inuke DSP 3000. Aaron, my brother, has a room with very generous room gain, so you'll see in the graphs taken today a bit of extra low end that you may not see in your own room --- take that into consideration when viewing these graphs.
I've previously reviewed both of these subs in my own room.
A pair of Klipsch subs
here
A single Jamo 650 sub
here
Cliffnotes for those who hate lengthy reads:
If you are on a budget you can't go wrong with either a pair of Jamos or a pair of Klipsch subs. They are definately in the same league. They traded punches as to which bested the other throughout our short demo sessions. The Daytons had a bit more headroom, but cost significantly more. By the time you add a pro amp the DIY option is about $1,000. I don't think you can go wrong with any of these options on a budget. Buy for what suits.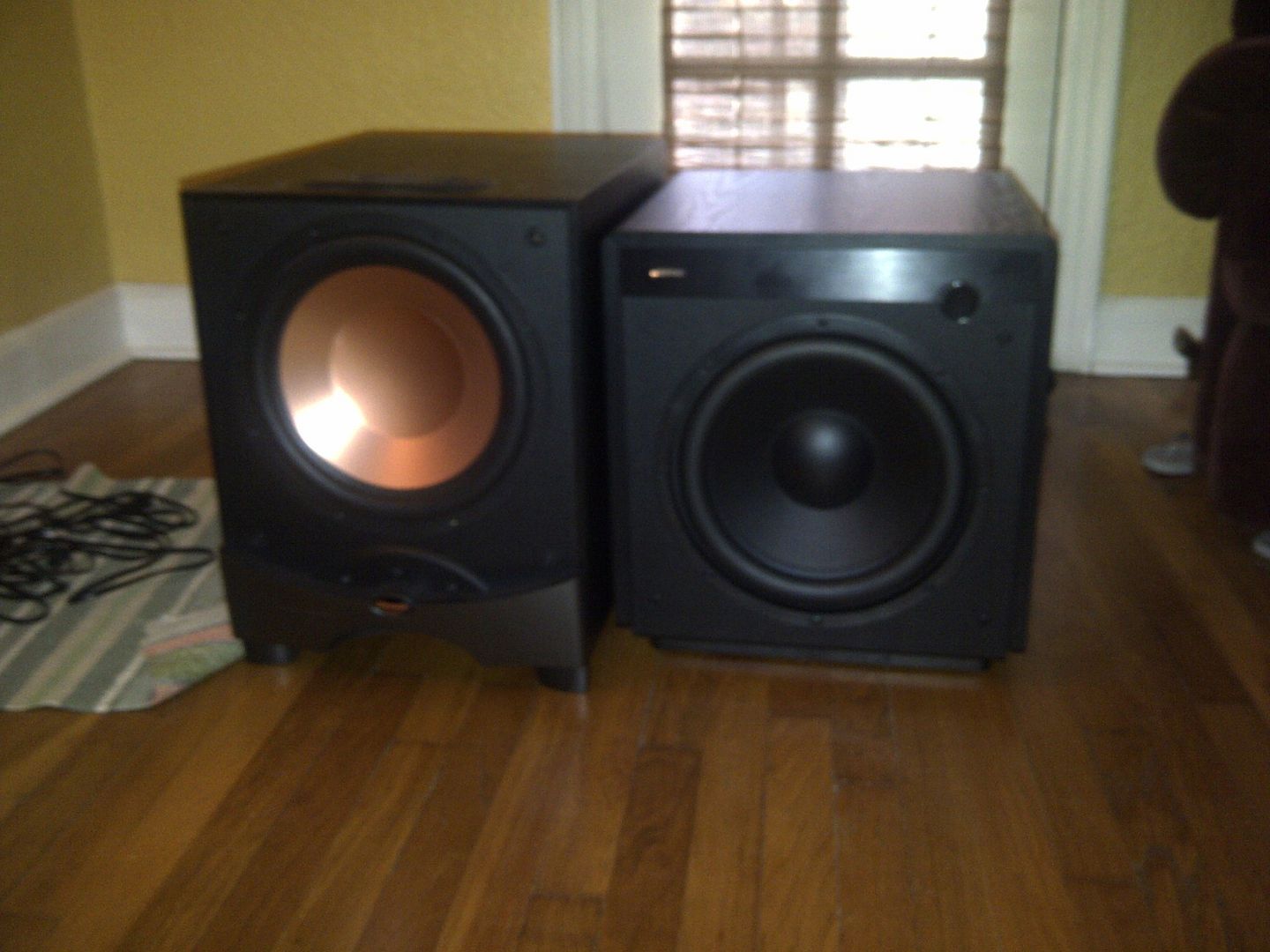 ---
There were four of us that demoed the subs today - Tatersly, KCNitro07, my brother and I. My brother Aaron owns the pair of Klipsch RW-12D, Tatersly brought his Jamo 650 subs, KCNitro07 brought his DIY Dayton setup, and I brought my omnimic. We captured frequency response measurements for each pair of subs at max SPL measurements. The way we determined max SPL on each of the three systems was by level matching the subs playing by themselves to about 74-75dB, ensuring together they played at 78dB - and then turning up the AVR volume 1 dB at a time until we encountered 1 of three
anticipated
things:
1) Port Chuffing
2) Compression at low frequency end of spectrum - meaning the sub stops getting louder at/aroud 20-25hz, but continues to rise in volume at the upper end of the frequency specturm
3) Mechanical noise indicating limits of sub had been reached
When one of these three things was first encountered we backed off 1dB and averaged 10 frequency response captures to show the max output of each system on full range signals. (in this case omnimic sweeps which definately have
infrasonic
content, and so they can put a hurt on a subwoofer system probably faster than most real world material. Thus this max SPL frequency responses are based on the omnimic sweeps and are unique to Aaron's room. Your room will affect these sub's max output slightly differently -- but they should remain relatively scaled the same in a different room.
These measurements were taken in Aaron's room with the subs about 9 foot away from the microphone. The mic was placed on the seatback of the main centered listening position. Aaron's room is medium sized and L shaped, open to another living/dining room. A smaller dining room and kitchen are also attached and present a considerable amount of cubic feet to drive -- this is not a sealed room. The way Aaron has his room laid out however, helps the majority of the bass to be concentrated in a small area and in truth Aaron's room offers very generous room gain. Much more than my room, more than KCNitro07's room (KCNitro's DIY gear extends flat FR about 5dB lower in Aaron's room, than his own), more than Tatersly's room, and more than Aaron's other room he previously had his gear setup in which I'd measured last time I was there.
For the FR measurements the mains were turned off. The crossovers were all set to 80hz, the LFE LPF was set at 120Hz and disengaged on the plate amps. Audyssey was used to calibrate distances for both the Klipsch and the Jamo system and then turned off. No EQ was applied to the Jamo or Klipsch system. The subs were dropped in identical spots on L and R of the TV. There is a 55 hz bump on all setups we measured in Aaron's room. That bump is an artifact in the room and not of the subwoofer systems. We were able to cut it out some with the DSP of the INuke pro amp on the DIY setup, but the other systems were not given the benefit of external EQ.
The demo songs and two movie clips were all run with the AVR at -12 and the subs 6dB hot. So if the system was balanced the playback would have been at the equivalent of -6dB from reference on the master AVR.
The song list was composed of about a dozen bass heavy songs
AWOLNation - Sail
Black Eyed Peas - Boom Boom Pow
Diana Krall - Peel Me a Grape
Ellie Gouldoing - Lights
Example - Kickstarts (Bar 9 remix)
Flux Pavilion - Got 2 Know
Gorillaz - Dare
Kid Cudi - Day N Night
Lil Jon - Get Low
Pete Belasco - Deeper
Pomp and Pipes - The Vikings
100hz to 20hz Sweep
Bass I Love You
The movie clip list was short - two movie scenes from Inception off a single DVD:
The courtyard explosions clip
The downtown train crash
Klipsch RW-12D
Max SPL Frequency Response Limitation: Compression. The 20hz end of the FR spectrum stopped increasing at the point captured. I did not hear port noise at this point while capturing the frequency response, and at no time did I hear mechanical noise on the driver during the duration of the demo session

the Klipsch RW-12D has a built in DSP. Here are the results of the max audibly clean SPL before compression on both punch dsp vs depth dsp mode.

Positive:
I never heard port chuffing at the standardized volume chosen except for on two occassions - Bass I love you which has 7hz and 15hz notes, and the 100hz to 20hz sine wave which extending to 20hz --- extends below the Klipsch's port tuning.
I did not hear mechanical limits of driver
Seeming possesing the most headroom (or the strongest protective DSP scheme) since we never heard the mechanical limits of the drivers.
LCD DSP, Volume Control, 3 DSP settings (flat, movies, punch) very nice.
Overall very impressive for the $300 sale price. Great budget package overall and regularly available on and off at $300 sale price!
Negatives:
Port chuffing on the two songs
I could tell (or though I could) that these subs seemed to be missing the lows a bit. Pomp and Pipes Organ - nothing. Bass I love you low notes - nothing but air movement/port chuffing.
---
Jamo 650 Sub
Max SPL Frequency Response Limitation: Mechanical noise and compression. The 20hz end of the FR spectrum stopped increasing at the point capture and at the same time an increase in SPL would create a slightly different sound from one of the drivers -- almost like a rubber surround was not quite moving in a linear fashion beyond this point. Both compression and the slight rubberish/mechanical limitation noise occurred at nearly the same SPL

Here is a comparison of the plate amp's boundary gain function engagement on this pair of Jamo subwoofers. Again this is max output before audible distortion and signal compression at 20hz.

Positives -
Frequency response was better than the Klipsch subs.
*I liked this sub sound better than the Klipsch subs for most of the music on the tracks where they didn't hit or exceed their limits. Unfortunately on the tracks where the sealed design should have shined (like the bass I love you and the 20hz sine sweep track) the AVR main volume was too loud at our standardized volume and drove the sub drivers into distress. Turning it down would have fixed this(or having four instead of two) and at that point one could enjoy the deeper frequency response.
*Pomp and Pipes Organ sounded the best of the day
*small and nice looking - LED light on front and simple Jamo logo look classy.
*Outstanding value at $250 - flat to 20hz in every room I've measured (all three). Just don't expect world beater SPL. (I wonder how four would sound in a bedroom --- taking on Gorilla83's idea.
)
Negatives -
*There is no advantage to not hearing port noise on a sealed design if you have to turn the sub down significantly to get away from mechanical noise at the same SPL as port noise on the competitor.
*On the sine sweep we turned it down to -17 (with the subs 6dB hot (so -11 from reference) and we still heard a bit of driver stress at the 20hz end of the sine sweep. This sine sweep is recorded hot, and it made the DIY subs cry for mercy too. It made the CHT 18.1 pair in the 2012 blind subwoofer meet reach their limits as well at similar volumes -- BUT not all subs will cry for mercy on this track. HSU VTF-15H don't, Epik Empire don't. Once you get into the $1000 subwoofer range you stop hearing this particular track give the subs trouble.
*Gain knob is a sliding LED light --- it looks cool, but it's hard to determine where you are on the amp's gain structure without numbers, or clicks (like most gain knobs).
*Jamo didn't make this system amp limited (which is more my preference -- like the Epiks) This Jamo is driver limited. Meaning the amp will drive the driver into distress. With something like the Epik Empire - no matter what you do you'll never heard audible driver distress. The amp is weaker than the subs. With this Jamo the 650 watt amp is more than capable to drive the driver into distress. The distress on the Jamo sounds different than the distress on the DIY Dayton driver though. On the Jamo it sounds like a rubber surround is out of excursion capability or something (it's a soft change in tone and movement which is audible and sounds a bit like rubber flapping). On the Dayton driver by comparison the distress sound is a metallic clicking.
*This Jamo sub is no where near worth $900 MSRP as compared to other $1000 ID subs.
---
DIY Dayton Titanic MKIII 15" driver in sealed enclosure
Max SPL Frequency Response Limitation Reason: Mechanical noise. The 20hz end of the FR spectrum was not necessarily done increasing, but a mechanical tick from the driver on each sweep indicated the driver was out of excursion on the omnimic sweeps. The Inuke DSP 3000 amp was not clipping during these sweeps. The INuke DSP was employeed in a quick and nasty EQ setup to help flatten the frequency response. All modifications employed (5 parametric EQ bands) were all cuts. Aaron's room has significant room gain and you can tell from
KCNitro07's DIY thread
just how much.

Positives:
*It's plain this sub has a bit more headroom than the other subs *****
I like the sound on most of the music. This sub seems the loudest for some reason even though we level matched.
Bass I love you was the best on this sub by a significant portion IMO. These things were shaking the floor, couch and recliner on this song. We took turns sitting in the chair that vibrated the most.
This sub more matched the Jamo sub sound in my mind. Both sealed, both fairly similar frequency response - the DIY contender just having a bit more umpf...
Negatives:
***** Wait did I say this sub has more headroom? Why did it seem like less headroom on some tracks than the Klipsch?
100hz to 20hz sine sweep introduced mechanical rattle that made me jump for the remote.
So did the explosions in Inception. In fact we had to turn the movie down by more than 6 or 8dB on the main overall AVR volume to get away from mechanical driver rattle sounds. The Klipsch made no such sounds, and the Jamo wasn't quite as obvious.
It seems the Dayton driver doesn't have much excursion capability before introducing mechanical sounds. An HPF at 20hz is probably wise. This sub isn't as graceful when it encounters its limits -- the metallic clicking sound is pretty obvious.
---
Here are the three all together at max audibly clean SPL levels as previously defined.

I think in the end the Jamo and Klipsch are more alike than different, and you'd not go wrong choosing either path. The DIY setup cost $1000 and requires a different set of interest, skill, and expertise than just picking up a couple of these mid tier sale priced discontinued subs and dropping them in place.
Here are the Jamo and Klipsch compared directly (as above) sans the Dayton DIY project FR. Notice that the max audibly clean SPL on the Klipsch is up to 5 or 6 dB louder as the frequency rises in both sub's respective lowest tuning modes. 6dB is a doubling of volume. 6dB is not insignificant. If you want louder subs then you probably ought to purchase the Klipsch subs. That extra loudness comes at a slight reduction in accuracy and flat frequency response however.

The Jamo and Klipsch are in the same subwoofer class and there is no clear victor in my mind. For movies I couldn't even really tell a difference with our standardized volume from my listening position. I wish we would have had more time and could have listened to more than two quick movie clips. My hypothesis before we even started ended up matching my personal experience at this brief g2g. If you have a large room get the Klipsch pair and take advantage of their extra headroom and strong HPF to protect the driver from overexcursion. You could probably turn them up louder than we did if you didn't worry about compression further reducing your bottom end frequency response because we never encountered any mechanical driver noise indicative of the driver running out of steam (although sooner rather than later you are going to encounter port noise after this SPL point with the Klipsch pair)... If you have a smaller room buy a Jamo pair and take advantage of the flatter, deeper frequency response, and sealed sub sound for music. What defines smaller or larger rooms? I guess that depends on your expectations. None of the systems in pairs that I heard tonight would match my taste for bass in my primary room of 3,500 cubic feet. I like quite a bit more bass than I heard tonight. Though, I'd be happy with any of these systems for a secondary room. I asked my brother what he thought and he said we were playing these systems way too loud. He said he has never turned his system up that loud. I said NEVER? He said NEVER. Remember, for these tests I put the volume dial at -12 and the subs 6dB hot because that's where I most often like to watch my movies. I occassionally like it much louder.
KCNitro07 most often watches full movies louder than me.
To each his own.
Tatersly had to leave early so I didn't get a full opinion yet from him. I'll be curious to hear what others think. I personally thought the Jamo was preferable for music. I heard KCNitro07 say he liked the Klipsch better for music. My brother said it was a mixed bag.
One more thing I learned. These two systems (Jamo and Klipsch) utilize 12" drivers. I don't think two of these subs would anywhere near equal a single HSU VTF-15H. Let's put that to rest. The $1000 price point for internet direct subwoofers is a big jump from these mainstream $700 brick and morter retail store subwoofers. These are great for the price, but don't fool yourself into thinking you can get two and have as elite an experience. You can't. What you can do is get two subs and still have an enjoyable experience for just about half price of the $1000 ID subs. Frankly, for the average Joe --- this is a pretty good way to go.
Edited by Archaea - 8/26/12 at 1:07pm