Hi fellows!!!
I have been working on a Home Theater project for several months and I'm finally finishing it. I bought a Denon AVR-2312ci and Infinity's Primus P363 floorstanding towers &  the Primus PC351 center. I also bought some foam acoustics. This room has a huge amount of reflection/echo.
I drew some sketches in Paint (yes, Paint) to have an idea of what would be the outcome of my ideas. Here are some pictures of those drawings and the changes I had to make during the process and at the last moment.
First, I started drawing how I wanted the hole system to look like. Designed 2 separate furnitures with shelves according to my equipment and their sizes.
This is the first drawing I made: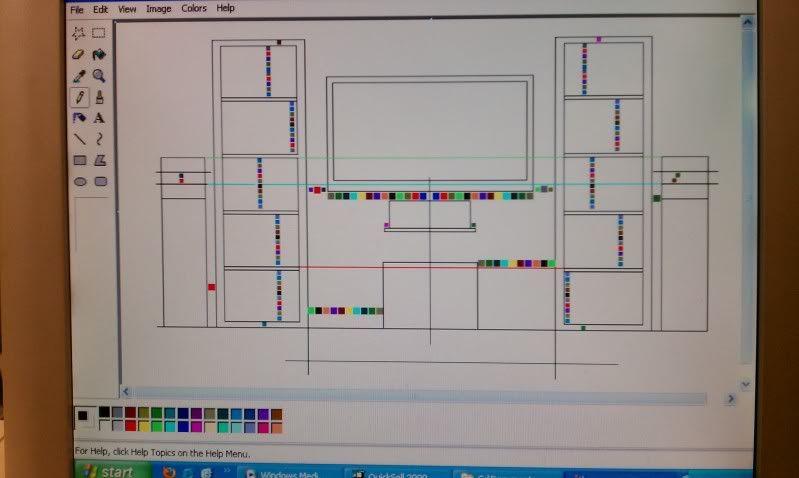 Then, I bought these acoustics I for the room: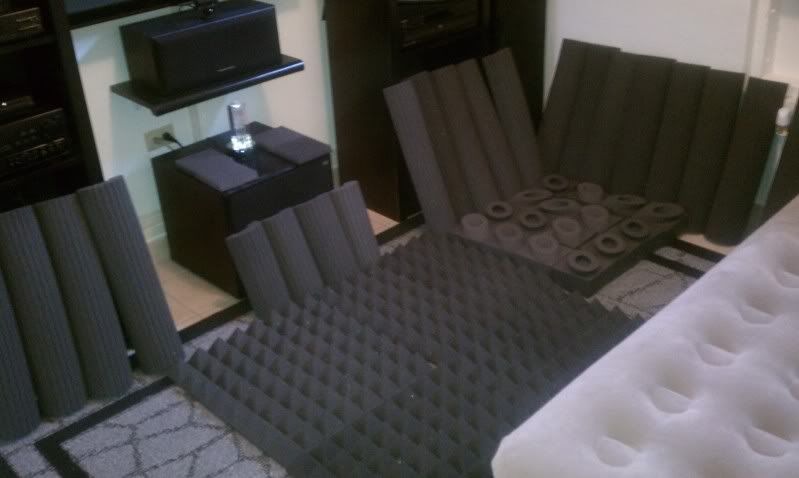 This is how it looks like right now with the front wall completely covered with acoustic foam. (Also made in Paint)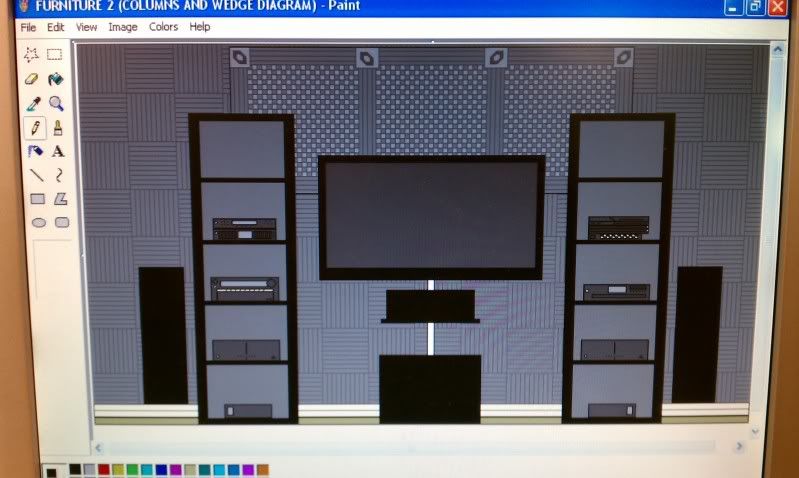 I have been talking to Paul Scarpelli, who has been kind enough to give me some pointers about placement and acoustics and, now I decided to get rid of the 2 furnitures and go with 2 separate adjustable shelves in order to get better sound from the room. We believe this will help sound acoustic, and also make it more spacious. Here is how it should look when finished: (But with the acoustic wall foam layout shown on the 3rd picture)
Ok, now that almost everything is set, I need to take care of 2 things:
1) Surround speakers selection & placement. (5.1 setup)
2) Acoustic foam placement for the rest of the room. 
**** NOTE: In order to avoid any issues - by mixing different aspects in the same thread - I will use this thread to discuss issue #2 - (Acoustic foam placement). I will also post a different thread with this same information, but to discuss issue #1 - (Surround speakers selection & placement). (5.1 setup) - on the corresponding forum. 
This is the link to issue #1 - (Surround speakers selection & placement. (5.1 setup) - in order to help those with the same situations:
http://www.avsforum.com/t/1429116/ht-project-which-surround-speakers-and-how
Ok, back to the issue. I want to finish the acoustic treatment the best I can. The room measures 10' wide x 11' long x 9' tall. It is not a big room, and it has a huge amount of sound reflection/echo. So, take a look at the following drawing (yes, made in paint again):
On the right wall I have a window in the center. I bought wood panels to fully conceal that window. Also, I will cover those wood panels with acoustic foam. And then, I will cover them with a curtain made of cloth to give the room a better look and of course, better reflection absortion.  I'm also going to put some acoustic foams on some of the remaining areas on that side including some acoustic foam panels adjacent to the right speaker. Paul suggested me to use the "mirror trick" on both front speakers. So, lets consider that side has been taken care of. 
The next wall to deal with is the back wall. My couch is against that wall. I took some measurements and I bought a big 4' x 6' acoustic foam to put in the center of that wall leaving not enough uncovered space. Correct me if I'm wrong, but I suppose that should be enough.
The last wall to deal with is the left one. That is the most I worry about because I think it is "almost" impossible to treat of to deal with. It is a big closet which covers that side almost completely and which doors are made of 2 big mirrors.
My questions are:
1) Will I need more acoustic foam for the back wall?
2-a) How can I treat the left side and also be able to put acoustical panels adjacent to the left speaker having 2 big mirror doors on that side? 
2-b) Is a big curtain my only option?
- Will I need to put some acoustic foam on the roof?
All suggestions/help will be greatly appreciated.
Edited by JOMV - 9/13/12 at 11:02pm