*Updated* 21 November 2012 (see post #36)
Summary of new DIY Perimeters/Goals per speaker
(Subject to change upon finalizing design)
Budget: $2,000 - $3,300
Design Type: Two-Way
Max Output: 140db
Crossover: Two-Way
Response: 80Hz - 20+kHz (+/-3db)
Wattage: TBD
Impedance: 4 ohm
Dimensions: TBD
Materials: TBD
Weight: TBD
Original Post below:
Hello all,
New to the community, but not necessarily the addiction that is Home Theater. I've owned some semi-decent gear over the years, but for my next dedicated space I am looking for absolute overkill. I literally want to find my physical limits before my gear does. I've auditioned several setups and felt that I enjoy the crystal clear (albeit bright) sound of compression drivers / horn loaded highs. Of course a flat response is going to be my overall goal and I have big plans for the lower frequencies, (planning to crossover @ 80Hz) but for my mains I'm wondering if anyone can weigh in a few different options. I'd like to go DIY with a "no-holds-barred" performance approach in mind to outperform the likes some some very very capable commercial offerings. Here is what I am looking to outperform:
JTR Noesis
- These seem very new. I saw these on the
Northeast GTG
thread, so obviously listening impressions are going to be limited, but the specs are pretty significant! Looks like the are going to be on sale for about ~$2,200 per speaker, so ~$6,600 for LCR.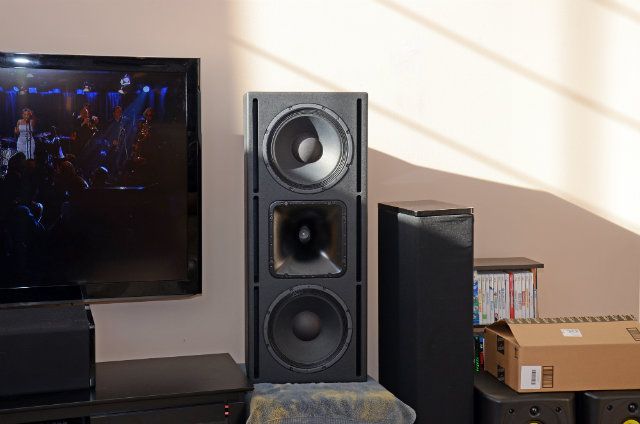 Klipsch Jubilee
- I hear nothing but good things about the Jubilee's from every source I have researched. These things are BIG (at least compared to the Noesis) and I personally have not heard these in person, so I am wondering how much of a benefit the (is it horn loaded?) bass bins provide. Obviously they dig a lot deeper than the Noesis (32Hz vs 70Hz), so I don't know how/if they would even be a good comparison from an "all around" performance standpoint. My research indictes that I might be able to pick these up for about ~$3,500 per speaker, so $10,500 for LCR. I found this pic over at the
Audiokarma forum
.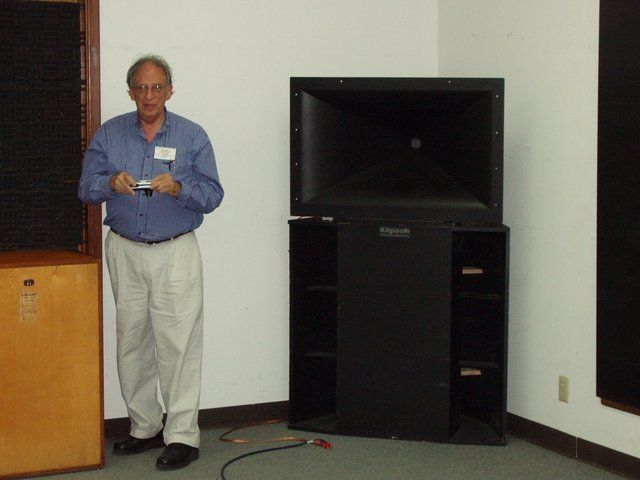 JBL 4722
- The specs seem in line with the above referenced products. The picture below speaks for itself and would be something I would like to emulate in the big picture (all gear hidden of course). This seems like potentially the cheapest option at ~$1,800 per speaker, so $5,400 for LCR.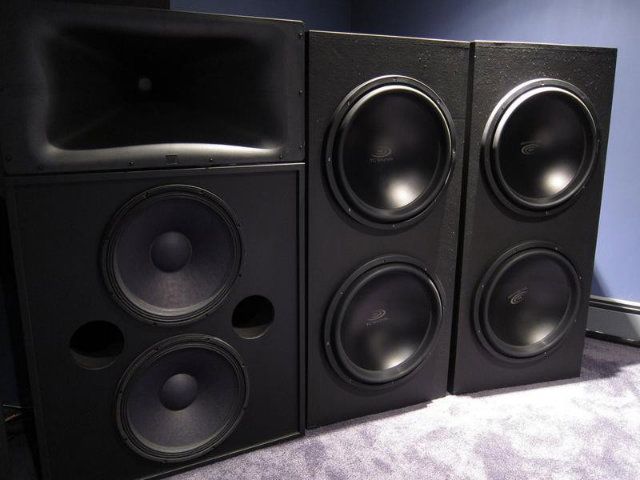 Ok, now for DIY. This is where I would need some serious help. If I was to go DIY, I would need some input on what it would take to outperform the big dogs above. Here are a few components I have picked thus far. *Disclaimer - Being the label whore that I am, you will notice the products below are very "brandish" and expensive. In my past experience I've noticed that one has been able to obtain 95% of the performance at like 50% of the price. (i.e.: UXL-18 vs LMS-Ultra) If anyone has any input as such, please don't hesitate to let me know. Major component considerations as follows:
TC Sounds 18" Pro
x 2
JBLCompression Driver
I am clearly missing the horn itself, crossover and any other misc parts I will need to finish a project like this, but based on just the raw components mentioned above, but do you guys think this is a good base to start? Since I plan on going all in with this design, I am willing to consider a 3 way design as well( if necessary?).
Please go easy on me because I am a complete noob when it comes to speaker design and most of my focus in this hobby has gone to my passion for subwoofers. I am open to all suggestions and recommendations and appreciate any feedback in advance.
Oh, one other disclaimer. Don't expect this project to happen overnight given I am in the first stages of design.
Edited by enterthedragon - 11/21/12 at 8:20am