So, I have lurked around the boards here on and off for quite a while. I have never really had the space, the money, or the equipment to put together a real surround system in my house. I've had the HTIB stuff, it sucked but I made do. I recently moved into a new place, complete with a pretty nice built in wall unit in the basement! It's finally time! I am TV shopping as we speak. The previous owner of the home left a Samsung HTIB behind, but I am not really interested in using it. He did wire the basement already for the speakers, so I am ready to go! What has really gotten me excited, are the speakers that I recently got from my old man. He gave me 3 B&W VM-1 speakers, that he no longer uses. I love these things! I can remember them sounding pretty great when he had them up and running! I am going to use these for my center and mains. I want to stay with B&W for the surround speakers. I don't have any at this time, but I have my eye on either another pair of VM-1's, or a set of smaller B&W M-1's. I can actually get 2 more VM-1's cheaper than a set of the M-1's, so I would be more inclined to go with the matching set of 5 (going to be a 5.1 setup). My old man also gave me a Klipsch RW10 sub, and a Denon AVR-1804 receiver. The sub is really nice, but I don't think I want to use the receiver. Here are a few pics of the VM'1's, the sub, and the black canvas that all this stuff will end up on: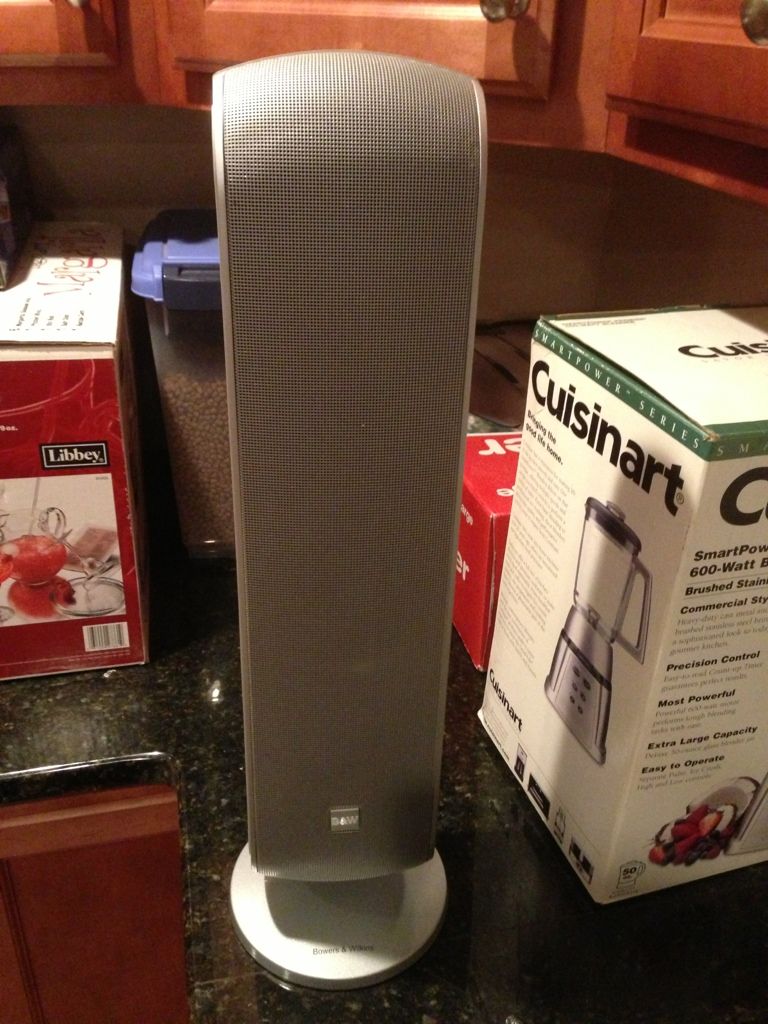 The speakers come with wall mounts and bookshelf stands...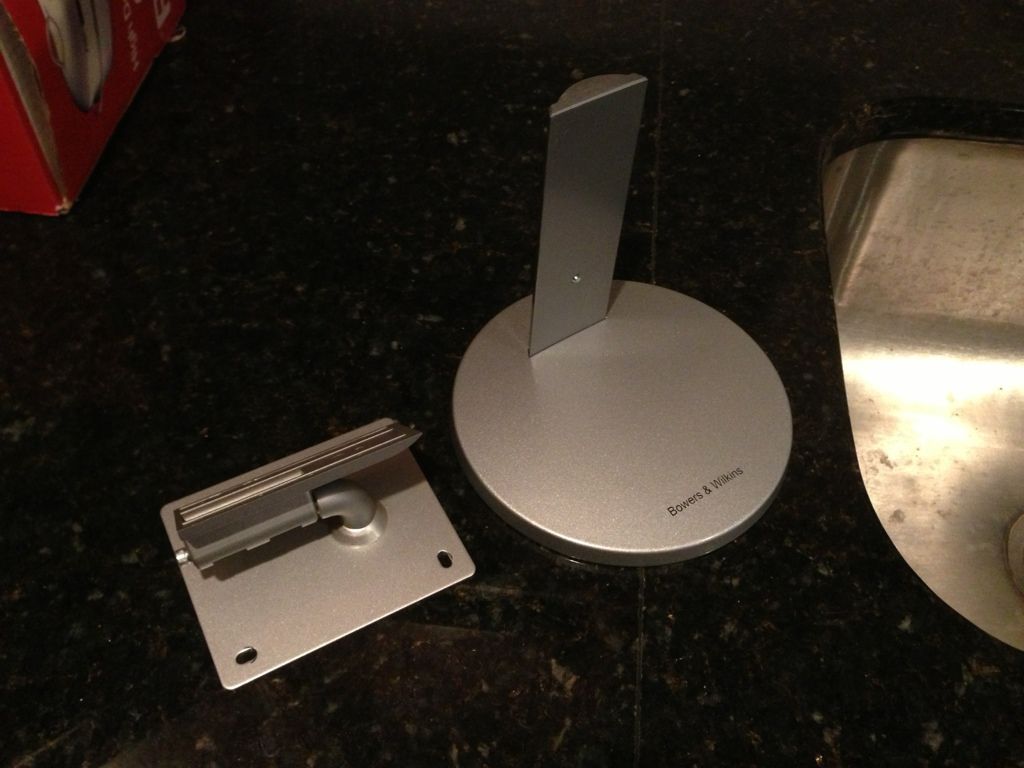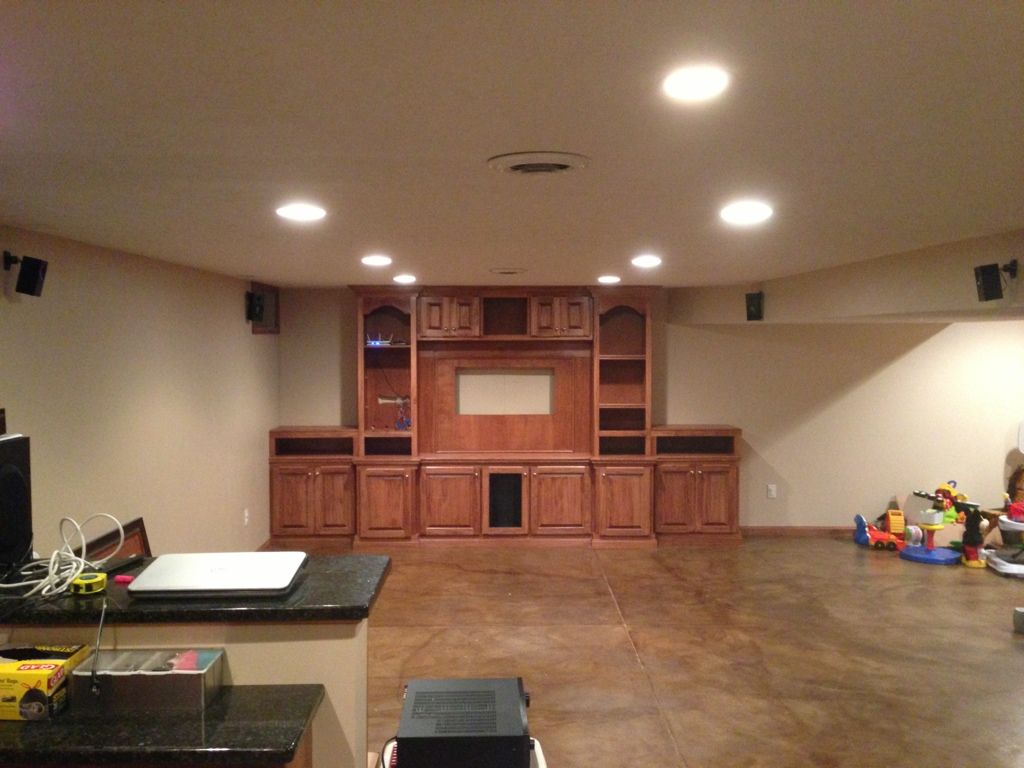 Here is how I would like to situate some things. Seating position will be about 11-12 feet from the tv screen. I am a bit partial to Samsung Tv's,
so I am thinking of going with a 55" Plasma. I plan on mounting the TV to the wall behind the built in, so that the center channel has room to sit
on that ledge. I can fit a 55" TV if I use this configuration. I can fit a 60" Plasma, if I move the center channel position to the bottom center
cabinet with mesh cover. I would just use the bookshelf stand and sit the center channel vertically in the cupboard. What are your thoughts on
these options guys?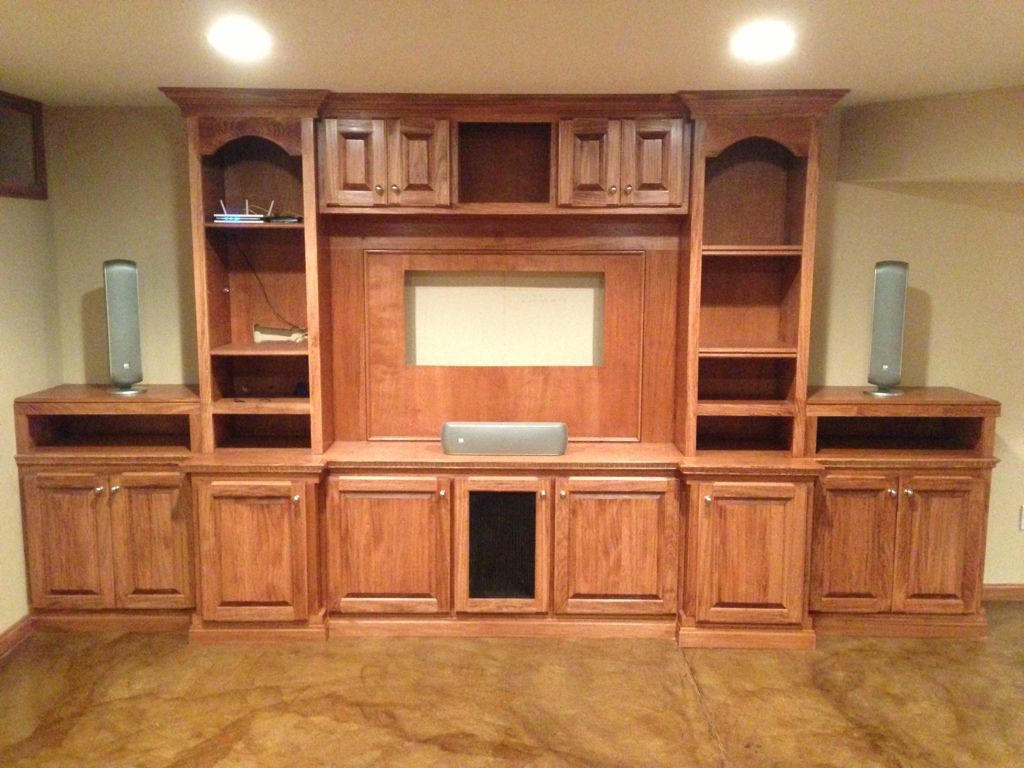 Also, I will be limited on where I will be able to fit a receiver, plus I have little kids and I don't want them pushing buttons.My current Denon
reciever fits VERY snuggly into one of the front cabinets. Is this space too small for this? Will my remote still work with the door closed?
I'm looking at a Denon 2112ci which is roughly the same dimensions of the receiver in the picture.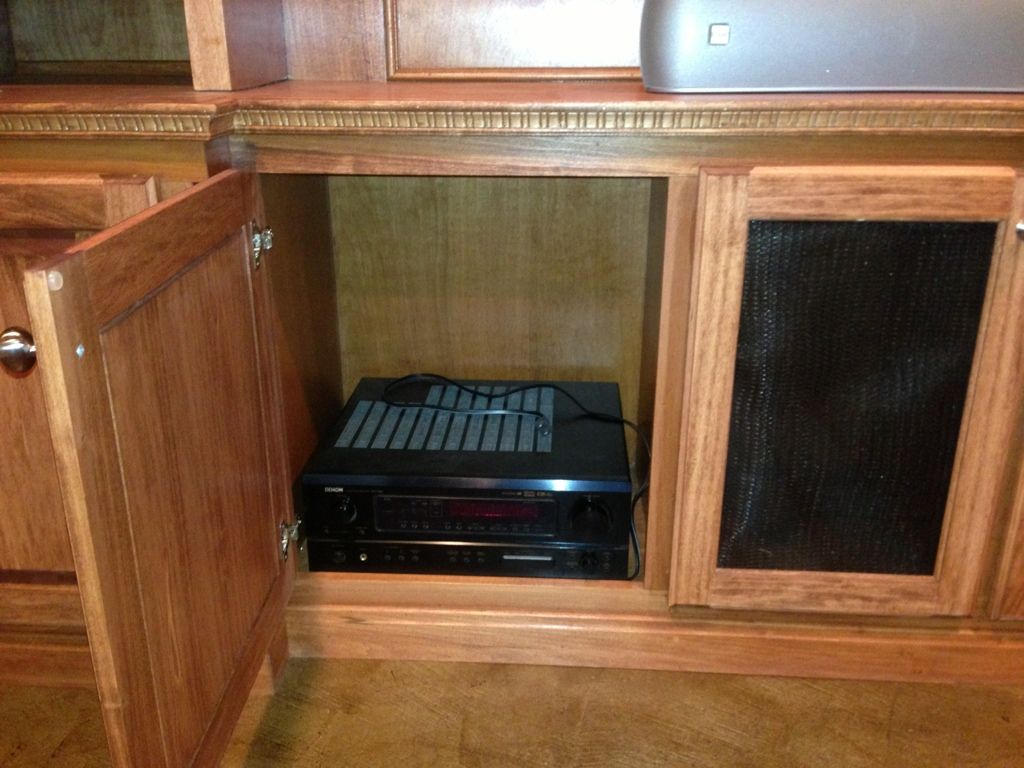 I wold also like the sub to be out of sight. My boys are 3 and 1, and they can get grabby. It also fits very snugly into one of the front cabinets.
I would have to figure out some kind of mesh door replacement for the door that is attached there now. What do you guys think about this
placement? It fits pretty tight...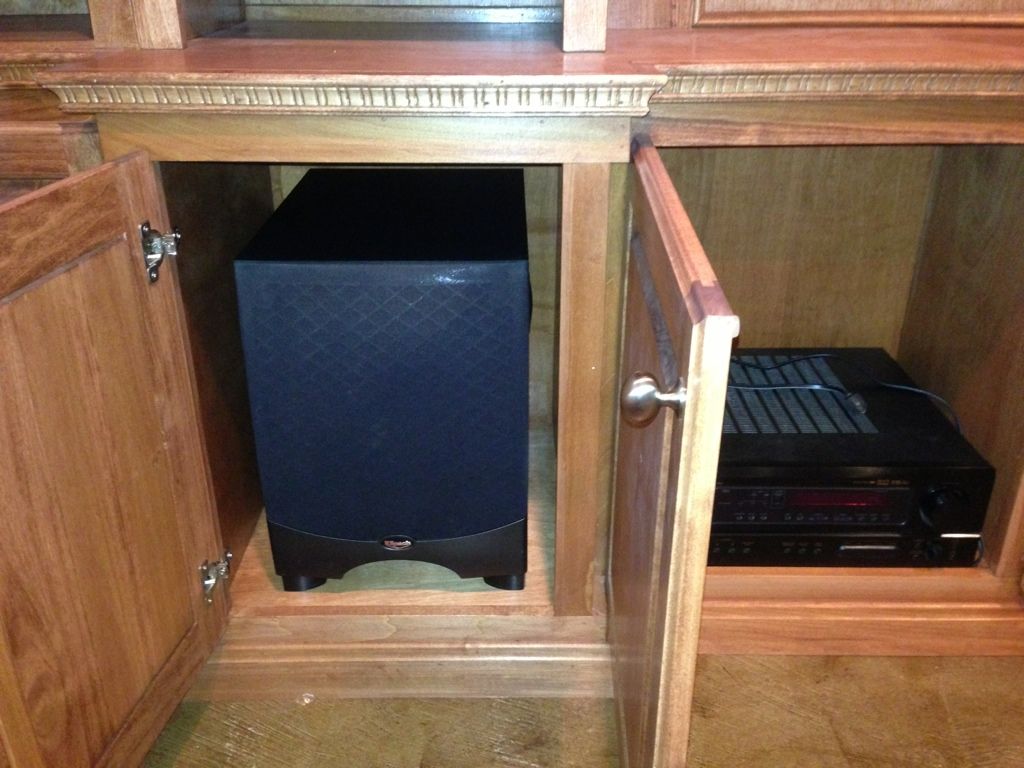 These are the rear surround speakers that are currently mounted on the wall. They are pretty bad. I think I would like to get another set of the
VM-1's and mount them horizontally on the wall. I would have to try and run new speaker wire, because the crap that it ran up there now is
super thin stuff. I wonder If I could attach some heavier guage stuff to the end of the thin wire, and just pull it through...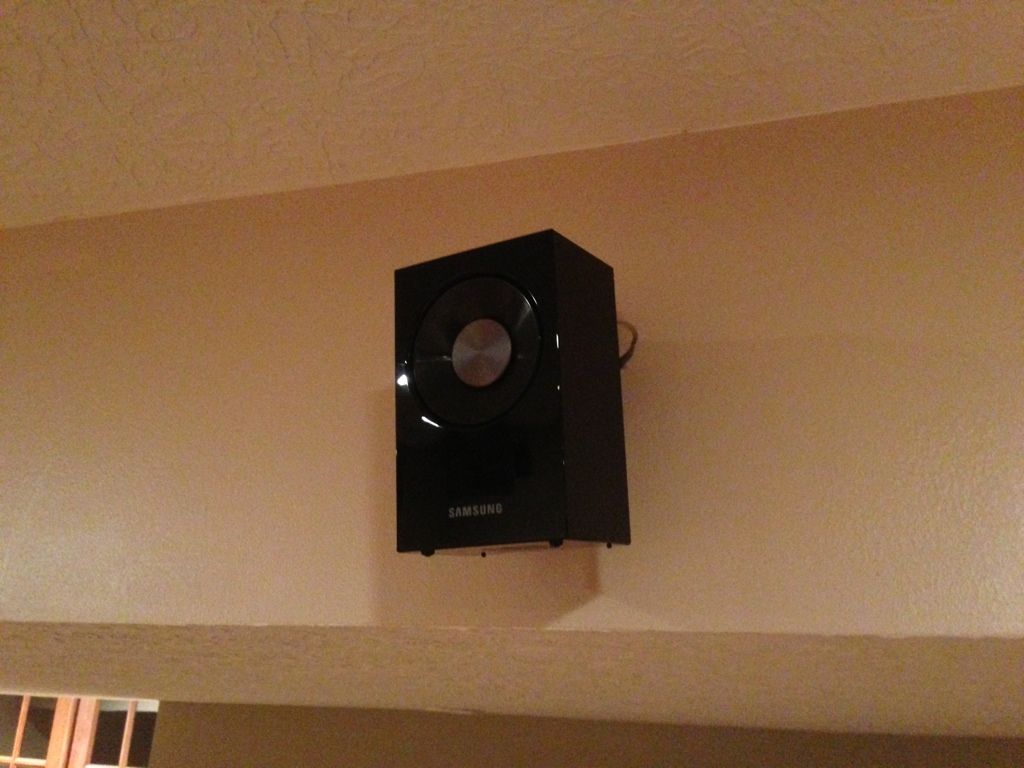 Any opinions or advise would be greatly appreciated. I am really looking foward to getting this room up and running.