While the second coat of flat black paint dries on the screen wall I though I would take the time to document my progress thus far. Before we get to far it might be worth mentioning that this is a very family friendly budget minded build, no high end gear here
Hardware:
AVR - Pioneer VSX-1325
BR - Pioneer BDP-330
X-Box
Speakers:
LCR - Monoprice MSQ-8425
L/R Surround - Monoprice - MSQ-870-1Y
Wides ( if I install them ) - Monoprice - MSQ-870-1Y
L/R - Surround Rear - MST-825A
Projector:
Epson 8500 UB
Room Size:
24'x26' with 7'2" ceilings
Sound Proofing:
Zero, ziltch, nada. For one the basement was already completed ( although horribly ) when we bought the house and second, the stair well is completely open to the main floor so there was no point.
There is a 265 Gallon fish tank in the room as well, it's located opposite the screen wall. When I mentioned this to people in the past I can see them cringe. While it's not ideal acoustically to have a big glass surface directly behind us, that's a compramise I'm willing to make.
On to the pictures, because words are boring!
This is basically how the room started out, save for the striped paint expiriment my wife tried on the advice of a decorator, I didn't like it and never quite finished it.
Fast forward to my nice sheet screen, we were having people over and my wife wanted to watch UFC and play XBox on a big screen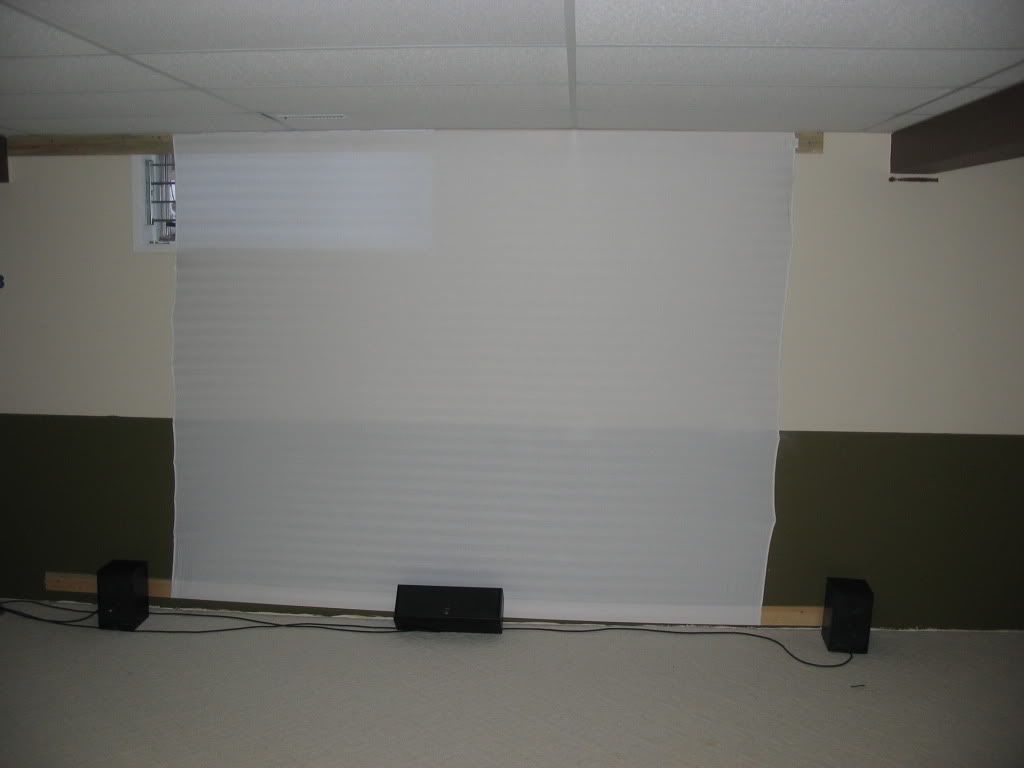 After a while I built an actual screen using Seymour AV material with a home made frame. I'm ashamed to admit that the room stayed like this for far too long.:
Then came another repaint to a Chocolate Fondue color that I didn't complete. The dark color really exagerated how horribly the basement had been built. it looks like they crowned the studs in/out/in/out there was no care taken at all. So that's how things sat.
Fast forward some more and we were expecting our first child - or should I say children, my wife was pregnant with twins, so understandably things didn't progress at all.
We still used the room to watch the occasional TV show or movie, until the bulb went in the projector. It was at that time I decided to pull everything down and redo it properly ( or as close to it as we could afford ) Again, we were too busy with the kids so the room NEVER got used.
I had some holidays to burn up so my wife wanted me to use them up to get the theater back up and running so she could use it during the long winter. I had to make some sacrafices along the way, IE: the in wall speakers, but they make it safe to the kids to run around and play without me having to worry about them getting damaged or worse having one fall over and hurt one of the kids.
The first thing I did was rotate the room 90 degrees, it always felt weird to have our backs to the staircase.
Rehung the projector:
Cut holes in the walls, and run speaker wire, here's how bad the basement is constructed, the vapor barrier is not sealed at the top of that bulk head so I'm not sure why they even bothered to put it in there. so running
the wires in that wall was actually pretty easy, ran my tape up the wall and it popped out over my head.
Painted the LCR frames and covers. I have to redo one of the covers, I'm not sure what was on it to have it turn out like that.
Installed the side surrounds ( temporarily, they aren't tightened down, they need to come out to refinish the wall.
Installed and wired the rear surrounds:
Painted the area behind the screen black ( Still wet )
In order to get around the wall issues with out tearing everything out and redoing, I decided to panel the bottom of the wall to match the cabinets already in the room and use textured wallpaper on the top half. Here is the paper I'll be using, I'm uneducated on such things and didn't think it would take two to three weeks to get the wallpaper so I won't be getting it done during my week off.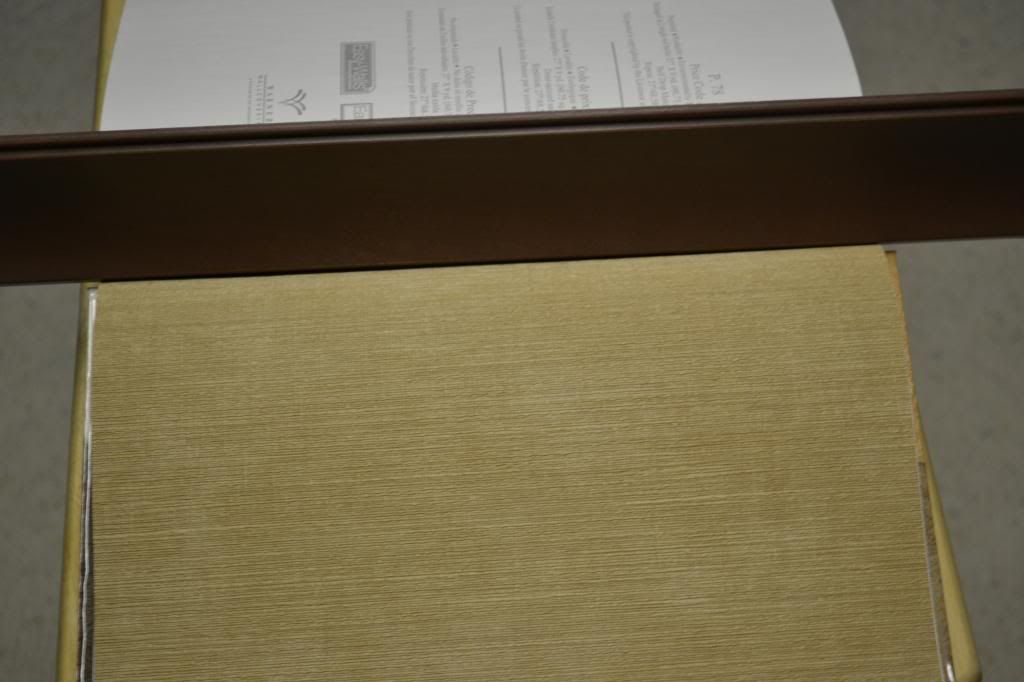 I bought some theater chairs of a local buy/sell sight for a pretty good deal, four seats, brown leather, powered recliners in brand new condition. I don't have a picture of them at the moment, they are in the garage until the room is ready for them.
i guess that's it for now