(Note: I also posted these
here
.)
I calibrated my UN50ES6500 (manufactured in July 2012, version CS01) using an Xrite i1DisplayPro colorimeter and Color HCFR software.
I sit a little over 8 feet from the screen in a pretty dark (though not completely dark) room. These settings give a luminance reading of approximately 35 fL. For a 50-inch screen at only an 8.5-foot viewing distance, I personally wouldn't want it any brighter than that. I think these settings are fine for a brighter room too.
I think this calibration is very good. The white balance and color space settings give realistic skin tones. The backlight, brightness, and contrast settings give black levels that are pretty black but not crushed (can still see detail) and the color doesn't get out of whack on really bright content (I found that pushing the contrast up any higher threw off the color too much). It also minimizes some of the clouding and flashlighting issues with this set.
These settings may or may not produce a great result on any particular set. These are probably most likely to work well on another 50-inch panel version CS01.
Tip: If you find the blacks are too inky or crushed (no detail when looking at, say, a tire), try ticking up the brightness ONE tick to 45. Conversely, if you find the blacks are not quite black enough, try ticking the brightness down one tick to 43. That shouldn't significantly change the rest of the calibration.
Another tip: If you really want a brighter picture during the day, try increasing the backlight to 10 or 11. That shouldn't screw up the rest of the calibration too badly, though I haven't tested that (it will affect it to some extent).
Picture
picture mode = movie
backlight = 9
contrast = 92
brightness = 44
sharpness = 0
color = 44
tint = G50/R50
screen adjust = screen fit
3D = off
Advanced
Dynamic contrast = off
black tone = off
flesh tone = 0
RGB only mode = off
Color space = custom
Red (R=50, G=0, B=0)
Green (R=75, G=51, B=0)
Blue (R=0, G=45, B=57)
Yellow (R=51, G=49, B=7)
Cyan (R=74, G=52, B=53)
Magenta (R=48, G=43, B=55)
white balance
R-offset = 26
G-offset = 25
B-offset = 25
R-gain = 30
G-gain = 33
B-gain = 0
10 point white balance = on. leave all values at 0 except:
interval 8 (Green = +1, Blue = +1)
interval 9 (Red = +1, Blue = +1)
interval 10 (Green = -1, Blue = +1)
gamma = 0
Expert pattern = off
xvYCC = off
motion lighting = off
Picture Options
color tone = warm 1
digital noise filter = off
mpeg noise filter = off
HDMI black level = normal (and should be grayed out). if you do have the option to change this, that means your source is sending an RGB signal so you need to use this setting to tell the TV whether to expect a 0-255 signal or a 16-235 signal. You'll have to try setting it both ways and see which way looks right. If you see inky black areas (as in no detail) or an overall picture that's gray and washed out, try changing this setting.
film mode = off
auto motion plus = clear
LED motion plus = off (or whatever you prefer)
System
Eco solution
energy saving = off
eco sensor = off
General
Game Mode = off
BD Wise = off
here are the graphs:
Luminance curve looks spot on: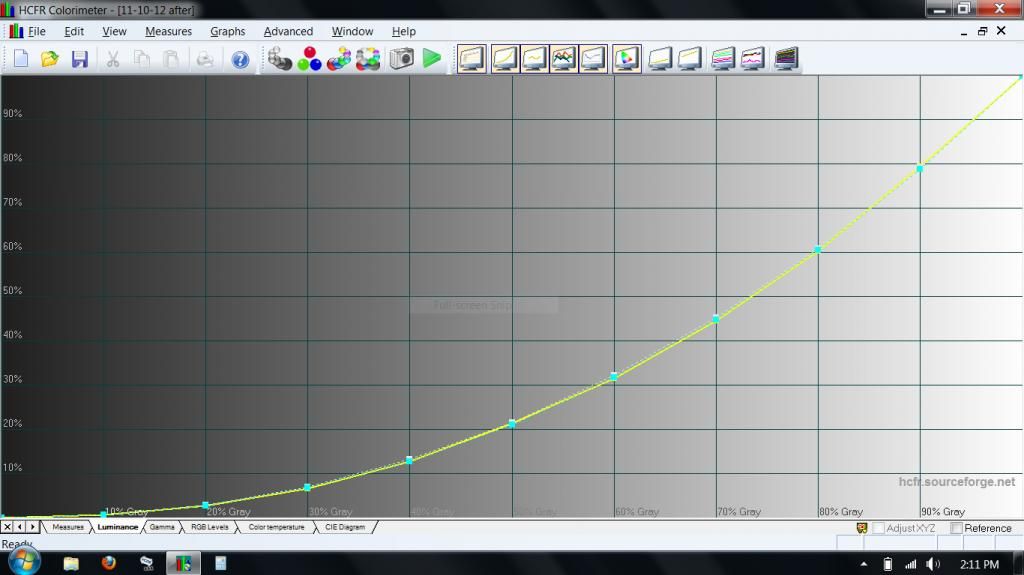 Average gamma is 2.25: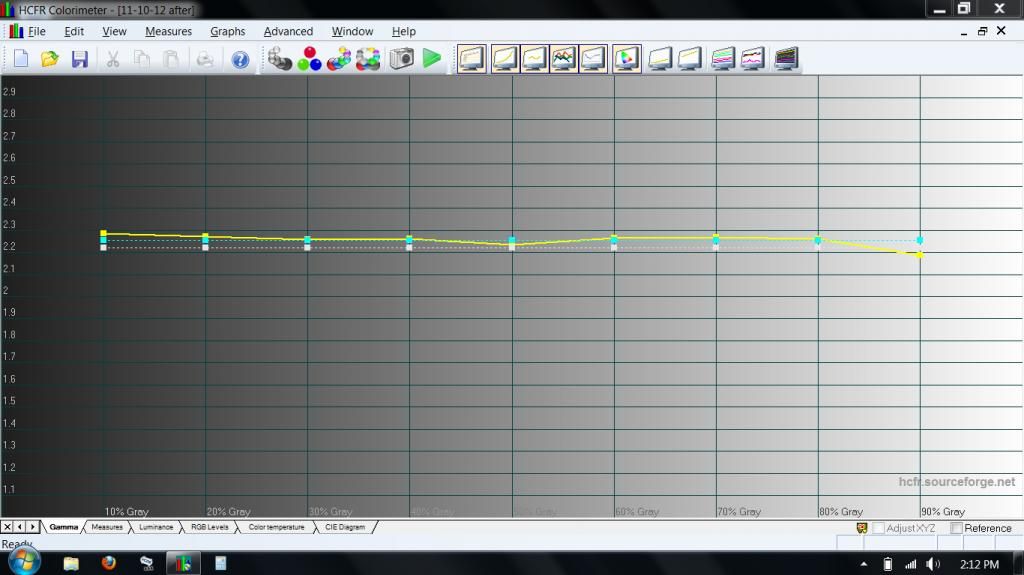 Color temp looks pretty good (can't really trust the 10% gray reading with a consumer grade colorimeter):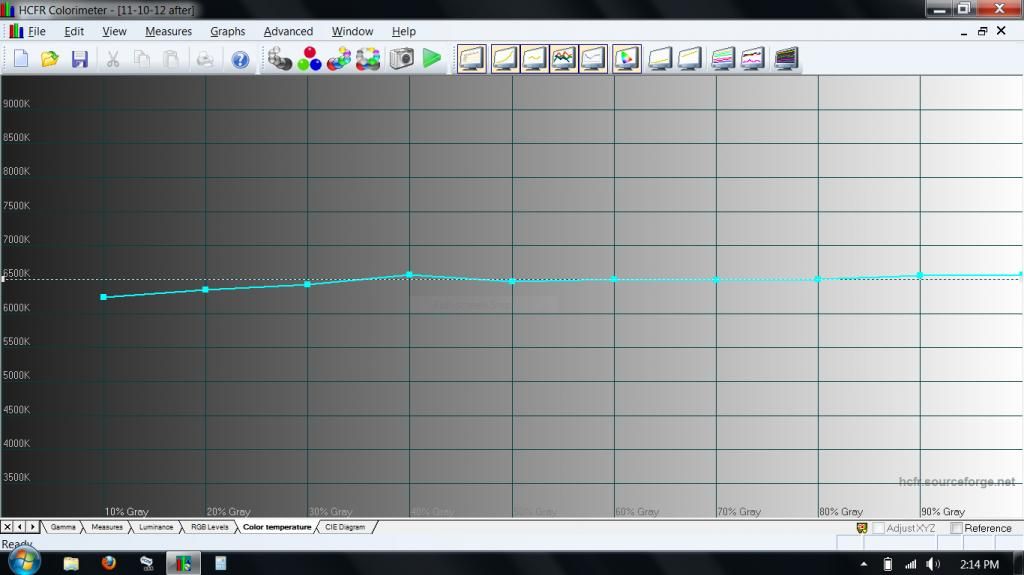 RGB levels look very good with very low deltas (again, can't really trust the 10% gray reading with a consumer grade colorimeter):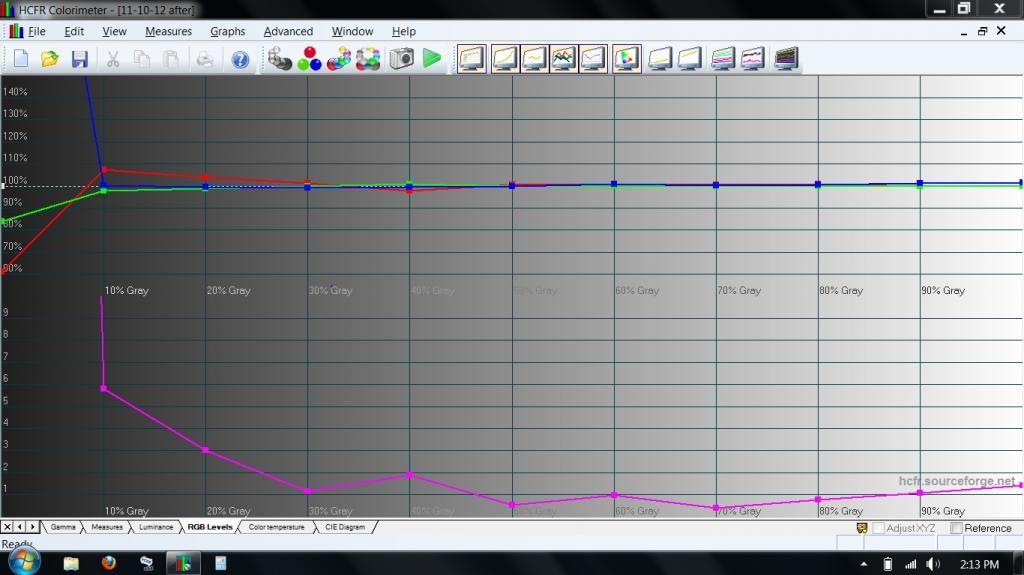 CIE diagram shows colors aligned pretty well to Rec709 references: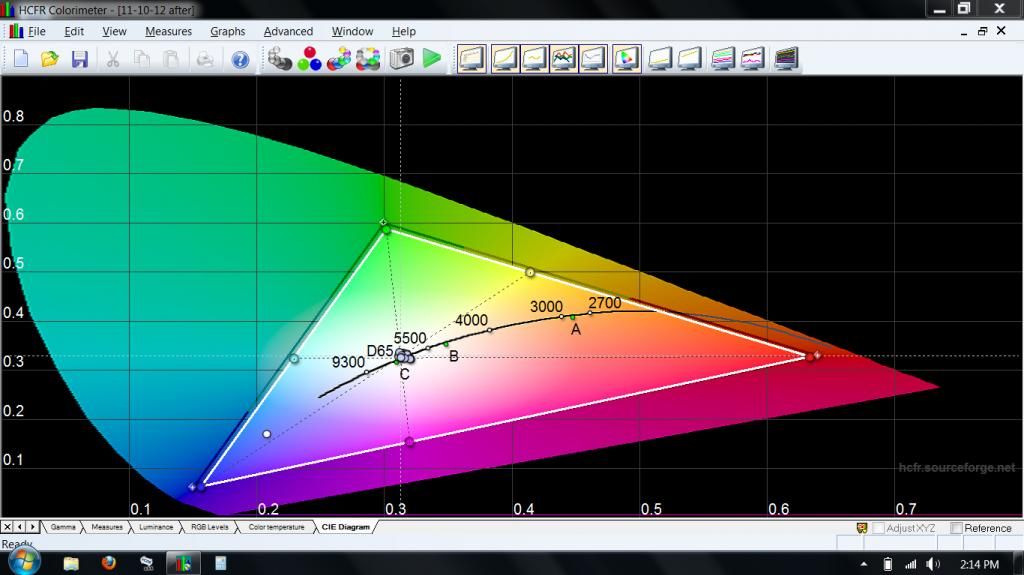 Measured values show delta E below 5 for all primary and secondary colors, which is pretty good: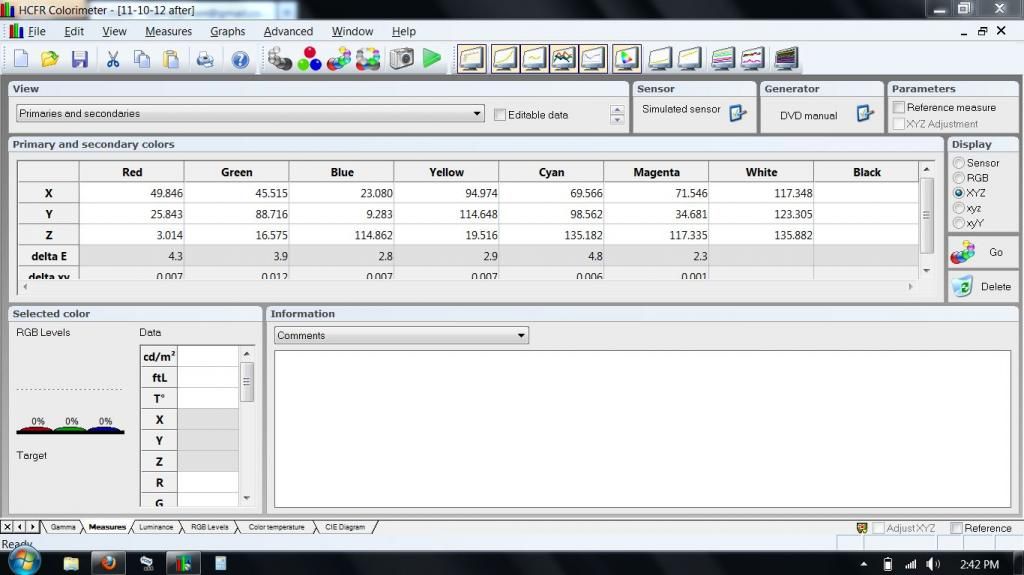 Edited by dave999z - 1/31/13 at 10:28am