Hello all!
After lurking around here for a long time and being amazed by the fantastic theaters that are built and documented on this forum; I have been inspired to bring my dream of a dedicated theater to fruition. This community of folks truly has a passion that I hope to be able to tap into when the going gets tough and I am about to get "Loganed".
There are WAY too many folks on here that I should probably mention as my inspiration but I am sure they will notice the different pieces parts that I stole…err borrowed for my space.
Since building a dedicated theater is not enough work, I decided to tackle the entire basement at the same time (yes I am a glutton for punishment). My plans include a bar area w/ an old Irish Pub theme, TV area, storage room, full bath, game area and of course the theater. To help with the theater design I reached out to the Erskine Group (thanks Shawn a.k.a. SierraMikeBravo, hopefully I do your design justice!) and purchased the "select" package; Shawn was great to work with and really knows his stuff!
My tread's name actually came from my wife (I could not come up with a catchy name myself) as she says that she is a "basement widow" due to the amount of time I have been spending down there building out the space. If she thinks it is bad now, just wait until it is complete, I will have a theater, bar and full bathroom….she may never see me again!
Finally, for those of you that play the market, I have two words (or is it three) – Band-Aids and Advil. I have been going through A LOT of both so their parent companies may be a good investment.
And now to the main event…
My theater is 21' 7" x 13' 5" (yes its width challenged)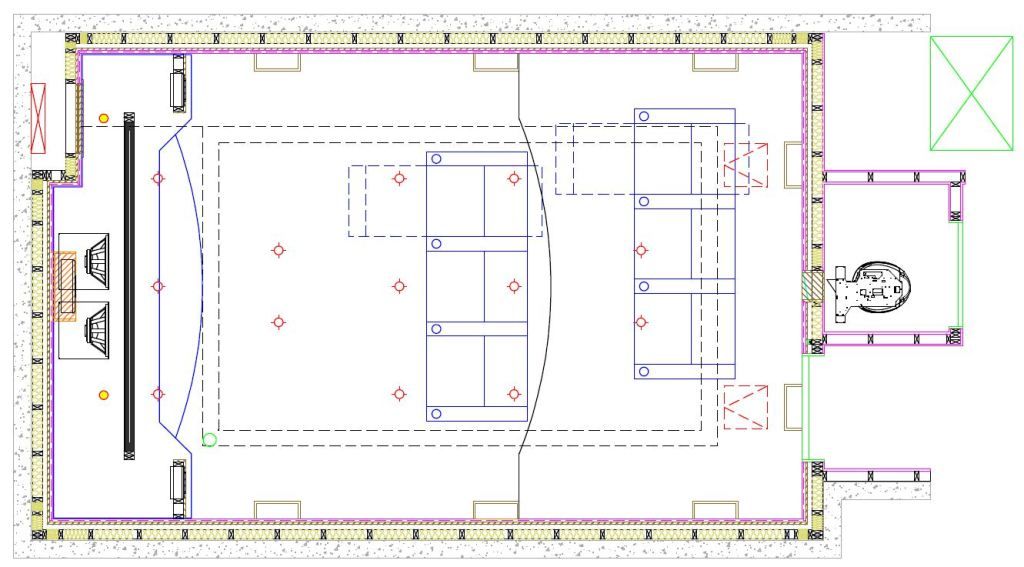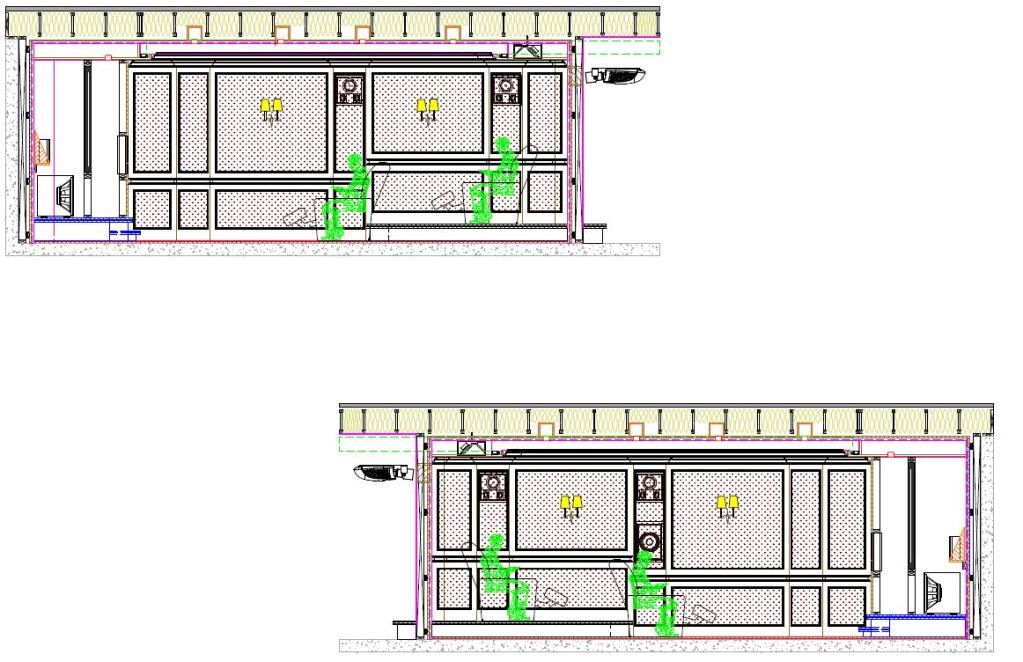 Entire basement layout - It's changed a little as there is no longer a slanted wall in the TV viewing area.
Theater build details:
Double drywall with GG, clips and acoustical sealant - I already have been in contact with John and Ted @ The Soundproofing Company and as it has been said many times on here, they are great to work with. I purchased the clips, sealant, GG, putty pads, door-sills and door bottom already.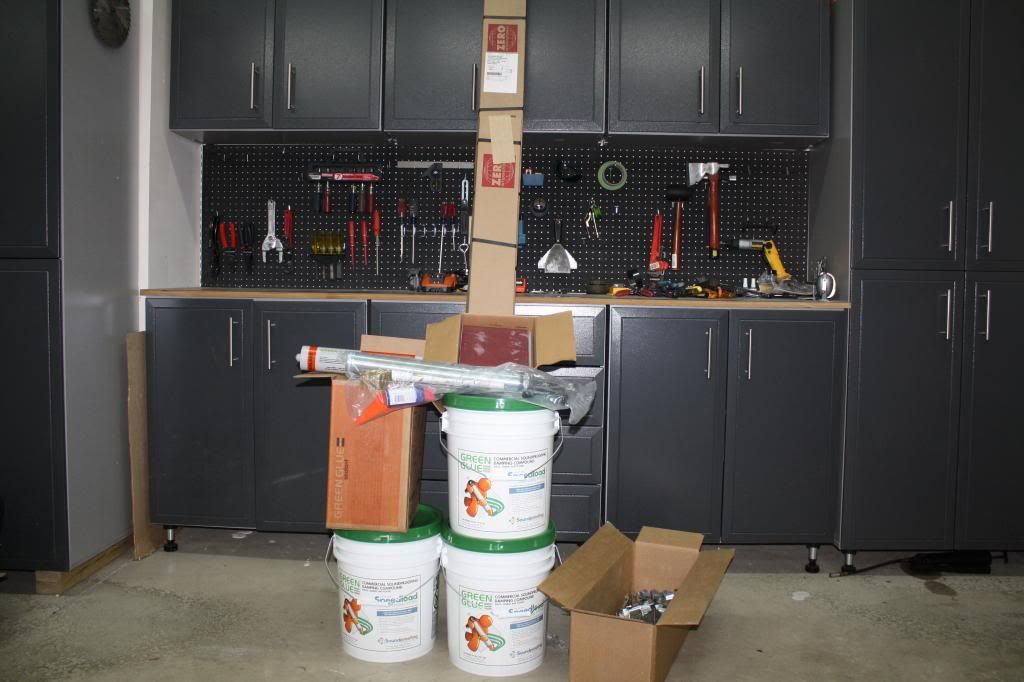 I was in the garage "staging" the goodies from John and Ted to take this picture when my wife walks through and sees what I am doing and just shakes her head and says "AVS" as she walks away...
Insulation in ceiling and walls
Soffit all the way around
Painted star ceiling from Night Sky Murals
Two rows of seating with a single riser
Stage (filled with all that heavy sand)
Door with Zero International door-sills and bottom
Room treatments
Equipment details:
Yet to be purchased
7.1 sound just not sure which speakers yet…I am all over the place on this one, been looking at Procella, Triad, JTR, Ascend and possibility even DIY (Wayne P's PI speakers)
2.35.1 AT screen (not sure which screen yet)
Oppo 103 Blu-Ray player (not purchased yet)
Projector – Another area I am all over the place – been looking at Runco, JVC, Sony and Wolf
HTPC
Purchased but sitting in the box and mocking me
Arcam FMJ AV888 –
http://www.arcam.co.uk/products,fmj,AV-Amplifiers,AV888.htm
Arcam FMJ P777 -
http://www.arcam.co.uk/products,FMJ,Power-Amplifiers,P777.htm
6-zone Lutron Grafik eye (GRX-3106)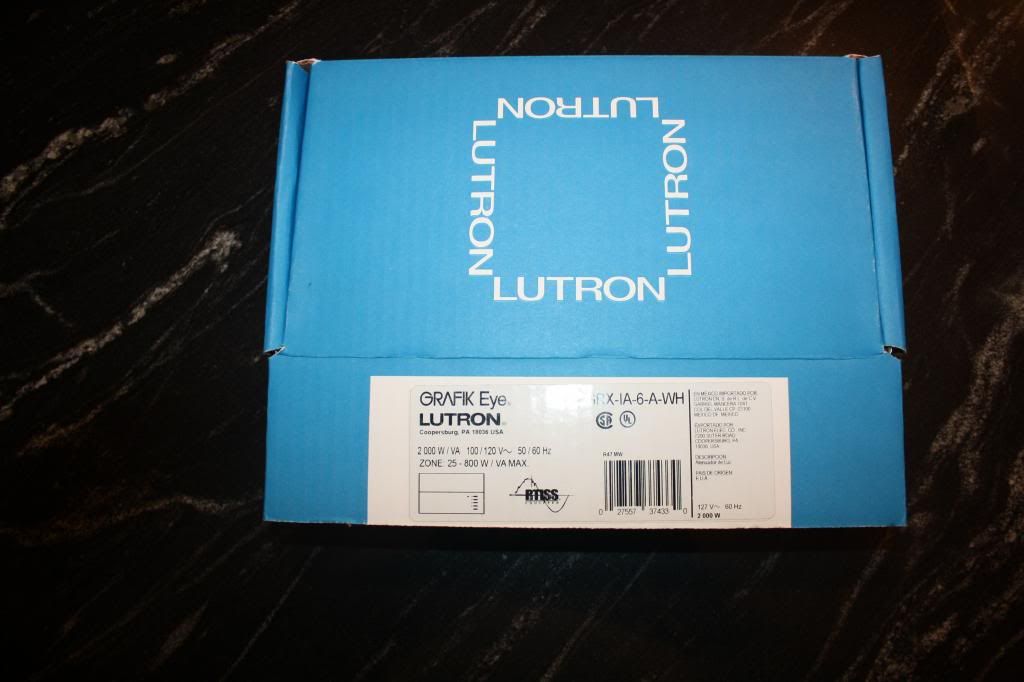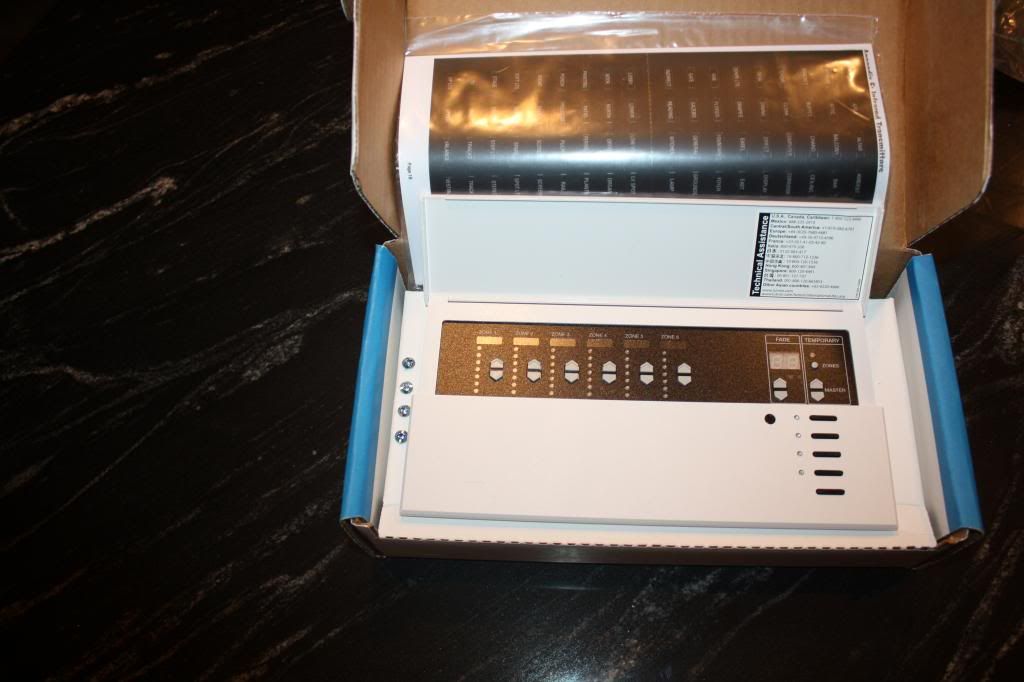 I started construction in September and thus far I have the following completed;
Two coats of Drylock - boy that was fun… if you like painting with pancake batter
Egress window installed - I paid a contractor to do this as it was really more work than I wanted to take on and my wife gets nervous when I start poking large holes in the side of the house.
This is the "old" window before they started cutting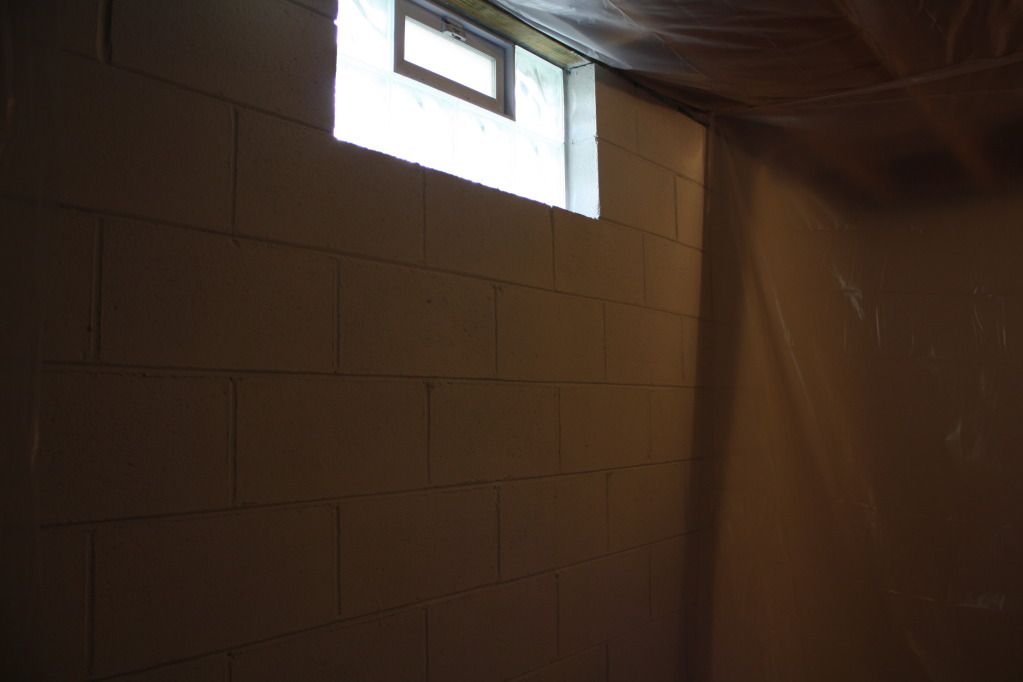 I set up some plastic to keep the dust down while they were cutting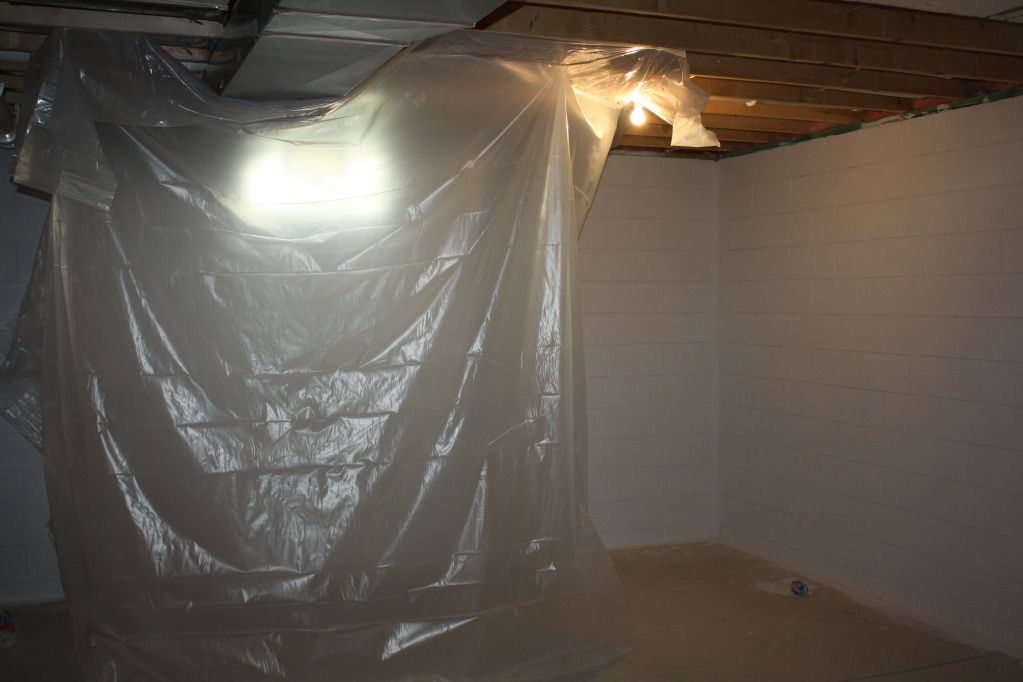 Finished egress window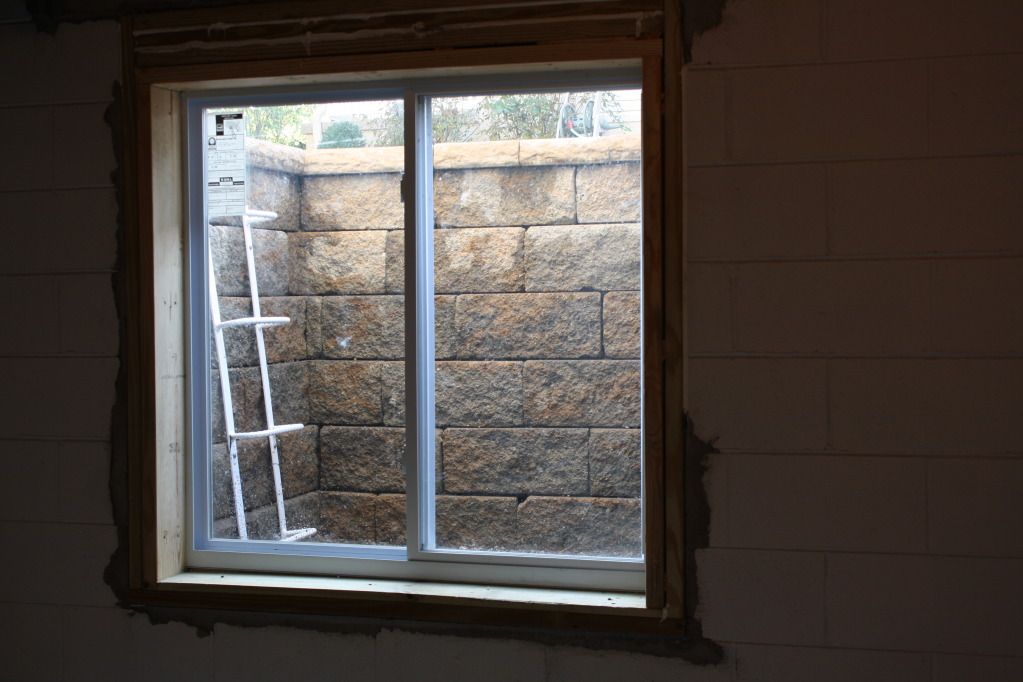 I moved the plumbing rough in for the bathroom and installed bar drain – another fun task; however, rather than kill myself with a sledgehammer I decided to rent a wet saw with the diamond blade. The wetsaw worked great and kept the dust down; however, it was gas powered and that usually does not work too well in closed spaces as you can imagine. So, I set a fan in my new egress window to help pull out the gases but it was still pretty bad. I was able to cut the cement into large chunks, which saved a ton of work with a sledgehammer and worked out really well.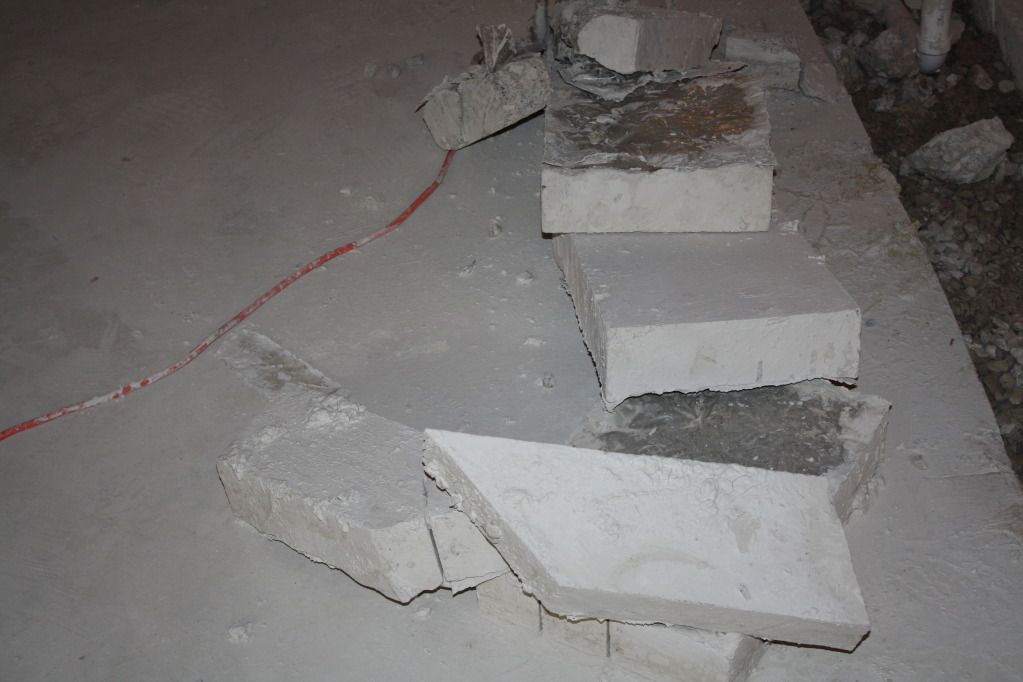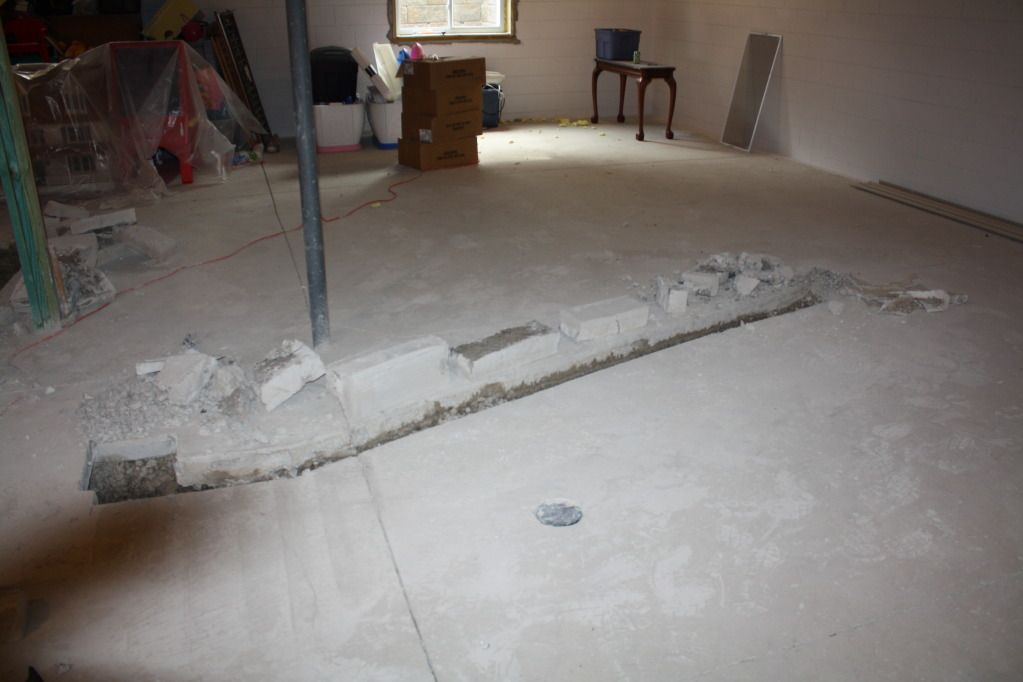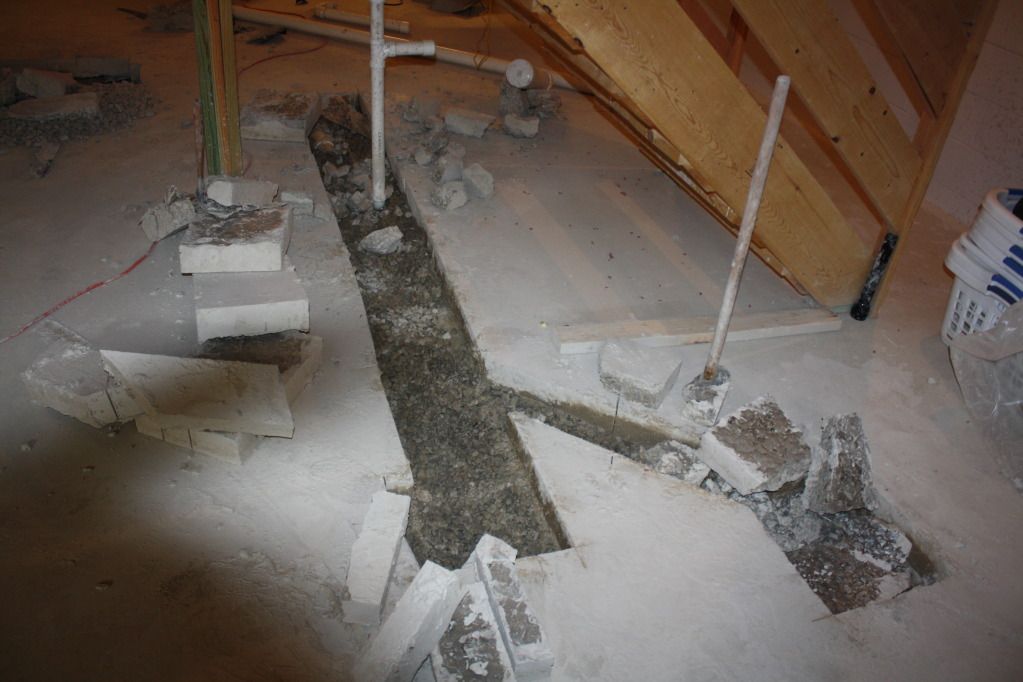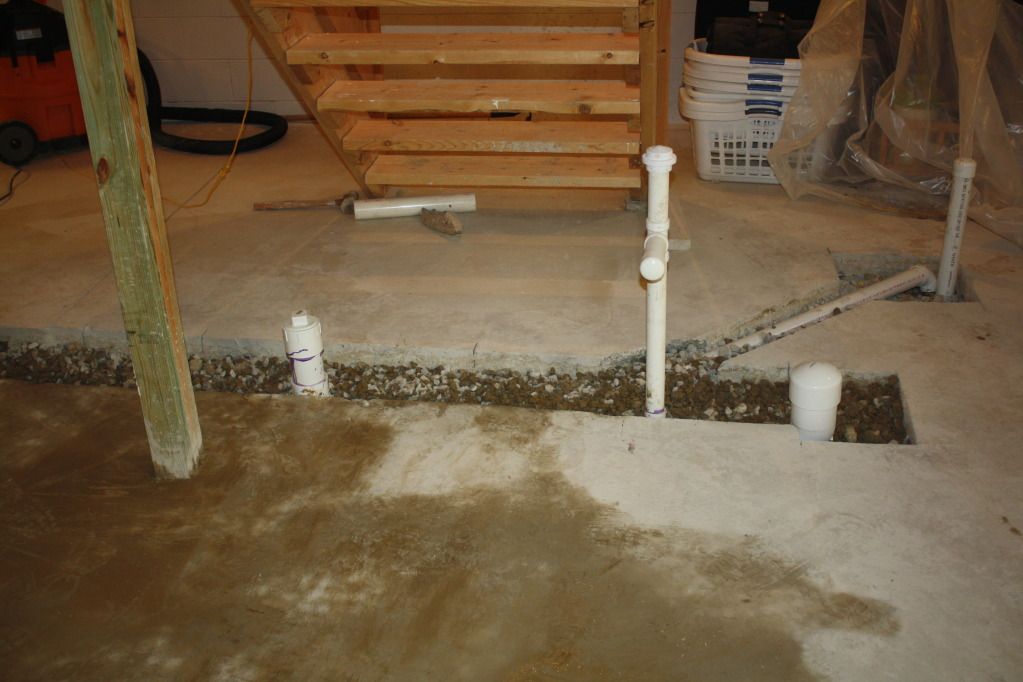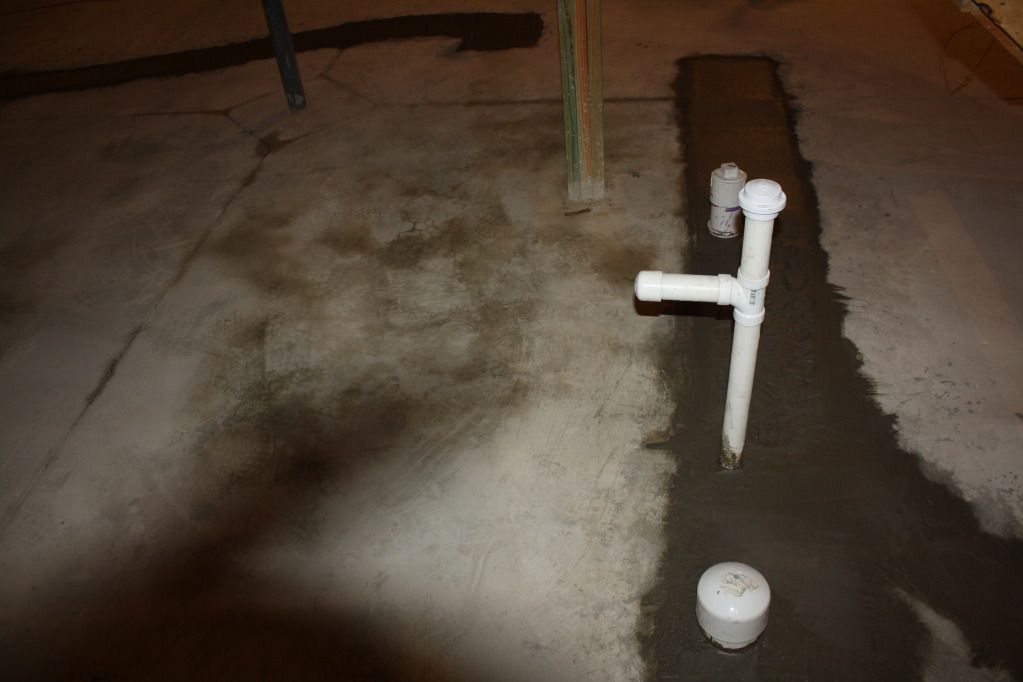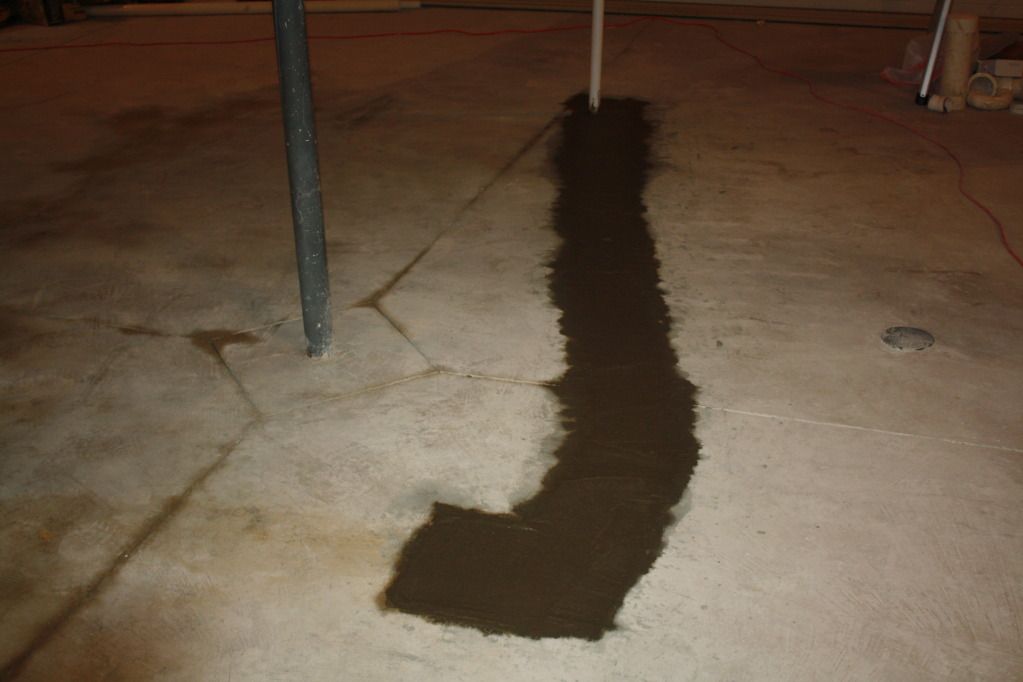 Radon system installed - I never really thought about performing the home test until one of my neighbors did it and their results came back extremely high, so I did the test and my results were off the charts as well. The EPA states that any level above 4 pCi/L is bad and that a Radon mitigation system should be installed; my levels were 27 pCi/L so needless to say I had a system installed and my levels are now less than 1 pCi/L. I do not have any pictures of the system but it is basically a 4" PVC pipe that is installed in your sump pump pit or drilled into your slab until you hit gravel; a fan is installed outside the home to create a vacuum and pull out the Radon gas. My system is installed into the slab for aesthetic reasons as I did not want that 4" pipe and fan showing on the front of my home (sump pump located toward front of home); the downside is the pipe is now on the wall where my screen will be located. It is extremely quiet but I will most likely wrap the pipe in some kind of insulation just in case. There is some question as to whether Radon is dangerous or not but for the $700 installation charge, I figured it was a small price to pay for peace of mind.
Installed a Watchdog battery backup sump pump system – I figured if I was going to spend all this money to finish my basement, I needed to take every possible precaution and this system fits my needs. It actually has two separate sump pumps in it; there is an AC pump as the primary and a secondary pump that is tied to a battery system. It works really well and has an alarm system that lets you know if something is wrong with the pumps, AC or battery. We have been in the house for about six years and while I have never had an issue with water (knocking on wood as I type this), I just do not want to take the chance that something bad will happen (see Logan's tread of what I mean).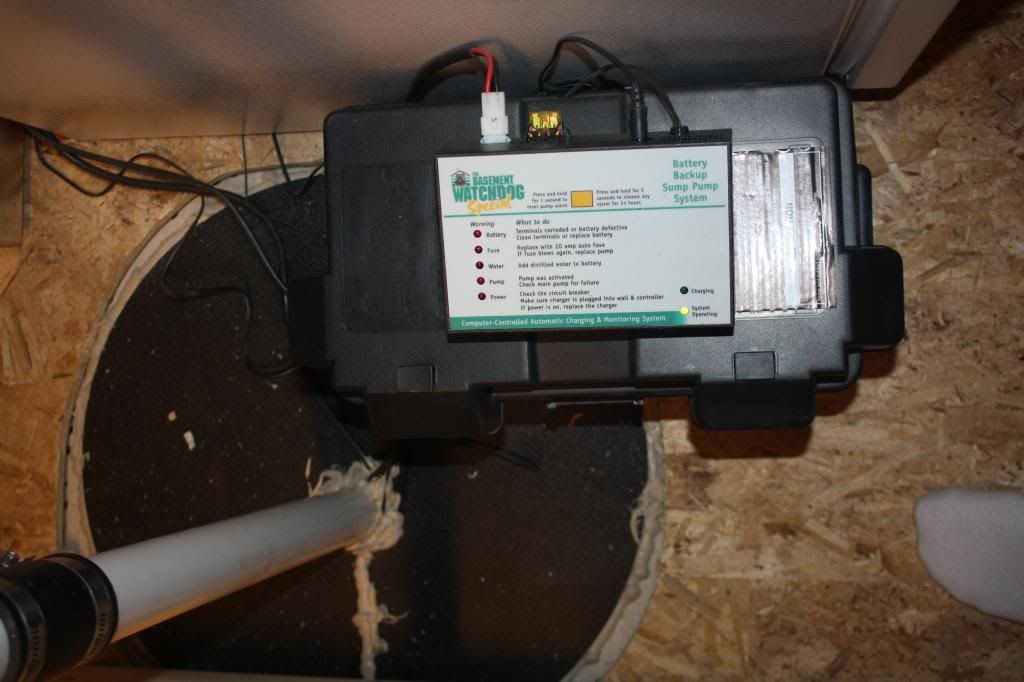 Spray foamed my rim joists throughout the basement – I used a product from a company called Spray Foam Direct, I figured it was the last opportunity I had to insulate my rim joists and might as well do it right. It was extremely easy to do but a little hot as you are covered from head to toe in a protective suit with air mask and goggles. I am one that wears shorts all year long and not a fan of being hot; however, on the up side I think I lost several pounds through sweating my butt off in that suit.
Latest in weight loss technology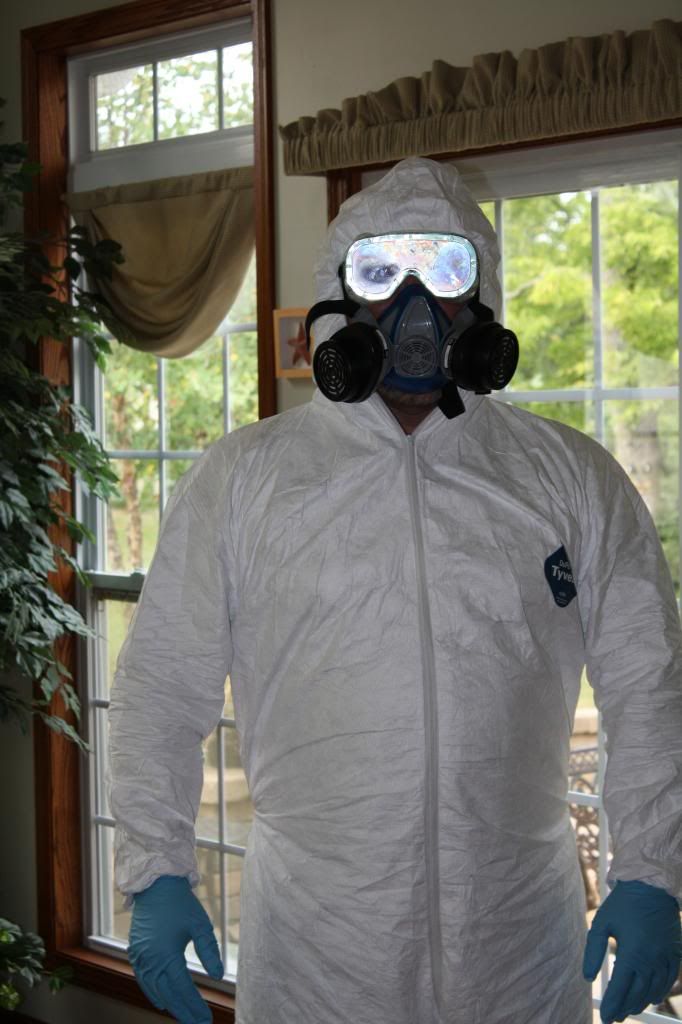 Installed a zone system for the house HVAC
Installed Dri-core throughout basement and in case you ever wondered what 400 pieces stacked looks like...here you go.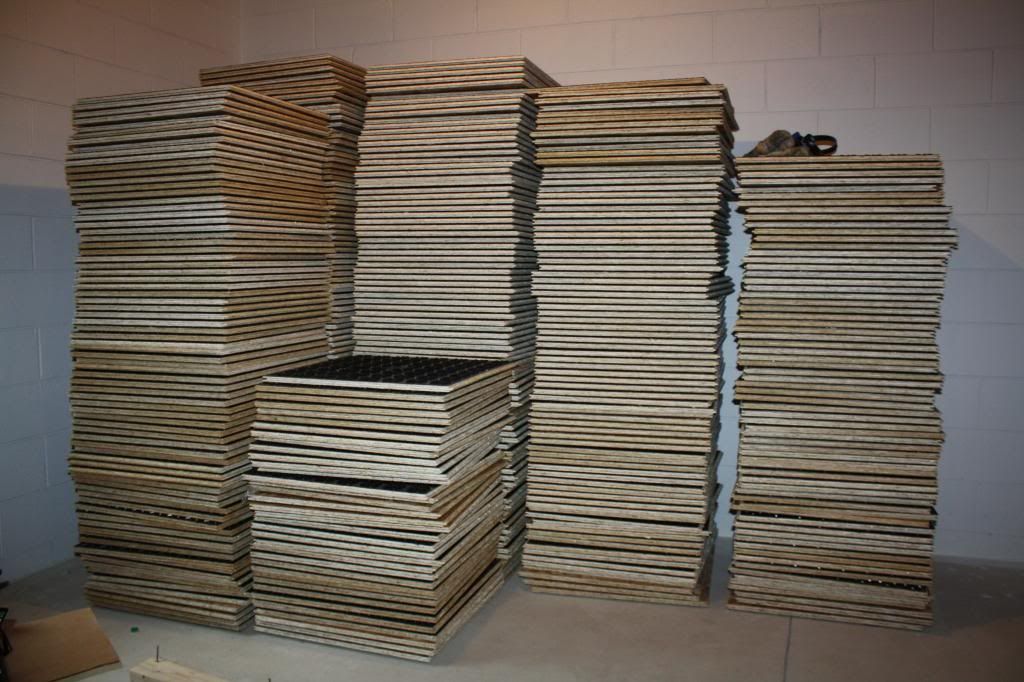 I also decided to install it prior to my framing and I know that there has been tons of discussion around the best time to install it, before or after framing - obviously I chose to install it prior to framing.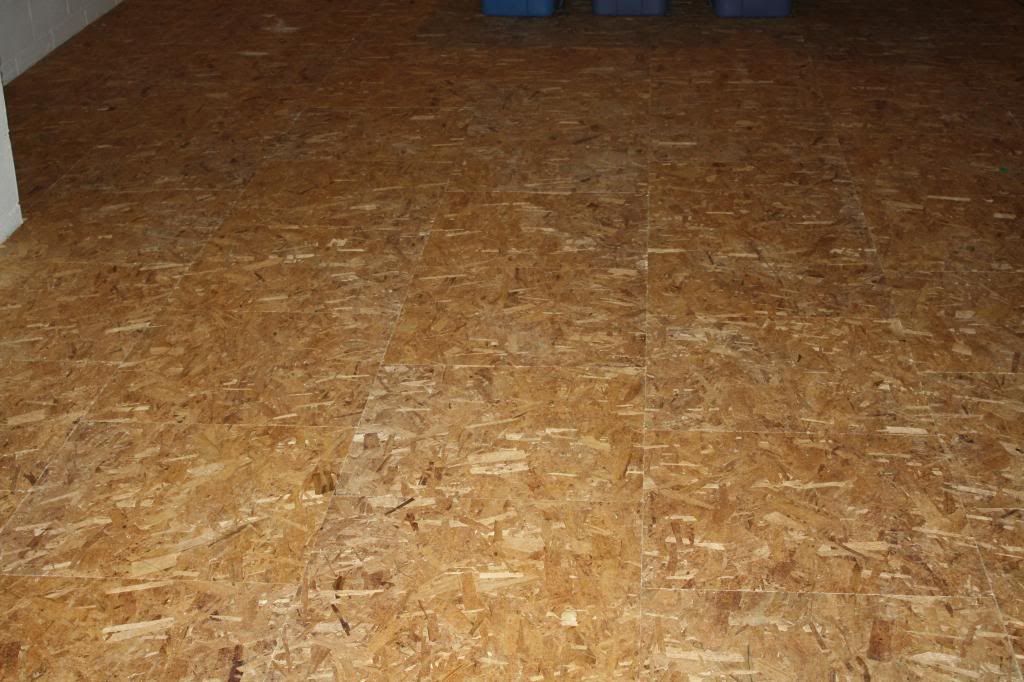 Framing complete for entire basement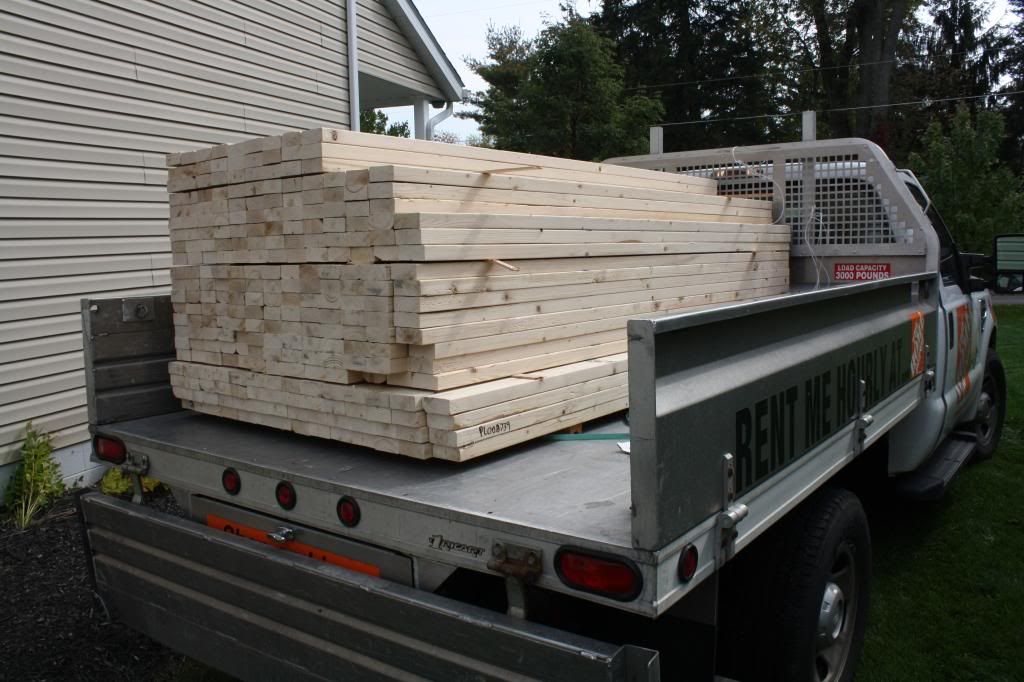 I set up this "lazy mans elevator" to help get the 2x4's into the basement through the egress window; I used the same setup for the cement for my drains and will use it for the sand in the stage as well. It saved so much time and allowed me to stand relatively straight up by the end of the day. I had a friend help and we were able to unload and stack all the wood in less than 30-minutes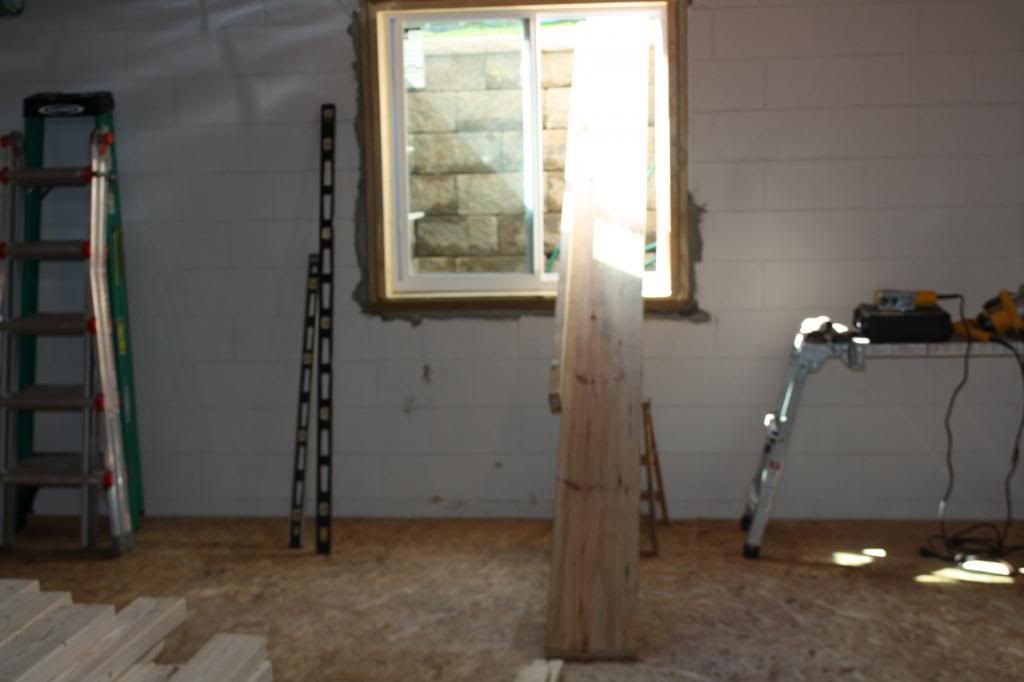 full "skid" of 2x4's from HD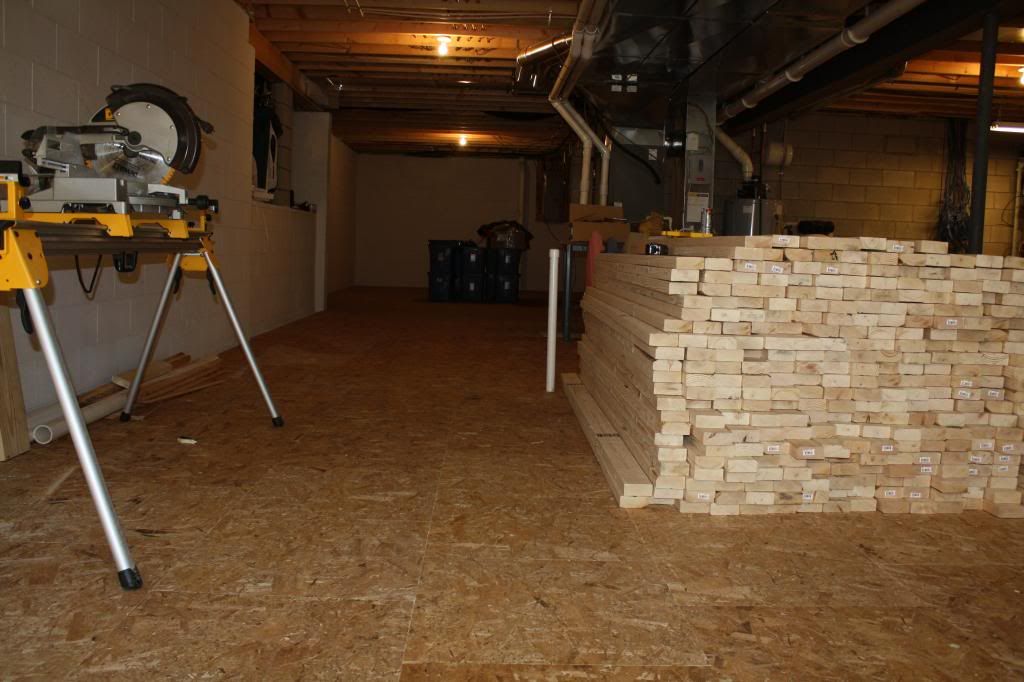 Installed barrel vault ceiling in the hallway to my theater from a company called Archways and Ceilings, while I could have framed this myself it was just so much easier to spend the 130 bucks and get it shipped to me all ready to install.
Started with a framed in hallway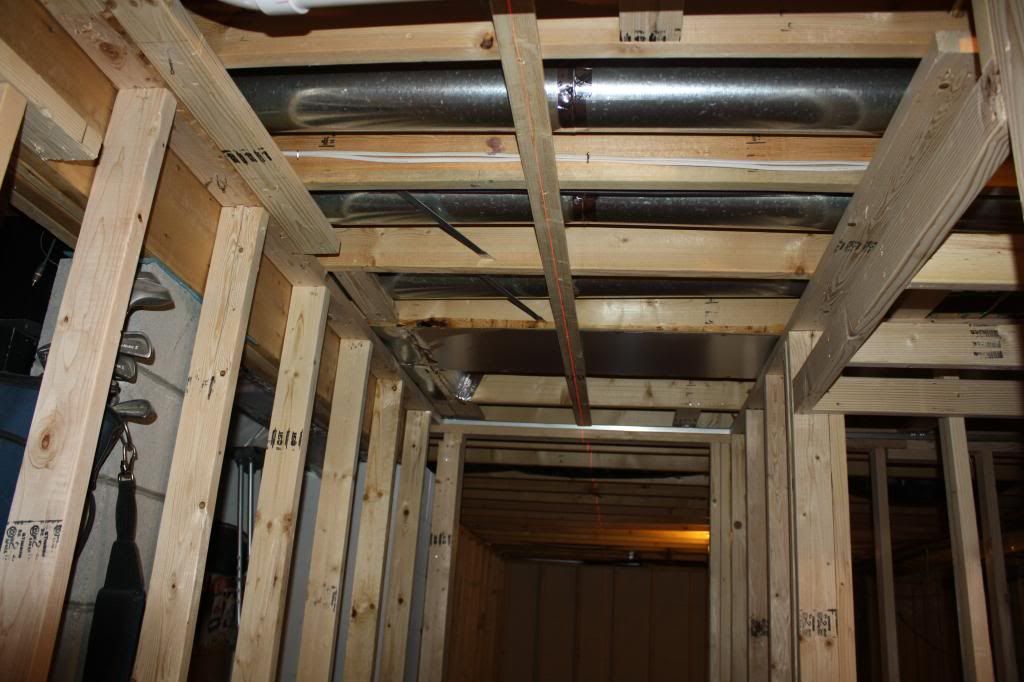 barrel vault ceiling parts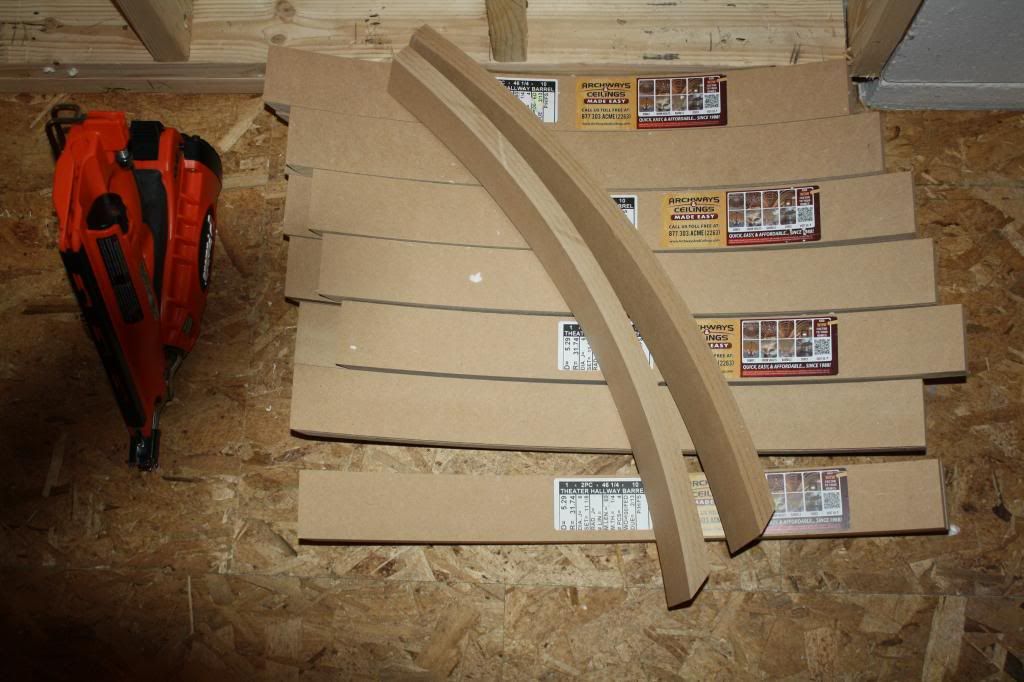 The individual "ribs" are actually 4 pieces laminated together with the correct rise.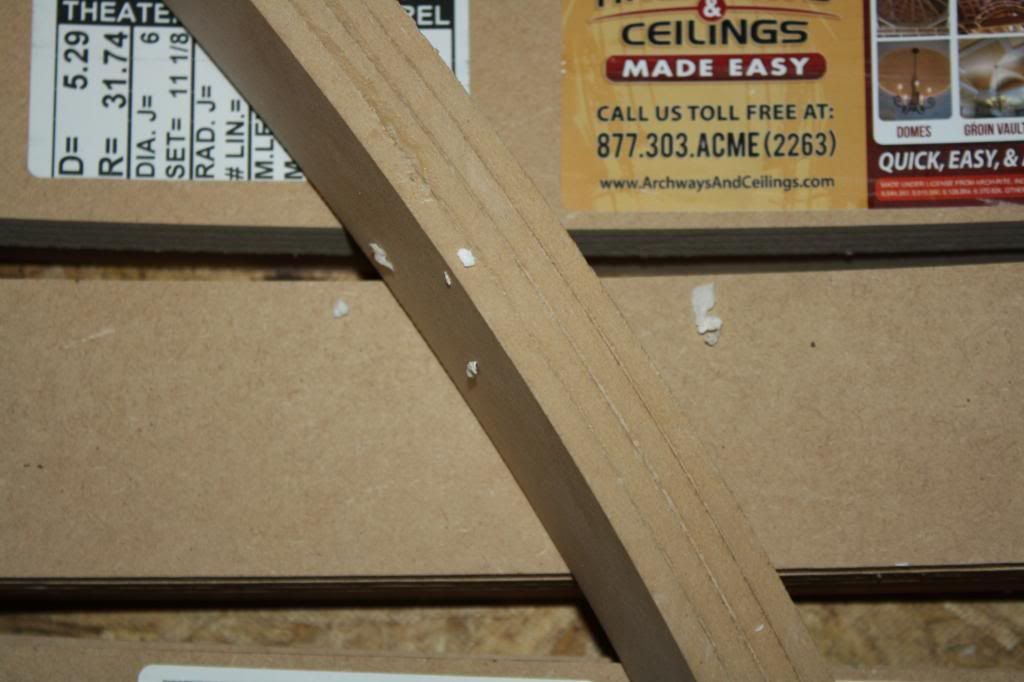 A short time later you end up with this....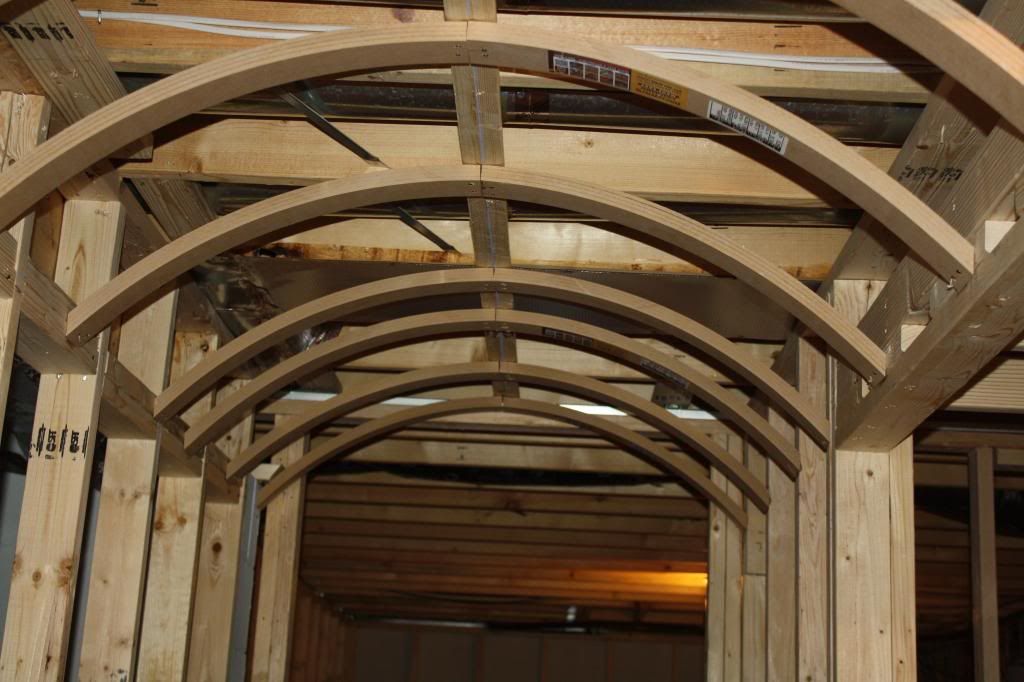 Edited by mjmitchell1970 - 2/28/13 at 11:35am