Quote:
Originally Posted by
Dark_Slayer
http://www.amazon.com/Seagate-Barracuda-7200RPM-Internal-ST33000651AS/dp/B004VLZSHE
Quote:
There is a newer model of this item. See details below, or go to the newer item.
http://camelcamelcamel.com/Seagate-Barracuda-7200RPM-Internal-ST33000651AS/product/B004VLZSHE
http://camelcamelcamel.com/Seagate-Barracuda-3-5-Inch-Internal-ST3000DM001/product/B005T3GRLY
Right. $199 for the older 5 platter XT in the Amazon link you gave versus $135. (and $115 on Newegg right now)
Price alone means no one is going to buy that when the new model is far cheaper. Performance is basically irrelevant in the purchase decision. I could not get over the $199 price tag.
Although I generally don't like Anand as much as other sites I found this:
http://www.anandtech.com/show/5042/seagates-new-barracuda-3tb-st3000dm001-review
Quote:
Platter density has been the crutch of hard drive makers in recent history. Increasing spindle speeds can reduce random access latency, but at the expense of cost and thermals. Improvements in random access performance via increasing spindle speed pale in comparison to what is possible with solid state storage, not to mention that driving motors at speeds beyond 10,000 RPM becomes quite difficult. The focus on increasing platter density is also difficult, but higher density platters can actually lead to reductions in power consumption rather than the opposite (through a reduction in the number of platters per drive). There's also the fact that if you can cram more data on a single platter there's a direct impact on sequential accesses.
Seagate decided that the performance loss of moving to 5900RPM wasn't justified by the power savings. It believed that by introducing a more power efficient 7200RPM drive it could deliver the best of both worlds, negating the purpose of the Green line. For most desktops, Seagate has a point. The couple of watts you save by slowing down the motor aren't really realized in a system that idles at 60W and can consume over 100W under load. On the other hand, the performance drop is definitely noticeable. Hard drives have pretty bad random access performance to begin with, and slowing spindle speed isn't going to help.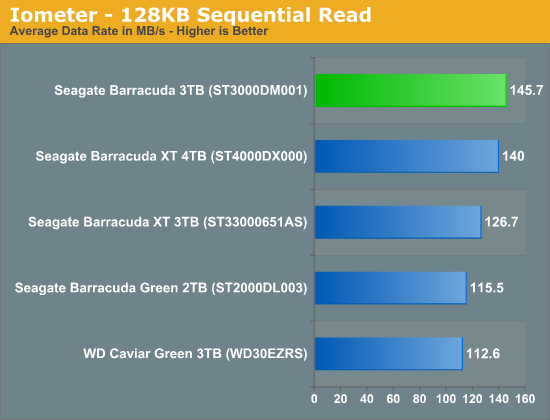 This actually covered some of the topics we had argued earlier...