I'm a rather odd dealer of super high end gear, I only have 5 clients and don't take new ones. My current clients are always upgrading to the newest stuff and this keeps me busy full time.
Ive become jaded in this industry over the decades and not much excites me anymore.
Im posting this because I am truly excited about a new device, In fact the most excited ive been in maybe 10 years,,, and i don't get excited about stuff very often at all. Im posting because many people might not even know it exists and word needs to get out.
There are times when a product and a company progresses so far in one step it takes a long time for the industry to catch up and is used as a measure for other gear. A product sets standards others have to follow. I think the RS20i is one of those products..
The Datasat RS20i surround sound processor
. Its the biggest single step in performance I have seen in my industry. Im really excited about it and my clients are just ecstatic. I want everybody who can afford it to go get one. Its that good. NOTHING comes even REMOTELY close..
Im very callous and jaded when it comes to high end audio gear. I dont rave about things, I don't post forum threads about equipment. This device tho is so precedent setting ive felt compelled to post and rave about this device.
I think most of you may know the history of Datasat but I will mention it quickly. Datasat purchased the DTS Cinema division. The DTS Cinema division made a surround processor for theaters, the AP20. David Kersetter was empowered to engineer the best surround processor once Datasat took over. His brilliant design of the DAC's and analog stages along with fully analog power supply and killer HDMI and processing tweaks resulted in the RS20i. It also got a awesome case and has a great touchscreen GUI interface.
I spent 3 1/2 hours with the designer of the RS20i, David Kersetter, at one of my clients homes in the LA area last week. To say this man is brilliant does not do him full justice.
Im going to describe performance. So this should include the systems I have used it on.
Most recent install:
Speakers -
Wilson Audio Alexandria XLF
Amps -
Ypsilon electronics 100 ultimate
Interconnects -
Nordost Valhala 2 and Odin
Power cords - Nordost
BluRay Player -
Ayre DX-5
Install from a few weeks back:
Speakers -
YG Acoustics Sonja's
Amps -
Burmester 911 Mk3
Interconnects - Various but Transparent and Wireworld
BluRay Player -
Ayre DX-5
The video of both systems is not important to my post here but both systems have Sim2 Teatro projectors on Screen Research screens and even a Teranex for SD upconversion.
The above systems are fairly state of the art so I had a very good way to evaluate the RS20i
I dont want to talk about what surround processors came out of the the systems. What came out is considered the best SSP's made. In one system we had tried ALL the current high end SSP. We even had a Levinson 40 handy. The Datasat so outperformed every other device on the market nothing else was even in the same category. Im not kidding and im not exaggerating. Not even close. The difference is instantly apparent. Its not subtle, its huge.
The incredible detail, the airy yet gripping presence. The way it was also laid back yet stunningly detailed is in my experience unheard of. Its natural, tight, fast and effortless. Its gripping and very involving. Its musical and emotionally involving. The imaging was like a super high end turntable with tube gear. Which both these clients also have. The dynamics were jaw dropping. In U571 ( DTS ) the depth charge scene you clearly hear tiny drops of water dripping inside the sub, with echo and direction and crazy precise imaging. The other processors you cant even hear the drops. Then the depth charges go off and the bass is so visceral tight and authoritive ive NEVER experienced bass so tight and clean in my life. Hotel California from the DTS demo disc is just remarkable. Musical and lifelike, effortless and detailed. So much detail I was shocked. Django Unchained DTSHD-MA was unreal. Truly hard to describe how good it was. The Matrix had such precision imaging it was actually startling. I found myself going back and listening to stuff again. I had not actually heard imaging so precise from any source. The Datasat natural neutral presence and yet vivid and remarkable detail combined with startling dynamic accuracy was, for me, a never before experience. Multichannel music in 96/24 5.1 was insane. Baraka was, well, mesmerizing.
Its performance is so far beyond any other device its completely in a class by itself. In fact I was sure even with the totally state of the art systems we were not reaching the level of the RS20i. I think it has even more to offer then I have heard yet. It was so insanely good it has me posting on the forum. Something ive never done about a product.
Its room correction is not normal. Its not just level calibration. Its precision acoustical alignment. The analog to digital converter for the calibration mic is 192/24 !. It uses Dirac and so it also does time alignment. It allows you to do as many measurements as you want and store these in files you can recall at will while listening. You can set target curves. You draw what response you want it to do for each channel and it will EQ it. You can store everything in a unlimited number of settings and recal at will. The results are remarkable. You can choose from default target curves like a theater X Curve. EVERYONE who buys one of these MUST buy the Dirac kit.
Frequency response correction. Target = Flat.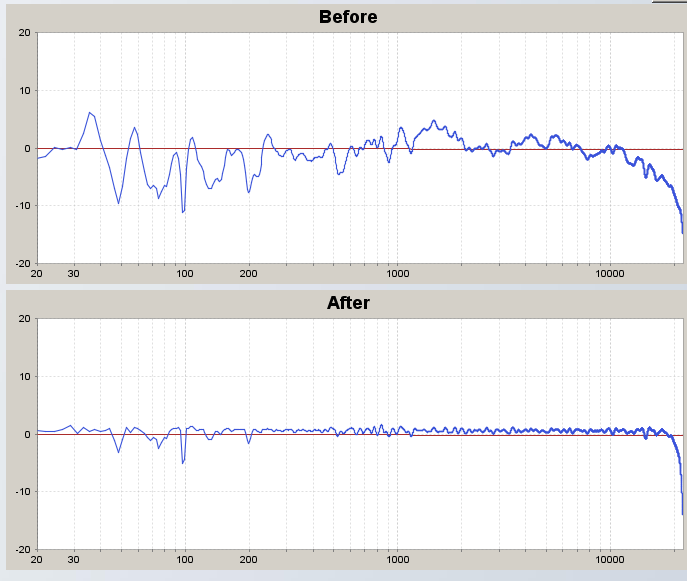 The datasat is Linux. Its incredibly stable unlike many other surround processors. It has a GUI color touchscreen you most likely wont use much as it has a iPad VNC interface. You can also control it from a iPhone or iPod touch. Its configuration capabilities are just remarkable. Do you need 16 analog output channels ? All balanced ? no problem. 16 SPDIF inputs ? No prob. It had 4 HDMI **1.4B** inputs. Thats 1.4B folks,, for high end thats awesome. So it can DECODE surround from players rather then taking in multichannel PCM over HDMI.. I might add that for some reason having the Datasat do the decoding was WAY better then letting the player do it and send out multichannel PCM.
Its a Linux box and as such can be accessed remotely as needed. Datasat has stunning good support and can address issues by connecting to the unit remotely and diagnosing the issue and even do some tweaks to firmware. You can control it completely remotely. As a dealer I love the box because i can remotely manage it and update it without going to the clients house. The training is awesome from Datasat. Im not sure if Datasat would do it but I think any technically savvy owner might want to get training as its really great.
The remarkable flexibility that comes from it being based on Linux is very handy. Its more like a surround computing platform. It has a near limitless set of configuration options. Datasat LOVES hearing about ways it can tweak the unit and actually implements suggestions quite quickly.
All this tech comes from the
AP20
used in theaters. In theaters you cant have a device lock up or fail. At all. Ever. Over years. Its just got to work. And the RS20i does just that. It just always works. Also as its really the DTS guys who made it, it really knows how to do movies.
DirecTV... Its un f*** believable. I would have never in my life believed I could get audiophile audio from DirecTV, but you can. Even poor quality sources sound remarkable.
Its ability to do low low volume is breathtaking. Even at almost zero volume it retains all its detail and audio attributes. Ive never heard a surround processor do that before.
There are many other aspects of this device I could rave about, but i will stop now as i have gushed enough over this. you should
find a dealer and go get one.
Make sure you get a competent dealer who has been certified by Datasat who can do the Dirac correctly, its just magic when dialed in.
One additional thing I should mention. Cable. Every cable made a difference so make sure to use good cable. I clearly heard differences in HDMI cables, which for me put to rest any debate that HDMI cable make a difference in audio. They do. Even the power cable made a difference on this device I attribute this to the power supply being analog which i think is nearly unheard of for a surround processor. Keep all your analog runs short like you would for a 2 channel audio rig.
Edited by Chris_Stephens - 6/12/13 at 4:32pm