I'm new to home theater. I'm making a dedicated theater in our new house in an already constructed room. Light won't be an issue as I can black it out. This is going to be a budget build. Since I've never evened owned a HT system a budget build for me will have a ton of wow factor. As a mater of fact I've never been in a home theater. I don't mind spending the money as long as its a bang for the buck upgrade. I've been eyeing the Banq W1070 because it seems to be a bang for the buck PJ at $900. At first I'm just going to use basic sound until I can put in a proper system. All I've ever had is a TV's built in speakers so It won't take much for me to be happy with sound at first. I'm going to DIY everything I can possibly can (I love DIY) I have a ton tools and experience so that isn't scaring me at all.
The small area is the entry way. I'd like to use it for snacks and popcorn etc. The main body of the room is 20' 3" x 15'. It has 8" ceiling. The only obstruction is a ceiling fan in the center of the room and can (and probably will) be removed. The far right wall shown will be the screen wall. I have good access though the ceiling.
My thoughts:
We will be using it mainly for movies (16:9?). Our favorite tv shows on occasion (Walking Dead).
Seating:
Viewers will most likely be me, the wife, and son (later not born yet). With possibly 4 more guest on occasion. I don't know if I can cram 2 rows of seats in this room. I may just have unconventional matching seats, probably not going to have the official theater seats. We like to lounge around anyway when watching a movie.
So my biggest questions right now are:
Projector: Like I said I like the Banq W1070. Looking a PJ central's calc It looks like it would be a good fit for what I'm trying to achieve. Any objections?
Whats the biggest screen I can get away with here? I'd love 150" diag, but I suppose that limits me to one row of seats, because that pushing view so far back? The black bar on the right represents a 130." (150" diag 16:9) You can use that for scale maybe.
Screen: I like the idea of DIY AT Screens. Putting sound behind the screen is very nice. I'd like to have a big screen and clean look. I read quite a bit about the spandex screens.
Sound. Can I just get away with a great 2.1 (better receiver) and upgrade as I buy the individual speakers?
Hope I didn't forget anything. I am DYING to start building the screen or a riser or something anything! Help me out! Thanks.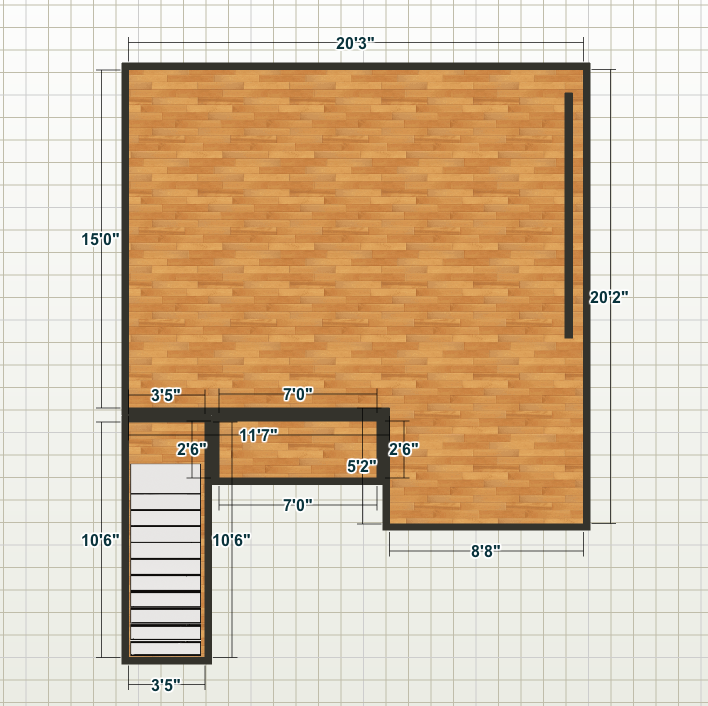 The stairway on the left represents a large opening in the back of the room that could be used for hardware. Thats a very large open area from the steps going down into the garage from another direction.