Living in a tiny apartment is not easy. Wanting a home theater makes it even tougher. The living room is the only place in this apartment that I can set up a flat screen etc. I've always wanted a built-in rack. Not having one wall I could use to carve out a space I had to go to the next best thing, taking up closet space.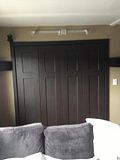 Opposite of my flat screen there is a double closet. The plan turned into taking the left side and build a rack. Here are some pics on what I've done so far.
Today I added a Coolerguys double cooling fan to the top and the rest of the molding.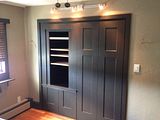 I still need to add a bit more finish molding and some paint.
Today I realized that the reflection may be an issue because of my TV being opposite of the rack. I'm hoping it's not as it might be.
The other issue is no access to the back. I had no choice. You think a swivel out shelf system might be a good idea for at least the AVR?