I took a picture of my future home theater space and started photoshopping to get some ideas for paint colors and decorations. Keep in mind this is very basic and a lot of things are missing. LCR speakers will be put on stands instead on mounts, but side speakers will probably have to go in-wall (they will be HSU speakers, btw). False wall was a no-go with the WAF. Below is a photoshop of my plan and also a picture of the original room on top with the design barely visible to show relations.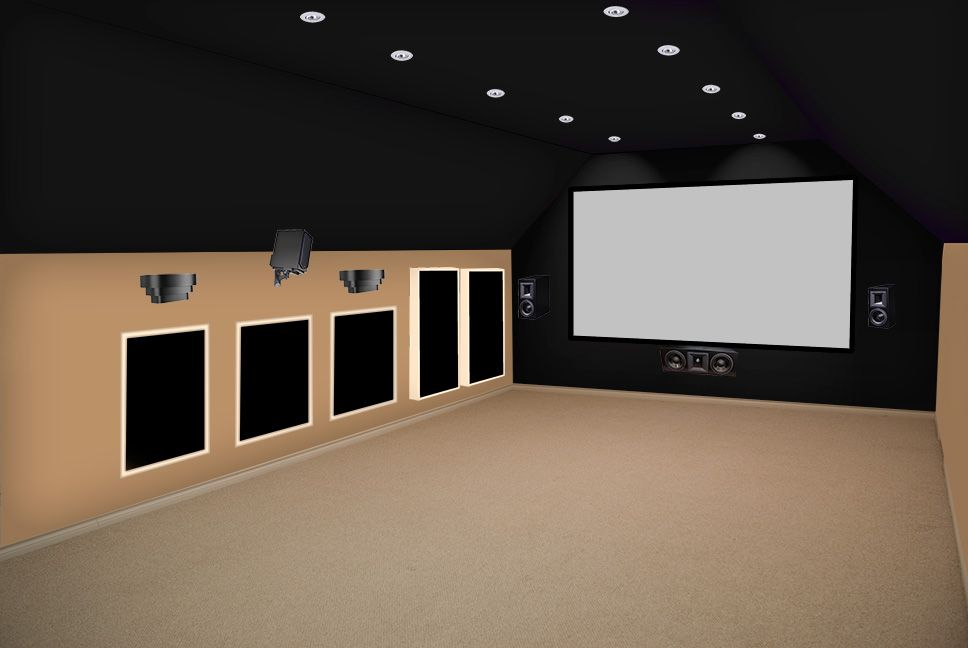 The room is a normal bonus room over the garage layout, about 13' wide by 23.5' deep. The ceiling is sloped on the sides which really throws me off from a design perspective. For example, I'd like to build columns or have more ornate trimwork on the walls, but the sloped parts have to be treated more like a ceiling than a sloped wall. Any suggestions on how to dress this up?
At the front of the side wall are 2' by 4' sound absorbing panels constructed of 1"x4" framing. I'm considering ditching the picture framing trim (left of the panels) and making the absorbing panels 2' by 2' across most of the side wall. My first lighting question is, if I decide against the sconce lighting and instead mount the panels off the wall with a light behind each panel for a glow effect, what would be a good light to do that? I'm thinking something like an under cabinet light, but mounted on the wall. For example, something like what I've linked below, but it runs on 12 Vdc with a power adapter and I'd really prefer something that can take 120 Vac directly. I'd like to avoid having to install electrical outlets every couple of feet all the way down the wall to plug in a power adapter. LED and dimmable would be greatly preferred.
http://www.amazon.com/Lighting-EVER-Downlights-Voltage-Recessed/dp/B004BLKZ8Q/ref=sr_1_12?ie=UTF8&qid=1376795519&sr=8-12&keywords=led+cabinet+light
Next question for lighting is, what kind of lighting output should I be looking for with the recessed lights in the ceiling? I've linked a product below that I was hoping to get some input on. They are 3" recessed fixtures with a 50 W halogen GU-10 bulb. My concern was that this might not be enough light, being that each fixture is small, but I figure I'll never really need bright light in a home theater anyway. These bulbs can also be replaced with dimmable LED bulbs. Regardless, some input from the guys that have been there before would be appreciated.
http://www.amazon.com/Canarm-RN3NRC1WH6C-Recessed-Includes-Directional/dp/B003TQLP24/ref=sr_1_5?ie=UTF8&qid=1376795894&sr=8-5&keywords=3+inch+recessed+light
As far as usage of the lights goes, I'm thinking just the sconces on (or glowing panels) for general TV watching and probably complete darkness for movies.
It feels like there is a lot of black here, but that seems to be recommended by a lot of people.
I'll probably think of some more things, but really just wanted to kick around some ideas from the pro's and see what is going good and what I can improve upon.