I have posted this on a couple of other forums, but there are some of you who only frequent this forum, so I thought you might enjoy my latest sub build. I have a Great Room that has 14 foot tall ceilings and is basically 1K square foot. It has a front wall that is 20' wide so I have built a 110" screen for it.
I designed the box in two cabinets that can be broken down in 20 minutes or so in case I end up with a basement one of these years and have a dedicated a/v room.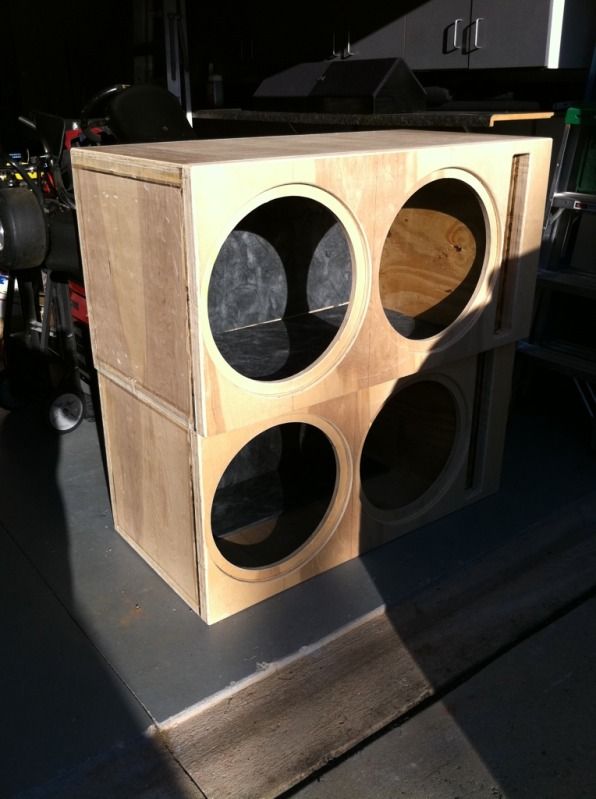 I went with a ported design as this is a subwoofer for the main range of 20hz to 80hz which is used for 70% music and 30 % TV and movies as I'm not a fan of movvies due to my aversion to any kind of visual violence. seeing people get their brains blown out is not entertainment to me.
There is a saying," Contentment is destroyed by comparison" Once you hear a full speaker system that will play the bottom octaves with authority, you are not satisfies with mere 1 driver subs that fail to impart a pressure wave that permeates your body and makes you become one with the music. being a former drummer and trumpeter for many years playing in 18 piece Big Bands at 100db plus levels, you become used to "feeling the music". Most audiophiles don't have any desire at all for this kind of system, which I found out at last years CES show. 200K dollar systems that fail to reproduce percussion with realism, room after room of ultra expensive systems that went to 40hz at very moderate levels as well. One mfg'r had a pair of 30K speakers that had a great bottom end until I asked to turn it up to the level of having the musicians in the room, to which the woofers quickly bottomed out on the first kick drum hit, and he said that he had sold 50 pairs of them so far. Playing in Big Bands let you experience what musical/physical energy can be had, just like playing in the middle of an orchestra and having a large orchestral drum being walloped right behind you. A complete different experience from being out in the 14th row of the Concert Hall. Hope this helps you understand the goal I am after in my setup, which is the perfect blend of SQ and SPL
I used a 8 foot long and 25" deep walnut butcher block top and used those dimensions as the basis for the rest of the cabinet, going with a ported design tuned to 20hz for each 4 foot long cabinet
I went with the Watco Danish Oil to end up with a low sheen to prevent reflections under the screen. I used matching walnut corner pieces and then thought the ends would look nice with black mirrored plexiglas. I wanted to have a one piece front grille and used some c-shaped aluminum channel for the grille frame.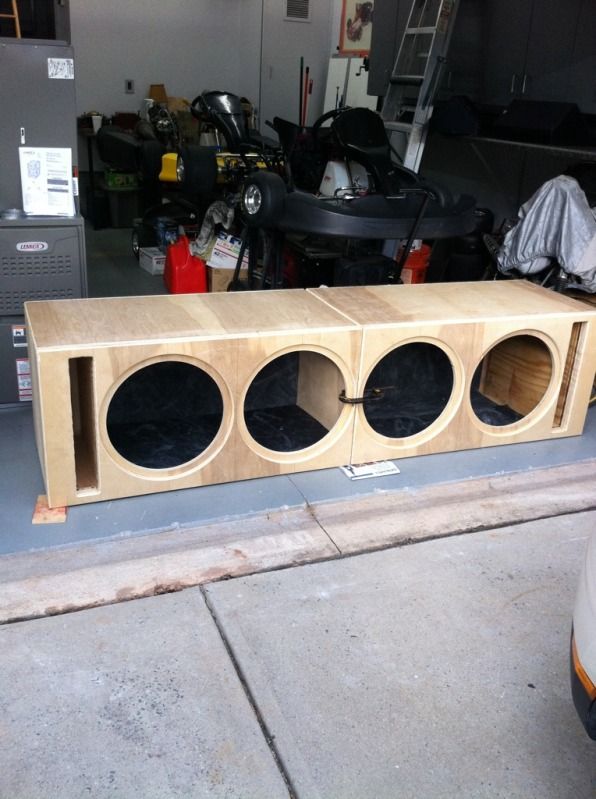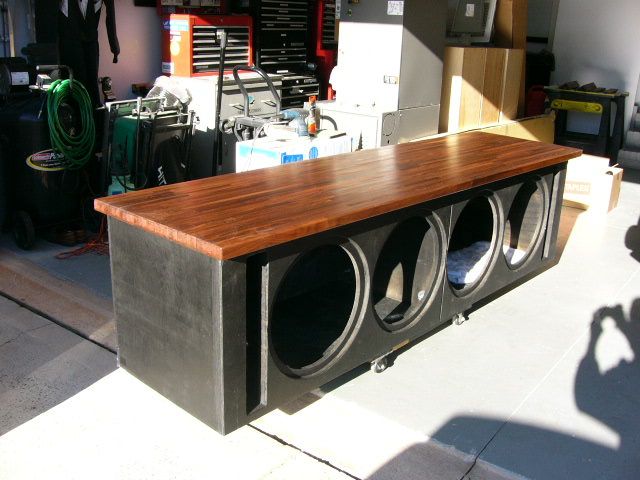 I will post in the next ne below more pics in case there are picture limitations per post.