Hello! I've made a few posts here but have spent much more time reading and researching. I think it's about time I consolidate into one build thread instead of asking individual questions. At this point, I'm just getting started and will need some help along the way. Please forgive me if this sounds like random rambling at first. It's hard to be completely coherent when i'm trying to describe everything running through my head for the last couple of months. I'm planning on a 120" screen, 7.1 surround sound, and usage maybe an equal mix of TV and movies with a little bit of video gaming and music listening thrown in.
The room is a typical "bonus" room or FROG with 5' high knee walls and an 8' ceiling. The room measures 13' by 23.5'. It is the only upstairs room in the house. Here is a picture: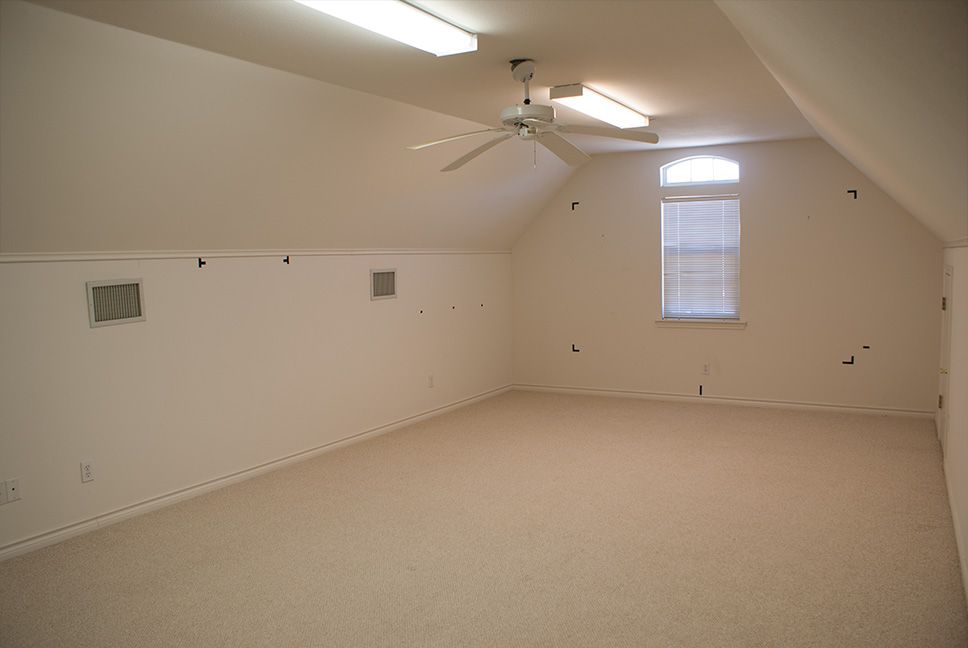 The screen will be going on the wall with the window (blocked out, of course). I marked the corners with tape but I will probably raise the screen a little higher than what is shown. I've done a very basic copy-and-paste Photoshop job to show what I'm going for.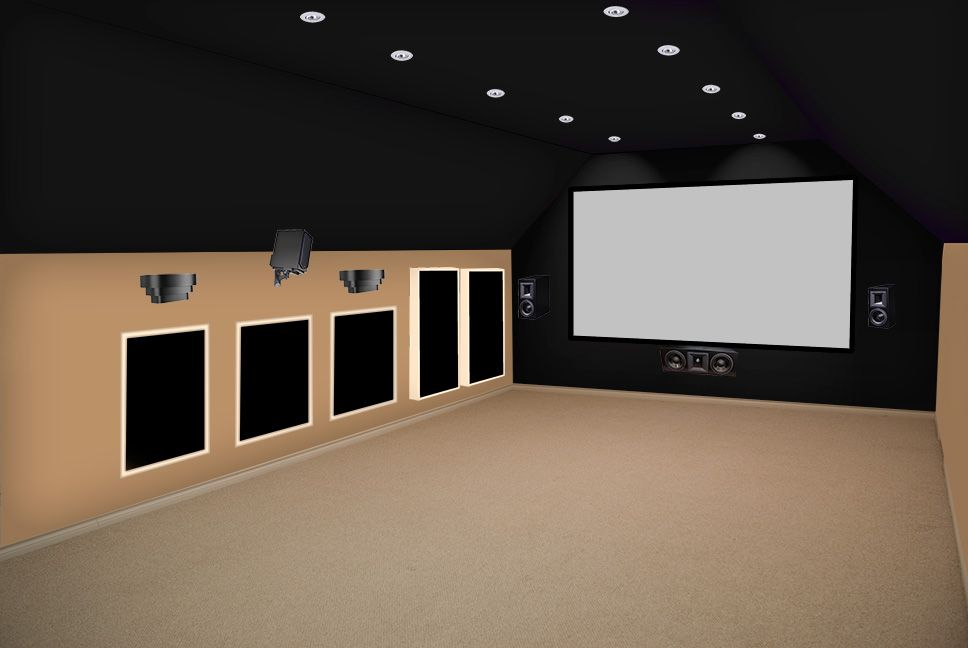 This may be an overuse of black, but most people seem to think that is a good thing. The slanted ceilings are more ceiling than wall so I made them black as well. The only color comes from the knee wall and back wall, and I'm considering a cappuccino color for that.
As for seating, I'm planning on two rows of sofas with recliners, though traditional theater seating is tempting. Whichever the case, the second row would be on a riser. I'd like to leave an option to have a third row in the form of an eat-in bar.
In the picture, the two front panels would be sound absorbing and the square panels just picture framing trim. However, since I drew this up, I'm leaning more towards 2' by 2' absorbing panels (about the size of the square ones shown) and having four of them instead of two. This would give more absorption further back, and not shown in the drawing but would be an issue, are the AC vents on they wall. I would not be able to fit a 4' tall panel where the vents are. To give a better idea of this, I made a drawing showing reflection points.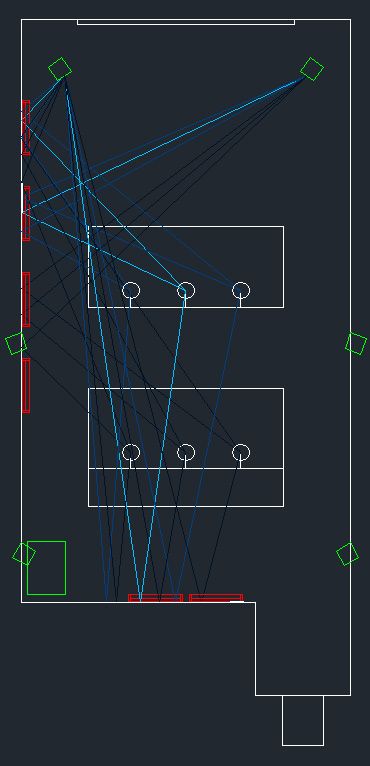 I forgot to draw the door to the room, but you walk up the stairs along the back wall and the door opens into the cubby area at the bottom of the drawing. The rectangle at the very bottom is the niche (more on that later). Speakers are green, absorbing panels are red, reflections are blue. I want my money seat to be front and center, so I prioritized reflections based off color. Light blue is the money seat, blue are the left and right front seats, and dark blue is the back row. I tried to place panels evenly and in a way that would catch reflections the best.
One of the AC vents I mentioned is right where the second panel from the front is located, so this is why a 4' by 2' panel won't work here. Additional absorbers would be placed on the back wall, but I want to keep it symmetrical and the cubby area hinders that a little bit.
Speaking of audio, I drew in the Dolby recommended speaker wedges for placement in a 7.1 system. Here is what that looks like: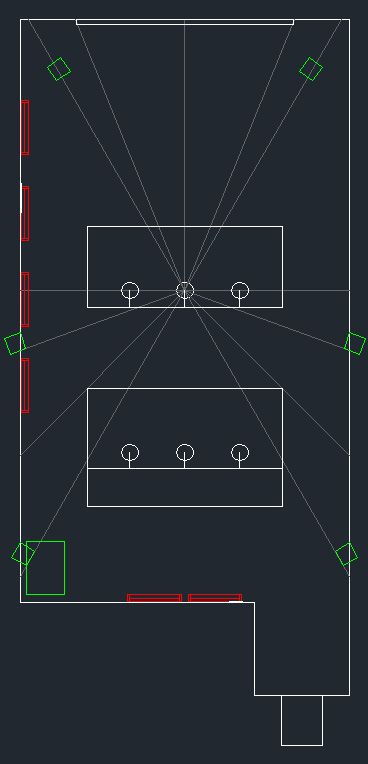 The front speakers will be on stands, side and surrounds will have to be in-wall. If I wall mount bookshelves on brackets, they will stick too far out and restrict access around the seating. This is one area I could really use some advice. Having the second row makes everything else a compromise for speaker placement, so I located the speakers as far back as possible in the wedges. I know this rule isn't set in stone, so I'm wondering if I may be better off going with a different arrangement. If I built it the way it is shown, I'd have some very heavy toe-in on the rear speakers to aim them back at the listener. I was wondering if it might be better (or at least not much of a compromise) to mount them on the back wall and forget about toe-in. Again, the cubby area would make them closer together than ideal, but I don't know how much of a trade-off this is.
The other thing regarding speakers is that I'm planning on going to Hsu's line of speakers, bookshelves for the front and either bookshelf or in-wall for the sides and rears. I know bookshelves in walls are not a common thing, but I asked about this on Hsu's forum and Dr. Hsu recommended sealing the ports on the bookshelves and mounting them in the wall instead of using the in-wall speakers. This would be possible if the speakers were all mounted on the side walls because that is attic space and I could fit an 8" deep speaker in there. I have read all about why this isn't recommended and problems with baffle step compensation, but when the designer of the speakers says I'll get better performance doing this than using his in-walls, I have to take his word for it. I'm open to suggestions on speakers, even though I really like the idea of a package deal with Hsu, and I'm planning on matching these speakers with the VTF-15H (the Hybrid 15 package). This comes out to around $2,000 shipped and I need to stay in this budget for speakers.
Lighting will be 4" recessed air-tight cans on the ceiling with some alternative lighting source on the walls. I was originally thinking of sconces as shown in the Photoshop mark-up, but I'm now leaning towards putting a light source behind the absorbing panels (spaced at least 2" out from the wall) for a glow effect. I'm not sure how to do this though, whether that be some kind of under-cabinet lighting mounted on the walls behind the panels, or a short loop of rope lighting behind each panel. Any suggestions on how to do this would be welcome. The ceiling recessed lights will all be dimmable LED. I'd like some kind of automated lighting, but for now I'm thinking about just going with Lutron Maestros for remote control.
The projector I'm planning on using is the BenQ W1070. 1080 is a must, and 3D is just about a must. Screen will be an Elite Screens 120".
The receiver will most likely be a Denon 2113 or something similar. I think that will cover me for a while.
The HVAC will have to be addressed at some point but I'll have to leave that for a later post.
That's about it for now. I'll try to fill in the details over time. Please feel free to offer any advice or suggestions. I'm not very far along with building and purchasing yet, so if there is something I can improve, let me know. Thanks! Looking forward to posting more!