Head Unit: Used Sonance C4630 controller amplifier. It has 4 discrete inputs and a 12 channel amp with 6 stereo pairs of outputs at 30 watts. It also has pre-outs for each zone to add power as needed. I snagged this off of ebay for what I felt was an extremely good price of $289 shipped. So, used, but less than half the cost of the HTD MCA-66 that I had been eyeing for quite some time.
Sources: 1 Sonos Connect, 2 Raspberry Pis running a linux DLNA renderer and a DirecTV box.
Control: iRule/jRiver Media Center with Gizmo app/Sonos App on my Kindle Fire and Android phones. iRule controlls the Sonance amp via rs232 serial control on a global cache gc-100-12 that I already had.
The Sonos and RPis show up in the Gizmo app as DLNA renderers so I can select any of those sources for any zone by pressing the 1-4 buttons for that zone and then launch the Sonos android app by pressing that button and start up the music, or the jRiver logo button to launch Gizmo and select either the Sonos or either of the Raspberry Pis to play stuff from jRiver, especially all my custom smartlist playlists, as the Sonos has access to the same files on my NAS but doesn't have the robust playlist options that JRiver has. I can also select source 4 which is DTV, pressing the DTV button here turns on a DTV box and navigates to a different page in iRule where I have a bunch of favorite channel buttons for the music channels as well as some common channels for morning news etc.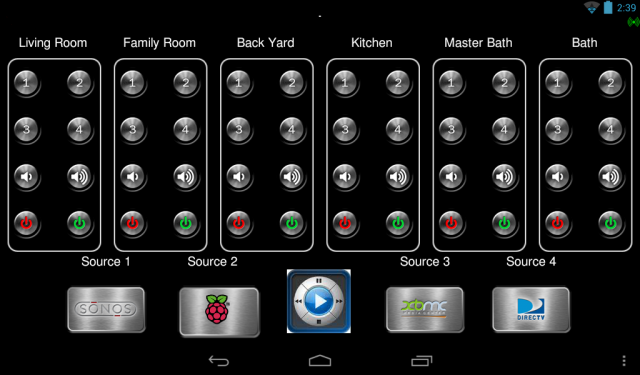 So, not including speakers I spent less than $700 on equipment. All controlled from devices we already were used to using. Not as elegant as some of the more expensive solutions seen around here. I say this is cobbled together because though it is all controlled via my android tablets and phones it requires 3 apps on the phone and jRiver MC running on my PC. iRule in android is able to launch any other app from within the iRule app itself which is very nice for this making it slightly more seemless than having to go to the android home page and launch a separate app. When I launch the Sonos or Gizmo apps from iRule a simple couple presses of the back button the tablet/phone takes you back to iRule.