I'm setting up a new home theater in an open basement environment that will be less than ideal from an acoustic perspective. If you look at the picture below, I've purchased the following speakers and now am looking to select a receiver and blueray player.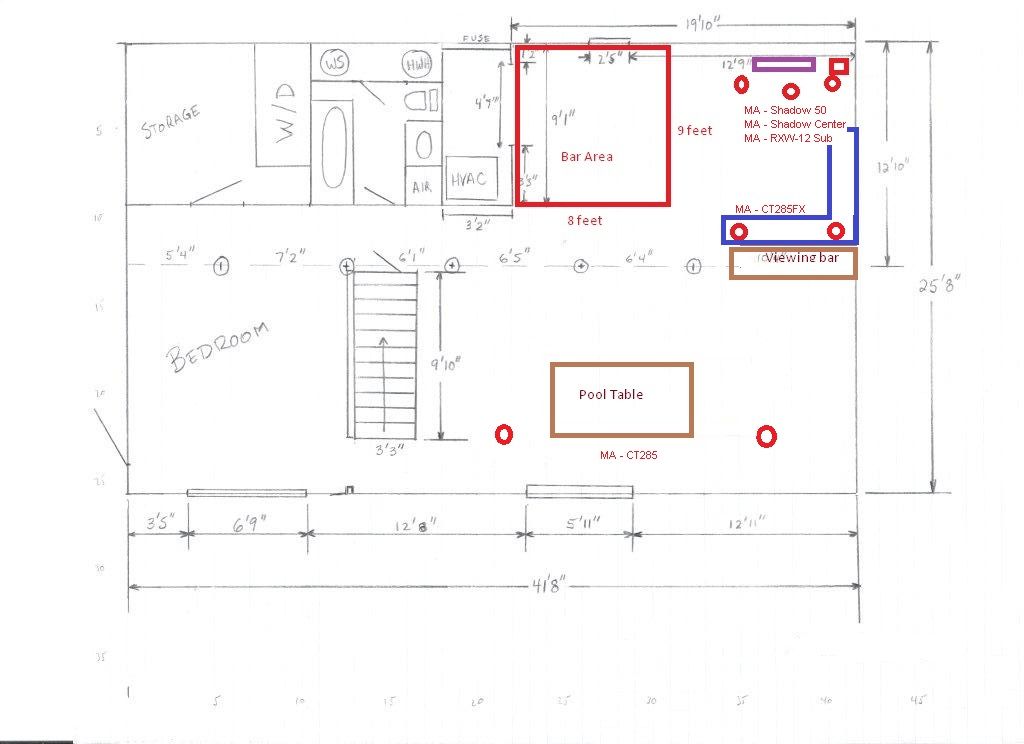 As you can see in the picture, the space is very open with the theater area open to the area with the bar and pool table. I will have a 5.1 system set-up when watching movies with:
Monitor Audio Shadow 50 L and R
Monitor Audio Shadow Center
Monitor Audio CT285FX rears
Monitor Audio Sub RXW12
I also have two additional Monitor Audio CT285's in the pool table area that I would like to connect to zone 2 of the receiver and these would be used when listening to music and would always be the same sound selection as the 5.1 system (I would never be playing different inputs in zone 1 and zone 2 - I just want the option to turn the speakers over the pool table on/off as needed).
So I am considering the Marantz line of receivers SR5007, SR5008, SR6007 - The 5007 was on sale for $599 but seems to be out of stock at most locations I have found and then I can buy the 6007 for $100 less than the 5008. Really just looking for the best receiver that will be suitable for my speakers and environment but wiling to spend the money to buy the right product.
Which receiver would you recommend and would you be considering other brands besides the marantz? Is there a reason to go with Integra, Onkyo or Pioneer Elite over Marantz?
What about the Blueray player - was thinking of either the Oppo 103 or the Marantz UD5007?
Any input from some of you experts would be appreciated.
Rick