I have been in the market for a new projector and screen for a little bit now, but figured that I might find a good deal on Black Friday so I have some money set aside ready to go. I am pretty easy to please, and my only "requirements" for the projector are:
- 1080p
- 3D capable
-"good" 2D picture
I currently have an old Sony VPL-BW5 and a no-name brand 84" diagonal 4:3 screen, so I am expecting anything I get to be a major upgrade. Specifically, I have narrowed my search down to the
BenQ W1070
and the
Optoma HD131Xe
. For screens, I was looking at something 16:9 and 92"-100", as seen here:
http://www.amazon.com/Elite-Screens-Electric100H-Spectrum-Projection/dp/B000YTRFEG/ref=sr_1_2?s=electronics&ie=UTF8&qid=1384842715&sr=1-2&keywords=16%3A9+screen
I have brackets on my screen wall with "arms" that stick out, and I have my current screen hung on these. I use these arms because they give the screen enough clearance to roll down in front of my TV, which is already pressed as far back as it can go. These arms cause the screen to stick out about 1 ft. from the wall.
My projector is wall mounted on the wall opposite the screen. The lens of the projector is 14" below my 8' ceilings. I have the possibility to move it down a little if necessary, but I currently have it angled downwards and have been happy with this setup. The distance from the lens to the screen itself is about 10.5', give or take 2-3 inches or so.
The entire room is 12.5' long (screen wall to back wall) and 11.5' wide (side wall to side wall). I have my couch against the rear wall, below the projector, so the distance from my eyes to the screen are also about 10.5', give or take a few. I have been to ProjectorCentral and looked at the calculator tool, but do not completely understand it - specifically, the yellow/green/red sections of the interval line, as well as Throw Range vs. Throw Distance.
Here are some (older) pics of the room. You can see my current screen, the TV/entertainment stand it rolls down in front of, and the projector mounted on the wall. Please don't mind the couch or other furniture, as most of it has changed since then. If any additional pics would help, just tell me what to post. Thanks!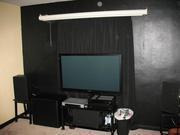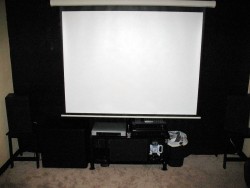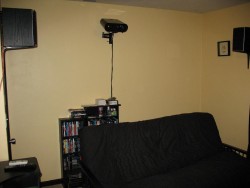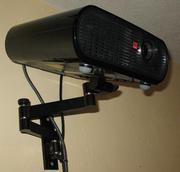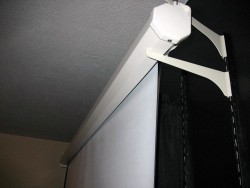 Edited by KtrainHurricane - 11/18/13 at 10:57pm