So I got a new receiver which now gives me HD audio. Pretty happy with it since it was mostly paid for with Credit Card points. I haven't had time to enjoy it much but that's not why I started this thread.
I wanted to throw this out there and see if it's possible.
Below is a picture of my HT seating area and surround speakers.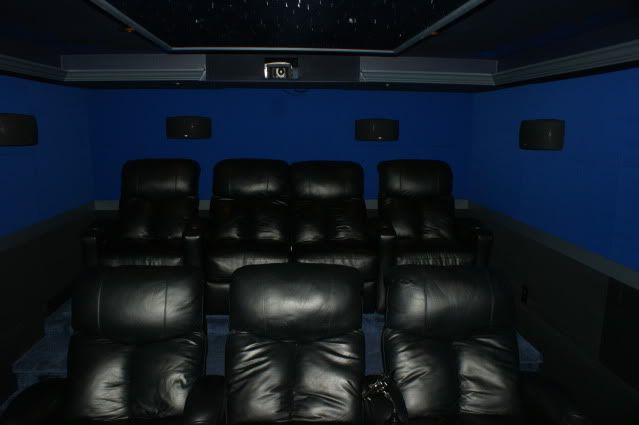 It's hard to see in the pic but the side surrounds are pretty much in between the 2 rows. The Klipsch S2's that I use have a woofer in the center and 2 tweeters each, one that fires towards the back row and one that fires towards the front.
The front row center is supposed to be the money seat, especially because the rear row doesn't have much distance from the rear speakers. However as I have noted before and to my ears the rear row surprisingly is where it's at when it comes to surround effects.
I'm sure the side firing tweeters in the rear speakers help out a lot with that.
I prefer the front because it is more enveloping when it comes to the video as well as I have bass shakers there as well, but I couldn't help to notice though how much better I like the surround in the back.
So now I've been tempted to consider adding some additional speakers to the side surround channels.
My thoughts about this are the following:
- I cant really get the same speakers because they simply don't fit, even if I could find them used since these are now discontinued.
- I know that when you do something like that you want to get something that matches in timbre and within the same range.
- Since this is mainly for surround effects some in walls that are close in range may do the trick.
- For short money I can attempt to use transducers like these and make some minor adjustments walls beside the front row.
http://www.parts-express.com/dayton-audio-hdn-8-weatherproof-sound-exciter-transducer--300-387
- In my build I didn't do the double drywall and green glue so not concerned about about, just looking to get some greater surround impact in the front row.
I know wiring up another 8ohm speaker or transducer in series will result in 16 ohm load which should be fine, although it would probably result in less power to each device so probably requiring me to turn up the volume for the side surrounds.
The receiver can handle 4 ohms but I rather go the other way to be safe.
Wondering if you guys have any thoughts or opinions or what other folks have done in this scenario. I have seen a few people do additional sides but I don't know how that was handled.
Mostly kicking this around for now, and definitely test first before changing or cutting into anything.
Thanks,
oman321
Edited by oman321 - 11/22/13 at 9:15am