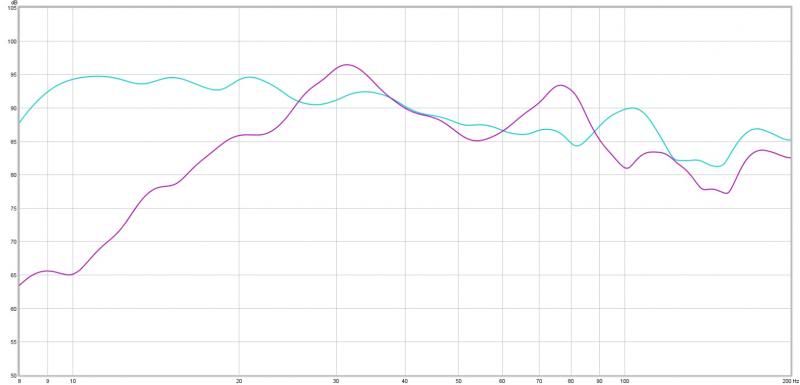 The above graph is a representation of my current struggle - finding the right balance of bass for movies
and
music.
The purple line is basically my un-EQed response, Audyssey on. Despite the way it looks, this response sounds awesome with music, to my ears at least. It sounds really good with movies as well, however I'm missing a lot of the ULF obviously.
The blue line is after EQ with the Mini DSP. This response sounds good with movies, however I lose a lot of the "chest punch" without the hump at 80hz (to be expected). I do get more ULF with this response, but overall I don't like it as much as the purple response. With music, the blue response is
completely underwhelming
.
To transform the purple response into the blue response, I had to boost my sub gain by about 18db (probably more than I needed to) and use some massive cuts on the EQ - this sacrifices a lot of headroom and I can tell, especially in the ULF range. I'm sure I can mitigate this by not boosting so much and giving up some extension.
It seems like no matter what I do, if I remove that hump at 80hz, the bass just becomes much less satisfying to my ears....is there something wrong with me?? (I'm guessing it's more likely there's something wrong with my room.)
Here's my room (considering a wall there in red, but probably won't happen due to WAF). Completely untreated. Total cubic footage is around 4880. Subs are 4 PSA XS15s.