Okay, we have our own thread. We are to deal with Walnut Creek's unique HDTV problems. Comcast's

PREVIOUS

inability to provide an HD signal, Coast Range blocking OTA, and while DirecTV is apparently the solution, the hoops that must be jumped through to get waivers. We would love to hear from anybody with a W.C. address who is getting OTA HD. Also anyone with Astound.It would be nice to come up with a map showing where Comcast's HD cuts off.

Time Changes everything...(07/24/07). Comcast came to terms with the city, Astound came through in a big way, DirectTV is now supplying SF locals in HD, and a few lucky SOB's amonst us get great and free OTA, from either Sacramento of San Francisco.

EDIT 3/8/07Currently Available Digital Stations in Walnut Creek:

Comcast encrypts ALL HD channels. Astound seems to be changing things so that sometimes the local OTA (plus National Geographic HD and UniversalHD) channels are seen via Open-QAM. Other times they can't be seen. I've been taking so long to post this information because I wanted to be definitive, but Astound's HD channel visibility to open-QAM tuners keeps changing.

All right, what are the channels?

Here's Comcast:

* KTVUHD

* KNTVHD

* KRONHD

* KPIXHD

* KICUHD

* KGOHD

* KQEDHD (PBS)

* KBCWHD

* NGCHD (National Geographic Channel)

* AETVHD (A&E i.e. Arts and Entertainment Channel)

* MOJOHD (was INHD1)

* FSBAP (Fox Sports Bay Area – OFF THE AIR most of the time while FSN is on, what a waste)

* GOLFVS

* HDT (Formerly Discovery HD Theater)

* ESPN HD

* ESPN2 HD

* NFLHD (No signal for me, even though I am subscribed to a package that supposedly includes it – need to contact Comcast about it)

* TBSHD on Ch 735

* TNT HD

* UHD (Universal HD)

* MTVHD

* HBOHD

* CinemaxHD

* StarzHD

* ShowtimeHD

Astound:

* KTVUHD

* KPIXHD

* KGOHD

* KNTVHD

* KQEDHD (Currently broadcasts from only from 8PM - 6AM) - NEW CHANNEL

* TNTHD

* KBCWHD

* KBWBHD

* A&E HD

* Discovery HD Theater

* Fox Sports Network Bay Area HD

* ESPN HD

* ESPN2 HD

* HDNet

* HDNet Movies

* History HD

* NFL Network HD

* HBO HD

* Showtime HD (Not seen since I don't have a subscription)

* Cinemax HD (Not seen since I don't have a subscription)

* Starz HD (Not seen since I don't have a subscription)

* The Movie Channel HD (included with any premium subscription)

* HGTVHD

* FoodNetworkHD

Wow - That's a LOT of HD out there! Keep those channels coming Comcast and Astound!

Dish Network:

KTVU HD

KPIX HD

KGO HD

KNTV HD

A&E

Animal Planet

Animania

Big Ten Network HD - five channels - one full time, additional four for games

Discovery

DISH Network PPV in HD - nine channels

Equator

ESPN

ESPN2

Family Room

Film Fest

Food Network

GamePlay

Gallery

Golf/Versus

HBO *

HD Theater (formerly Discover HD Theater)

Cinemax *

HD Net

HD Net Movies

HD News

HGTV

History Channel

Kung Fu

MHD

Monsters

National Geographic Channel

NBA HD - 12 channels - only active for games

NHL HD - 16 channels - only active for games

NFL Network

Rave

Rush

Showtime *

Starz *

TBS

The Science Channel

TLC

TNT

Treasure

Ultra

Universal

World Cinema

World Sport

* = channel is part of a movie package, and is only available as part of the associated package.

edit 7/24/07

DirecTV's HD package, using the HR20 (mpeg4)

*2 KTVUHD FOX

*4 KRONDTV (occasional HD)

*5 KPIXHD CBS

*7 KGOHD ABC

*9 KQEDHD PBS

*11 KNTVHD NBC

*ESPN HD (206/73)

*ESPN2 HD (209/72)

*(Discovery) HD Theater (76)

*HDNet (79)

*HDNet Movies (78)

*TNT HD (245/75)

*Universal HD (74)

*CD USA (101)

*HBO HD East (70/501/509)

*Showtime HD (71/537/543)

*

MPEG4 RECENT ADDITIONS

9-26-07

*A&E HD (265)

*Animal Planet HD (282)

*Big Ten HD (220)

*CNN HD (202)

*Discovery HD (278)

*History Channel HD (269)

*TLC HD (280)

*NFL Network HD (212)

*Science Channel HD (284)

*Smithsonian HD (267)

*TBS HD (247)

*Versus HD / Golf Channel HD (604)

*Weather Channel HD (362)

*The Movie Channel HD (544)

*SHO Too HD (538)

*Showtime HD West (540)

*Starz Comedy HD (519)

*Starz HD East (520)

*Starz HD West (521)

*Starz Edge HD (522)

*Starz Kids and Family (518)

*

Wave II Added 10/3 & 10/4:

*Bravo (273)

*MHD (332)(added 10/4)

*SCI FI (244)

*USA Network (242)

*Cinemax-E (512)

*Cinemax-W (514)

*HBO-W (504)

*

Wave III Added 10/10:

*CNBC (355)

*Food HD* (231-1)

*MGM (255)

*National Geographic (276)

*

Regional Sports Networks

*Available nationally, but local blackout rules still apply.

*Comcast SportsNet Chicago (640)

*Comcast SportsNet Mid-Atlantic (629)

*New England Sports Network (623)

*SportsNet New York (625)

*YES (622)

*

Other HD

*Miscellaneous Events Channel (95)

*PPV Events (98)

*PPV Movies (99) (132-198)

*NFL Sunday Ticket Superfan (700's)

*MLB Extra Innings (700's)

*Added 10/5:

*NHL Center Ice HD (700's)

Available w/HD/DNS waivers (don't ask, a remnant of the pre-mpeg4 past)

*81 CBS LA

*83 NBC LA

*87 ABC LA

*89 FOX LA

Edit 3/20/06HD locals are just becoming available with the new Mpeg4 equipment, I have some feedback from vanhorst;

Now for the "locals" on the H20:

2 KTVU: is the digital equivalent of 2-1 OTA, but instead from D*

2 SF2 is the SD version

5 KPIX: same as 5-1 OTA, but from D*

5 SF5 is the SD

7 KGO: same as 7-1 OTA, but from D*

7 SF7 is the SD

11KNTV same as 11-1 OTA, but from D*

11 SF11 is the SD

OTA

OTA depends on

exactly

where you are in town, some in Walnut Creek will receive none. In the North side of town, look towards Sacramento's transmitters in Walnut Grove. In the South, it's Sutro Tower in the heart of SF. With KNTV in San Jose transmitting from Mt. San Bruno to the South.

From SF's Sutro Tower

;

OTA (Over The Air - Using the ChannelMaster CM4228 antenna and CM7777):

* KTVUHD (2-1) FOX

* KTVU-DT (2-2)

* KRON-SD (4-1)

* KRON-HD (4-2)

* KPIX-DT (5-1) CBS

* KGO-DT (7-1) ABC

* KGO-DT (7-2)

* KGO-DT (7-3) weather channel. SD only. .

* KQED-HD (9-1) PBS

* KQED-Encore (9-2)

* KQED-World (9-3)

* KQED-Life (9-4)

* KQED-Kids (9-5)

* KNTV-HD (11-1) NBC....From Mt. San Bruno

* KNTV-DT (11-2)

* KBWB-HD (20-1) WB

* KBWB-SD (20-2)

* KTSF-D1 (26-1)

* KTSF-D2 (26-2)

* KMTP-DT (32-1)

* KCSM-TV (43-1)

* Jazz-TV (43-2)

* KBHK-DT (44-1) UPN

* Pax 65-1/2/3/4 are SD digitals for KKPX-DT Mt. San Bruno

* KFSF-DT (66-1)

From Sacramento's Walnut Grove

;

OTA (Channel Master 4228 w/3041 preamp)

* KCRAHD (3-1) NBC

* KCRADT (3-2)

* KVIEHD (6-1) PBS

* KVIEDT (6-2)

* KVIEDT (6-3)

* KVIEDT (6-4)

* KXTVHD (10-1) ABC

* KXTVDT (10-2)

* KOVRHD (13-1) CBS

* KOVRDT (13-2)

* KSPXDT (29-1) Faith

* KSPXDT (29-2)

* KSPXDT (29-3)

* KMAXHD (31-1) UPN

* KTXLHD (40-1) FOX

* KXTLDT (40-2)

* KQCAHD (58-1) WB

***Looking for feedback from Dish Network Subscribers***Edit-6-27-05; Actually, several of us in Walnut Creek have been able to get OTA from either San Francisco or Sacramento, depending on your location and elevation. Check the attached maps.Edit-7-24-05; The City of Walnut Creek and Comcast Cable have finally reached an agreement on the upgrades and franchise fees and work will start within 90 days. This is great news for Walnut Creek! Not that I Love cable, but we need choices.Edit-10-18-05; Comcast's upgrades have begun with the pulling of fiber optics to their distribution center. They are expected to upgrade roughly 3600 homes a month, with the entire project taking a good part of a year.EDIT 1/25/06 Astound is really starting to take off. It has the LARGEST # of HD channels available in town!

WELL DIRECTV WILL BE GIVING US HD LOCALS 60 TO 90 DAYS...

[/b]

good luck!

EDIT: Here's a map of what people are doing in Walnut Creek to get HDTV as of 3/21/06.
And a second map of topography with elevations to help with your ota search-6/22/05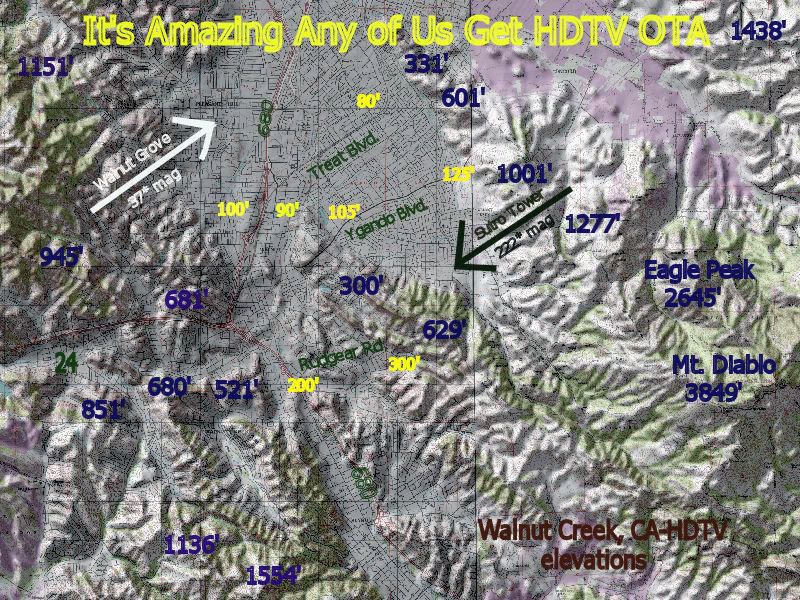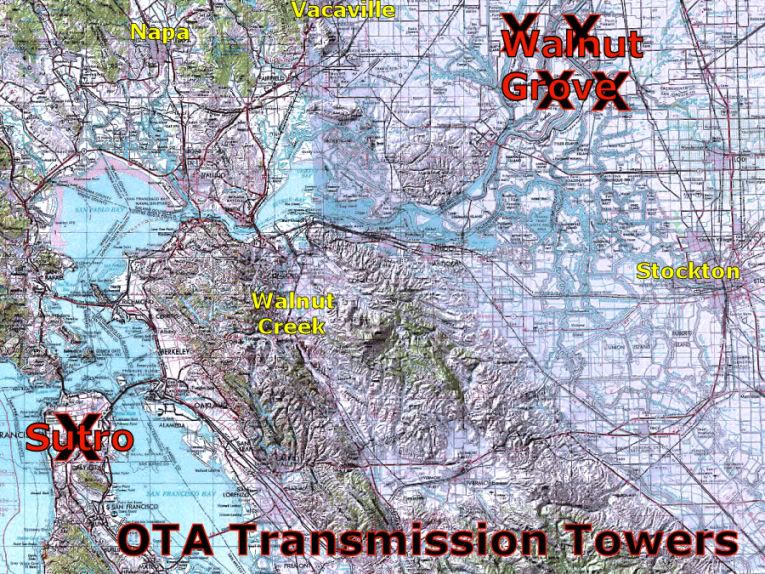 EDIT: November 27, 2005;
DirecTV has announced the delivery of HD/LIL's (that is digital SF stations) beginning this month. No more waivers, I am looking forward to this as I think OTA /HD from Sacramento and DirecTV LIL's in HD would be a nice combo. Be nice to hold on to LA/DNS for a little while longer, too.