This thread is for news about technological advancements in LCD TVs and LCD technology in general. It will be regularly updated with relevant news about leading-edge advancements in such areas as:
▪ Backlighting
▪ Contrast Ratio / Black Level
▪ Resolution
▪ Size
▪ Response Speed
▪ Chipset & I/O Design
In particular, this thread is intended to become an ongoing record of the state of the art in LCD technology.
Other threads in this group on the AVS Forum:
▪
LCD TVs: Fab News Thread
▪
LCD TVs: Market Price Stats Thread
▪
Plasma TVs: Market Decline Thread
▪
OLED TVs: Technology Advancements Thread
▪
TDEL TVs: Technology Advancements Thread
--------------------------------------
SAMSUNG Launches Largest LCD On The Market; Lights The Way For Next-Gen Displays With First-Ever LCD HDTV With An LED Back Light
6 January 2005
57 LNR570D is Largest Built-in HDTV LCD Available Today; CES Innovations Awards Honor LNR460D Widescreen HDTV LCD with LED Back Light and LNR409D Widescreen HDTV LCD with Flat Fluorescent Lamp
Las Vegas, NV - Samsung Electronics America, Inc., a world leader in display technology and innovation, launches the LCD market to the next level with its most ambitious LCD TV line ever. Anchored by the world's largest high-definition LCD TV, the 1080p 57 LNR570D Widescreen LCD HDTV, the new line also features two CES Innovations Award-winning products: the 46 LNR460D, which employs the very first LCD HDTV LED backlight, and the 40 LNR409D, the first LCD to feature a Flat Fluorescent Lamp. Samsung's not-to-be-missed LCD TV line will be on display during CES 2005 in the Samsung booth, #11024 in the Central Hall of the Las Vegas Convention Center from January 6th - 9th.
Samsung is known for it's LCD innovation, and the advanced production techniques at our world's-first Generation 7 LCD fabrication facility have produced a line of LCDs that are unparalleled in performance, said Jonas Tanenbaum, Senior Marketing Manager of Flat Panel and Direct View Products for Samsung Electronics America. Samsung is taking a lead in not only making large LCD screens more affordable, but in pushing the size and technology envelopes to give consumers to the best performing, most enhanced picture solutions available today.
The 57 LNR570D Widescreen LCD HDTV reinforces Samsung's technology leadership with a host of features that make the set a must-have for the A/V elite. The largest consumer LCD HDTV on the market, the LNR570D features a built-in ATSC Tuner, Cable CARD and state-of-the-art video reproduction capabilities. True high resolution with 1920 x 1080 progressive scanning displays today's digital video in stunning 6.2-million pixel clarity. With high brightness (600cd), a high response time (faster than 8ms) and a contrast ratio greater than 1000:1, the top-of-the-line LCD HDTV offers matchless color precision and video playback that is smooth without blurring.
The outstanding 176 degree H/V viewing angle ensures picture perfect entertainment from anywhere in the room. For added performance and convenience, the LNR570D features Samsung's patented, proprietary DNIe technology for superior picture and Samsung AnyNet for home networking. A sleek, modern design makes the set the ideal centerpiece in any setting requiring ultra-high resolution, from the living room to the boardroom. The LNR570D Widescreen LCD HDTV will be available in June 2005 for an MSRP of $15,999.
The 46 LNR460D Widescreen LCD HDTV with LED Back Light cements Samsung's status at the forefront of the high-end home theater market. An Innovations Award Honoree, the LNR460D is the world's first LCD HDTV to feature the LED back light unit. This innovation provides outstanding color reproduction beyond that of a conventional LCD panel. Samsung's new screen technology results in a significantly increased NTSC color gamut (105%, compared with 72% for typical fluorescent backlit LCD TVs.) This expanded color range along with high brightness (500cd), a high contrast ratio (greater than 1000:1) and the ultimate resolution (1920 x 1080p) provide show-stopping image vividness and stunning detail. A large 170-degree H/V viewing angle makes the LNR460D a true home-theater masterpiece. The LNR460D Widescreen LCD HDTV with LED Back Light will be available in May 2005 for an MSRP of $12,999.
Samsung's 40 LNR409D Widescreen LCD HDTV, also an Innovations Award Honoree, makes history as the first LCD to feature a Flat Fluorescent Lamp (FFL) Back Light Unit. Developed in a joint effort between Samsung and Corning Ltd., the FFL enhances brightness and light uniformity. Featuring a new 40 S-PVA (Super Patterned Vertical Alignment) panel, the LNR409D provides a best-in-class 3000:1 contrast ratio and the widest gradation of colors available in an LCD (3.2 billion) to deliver a breathtaking picture over a wide color range. A built-in ATSC digital TV tuner and a cable card slot render along with Samsung's AnyNetä technology provides convenient home theater networking. The LNR409D Widescreen LCD HDTV with Flat Fluorescent Lamp will be available in May 2005 for an MSRP of $5,999.
Samsung completes its line of high-end LCD televisions with the 40 LNR408D LCD HDTV and the 32 LNR328W Widescreen LCD HDTV Monitor. Both models feature 3000:1 dynamic contrast ratios (the highest available in an LCD) and a fast response time (12ms) for superb picture playback and color vibrancy on a 16:9 screen. The LNR408D Widescreen LCD HDTV will be available in July 2005 for an MSRP of $5,499. The LNR328W Widescreen LCD HDTV Monitor will be available in May 2005 for an MSRP of $2,999.
----------------------------------------------------------------------------------------------------
Top LCD maker bets research on LED backlights
21 September 2005
AU Optronics, the world's third largest maker of LCD (liquid crystal display) screens, is aiming most of its research dollars at LED (light emitting diode) technology for its sharper contrasts and brighter colors, an executive at the company said Tuesday.
The Taiwanese company is already providing 23-inch LCD screens with LED backlights to a major Japanese customer for the LCD-TV market. Backlighting helps create contrast on LCD screens by illuminating the background so that the foreground appears sharper.
We have worked very diligently with LED makers on these television displays, said Po-Yen Lu, an executive vice president at AU, during a meeting with news media.
Although LED backlighting costs a bit more than mainstream backlighting, Lu said its better contrast and motion picture color quality has won it a following among some customers. The backlight technology probably won't become widespread until the company is able to double its production capacity and slash the price per screen by half, he said.
The company is also working with OLED (organic LED) screens for smaller devices, mainly mobile phones and digital cameras. The company is already marketing 2-inch and 2.4-inch OLED screens for mobile phones, as well as a 2-inch screen for digital still cameras.
AU has no current plans to research carbon nanotubes because it will take a long time for the technology to become commercialized, Lu said.
OLED technology competes with LCD technology in many markets, but mainly in smaller devices since OLED screens use less power, enabling batteries to last longer.
During the second quarter, shipments of OLED panels grew 82 percent compared to last year to 14.2 million units and revenue hit US$124.8 million, according to market researcher DisplaySearch. The popularity of MP3 players is boosting OLEDs the most, the company said.
By contrast, LCD maintained its huge lead on other display technologies in the second quarter, as LCD monitor revenue alone rose to US$7.7 billion in the second quarter, DisplaySearch said.
----------------------------------------------------------------------------------------------------
Westinghouse Digital Showcases First Ultra High Resolution 56-inch LCD at CES 2006
5 January 2006
CES 2006, LVCC South Hall, Booth #26430 - Westinghouse Digital Electronics, one of the top five LCD TV manufacturers in the U.S.*, will demonstrate the world's largest ultra high resolution LCD, a 56-inch LCD featuring eight million pixels with a resolution of 3840x2160four times the highest HDTV resolution currently availableas well as showcase its latest product innovations in the Las Vegas Convention Center, South Hall, booth #26430, Jan. 5-8, 2006.
The 56-inch panel features:
? 3840x2160 resolution, four times 1080pthe highest resolution currently available for HDTVor eight million pixels.

? Industry-leading 8-millisecond response time delivers clear images for fast action in motion video games, movies and sports.

? Ultra-bright 600-nit display and 1000:1 contrast ratio deliver vivid colors and bright images even in harsh lighting conditions.

? Advanced color gamut to display the broadest possible range of color.
Westinghouse Digital will be the first to commercially introduce an LCD with this resolution in the U.S. It will enable high-end applications in fields including government, military, aerospace, medical and digital content creation. Other high-end applications include multifunction home entertainment systems, connection to high quality digital still and video cameras, and high-end specialty uses for high-resolution graphic displays such as medical video cameras or satellite picture displays.
This is the world's highest resolution LCD and demonstrates Westinghouse Digital's leadership in bringing technological innovations to market, said Richard Houng, CEO of Westinghouse Digital Electronics. We will be the first to commercialize an LCD display with this resolution.
----------------------------------------------------------------------------------------------------
SAMSUNG Electronics Shines A New Light On LCD - Unveils World's First 82" LCD TV With LED Backlight
5 January 2006
LAS VEGAS - January 5, 2006 - Samsung Electronics Co., Ltd., the leading producer of televisions worldwide, today unveils a 82" LCD TV with LED backlight - the world's largest of its kind - here at CES 2006. This new model offers dramatically improved performance and viewing angle while decreasing thickness and power usage.
The 82" LCD TV with LED backlight (model LN-S8297DE) enlarges the color reproduction area by more than 33 percent compared to conventional LCD TVs. Dynamic Contrast technology, Samsung's proprietary contrast enhancement technology, allows for a high contrast ratio of 7000:1. In addition, the LN-S8297DE is a next-generation, environment-friendly product that does not use mercury.
This new model provides TV viewers with a clear view from virtually every viewing angle, solving a long-running problem with LCD screens. At the same time, it is thinner and consumes less power than other conventional LCD TVs with LED backlight. Moreover, Samsung's exclusive LCD TV circuit technology eliminates the need for a cooling fan, which can pull dust into the TV and creates noise.
"Samsung's LCD leadership goes beyond our ability to offer the world's largest display panels - we constantly strive to improve every aspect of the home entertainment experience," said Sang-heung Shin, VP of Marketing for Samsung's Visual Display division. "This advanced LCD technology with LED backlight improves viewing angle and color reproduction area, while simultaneously decreasing thickness and power usage. These innovations will help Samsung to strengthen its position as a leader in digital TVs."
Providing the highest visual quality, Samsung's 82" LCD TV with LED backlight supports full HD (1920x1080p) is equipped with Samsung's DNIe chip, which enhances picture quality for the best performance in the industry. This new Samsung LCD TV also has a fast response time of 8ms.
The audio quality of the Samsung 82" LCD TV with LED backlight is unsurpassed. The TV comes with SRS Trusurround XT, reproducing 6.1 channel sound and Dolby Digital.
In addition, the built-in HDMI (High Definition Multimedia Interface) ensures that images and sounds from digital set-top boxes are reproduced without picture quality loss.
Price and availability are not yet determined
----------------------------------------------------------------------------------------------------
The world's most advanced LCD TV - 56-inch and 3840 x 2160 pixels
24 February 2006
Taiwanese Chi Mei Optoelectronics is a name you may not know, despite the company being the third largest LCD TV panel supplier in the world. At CEBIT in Hannover in mid-March, the company will display the world's first 56-inch LCD TV panel. Perhaps more startling than the size of the mega-telly is the definition which is known as Quad Full High Definition (QFHD) with a resolution of 3840 x 2160 pixels and an astonishing 8.29 million pixels.
The new panel features resolution that is four times that of currently available products (1920 x 1080), and the highest ever achieved. The new panel consists of over 24.8 million units of transistors, with a data transmission speed of over 1.4 gigabytes per second.
To achieve this breakthrough result, the Chi Mei Optoelectronics research and development team overcame a number of significant technical challenges, including the development of special new driver methods and scanning procedures and solving massive heat generation problems caused by the alignment of so many transistors.
The company points out that the technical challenges were not only in developing a larger sized LCD panel, but also in developing the 4x increase in screen resolution.
In the future, LCD screen size alone will no longer be the technical threshold nor the development focus of display panel makers, said Chi Mei Optoelectronics President Mr. Jau-Yang Ho. From now on, all LCD manufacturers must shift to increasing the consumer experience on LCD display by using greater screen resolution and more advanced technology, he said.
Chi Mei Optoelectronics believes that display data load will increase exponentially, due both to technology development and the continuing convergence of 3C (computer, communication and consumer electronics) trends. As a result, demand for displays with high-speed data processing capabilities will also increase dramatically.
Chi Mei Optoelectronics' new flagship 56-inch LCD panels can be applied in a number of high-end applications. They will be perfect for ultra high-end multi-functional home entertainment systems, in which they can provide consumers the superior performance of digital TV and to connect with high quality digital still and video cameras, to provide consumers with luxurious home theater experience. Alternately, the 56-inch QFHD displays can be applied in high-end specialty uses for high-resolution graphic display such as in medical video camera or satellite picture displays.
----------------------------------------------------------------------------------------------------
SAMSUNG Develops World's Largest (82) Full HDTV TFT-LCD
7 March 2005
Samsung Electronics, the leading provider of TFT-LCD display panels, announced that it has developed the world's largest 82-inch TFT-LCD. This full HD image quality TFT-LCD panel was developed at the company's new production complex in Tangjeong, Korea. The soon-to-be operational 7th-generation production facility uses glass substrates that measure 1.87m x 2.20m.
Samsung has made a series of breakthroughs in TFT-LCD technology ahead of the competition over the years. The company developed the first 40-inch model in August 2001, the first 46-inch panel in October 2002, the first 57-inch model in December 2003 and now the first 82-inch panel.
At its 7th-generation Line 7-1, Samsung can produce two 82-inch panels from a single substrate. Previously, technological limitations prevented the development of LCDs of this size and competitive technologies, such as PDP and DLP technologies, were used to produce such large-sized panels.
Samsung's latest large-screen TFT-LCD offers a variety of features. The company applied its patented Super Patterned-ITO Vertical Alignment (S-PVA) technology to achieve extra-wide viewing angles. In addition, the product boasts a low-dispersion color filter and ultra high aperture ratio, achieving a contrast ratio of at least 1200:1 and brightness of 600nit (cd/m2). Response times are at 8ms or faster, providing clear moving picture images. A high-color-saturation backlight raises color saturation to 92% to produce a premium image quality.
Sang Soo Kim, Senior Vice President and Head of the LCD Development Center, states, Our 82-inch LCD panel proves Samsung Electronics' technological leadership. It uses our proprietary S-PVA technology, eliminating distortion from all angles and offers a 180-degree viewing angle. With this panel, we have achieved the world's best performance in terms of contrast ratio, viewing angle and color saturation.
Samsung is set to begin operations at the world's first 7th-generation TFT-LCD production line at Tangjeong, Korea. This facility can be used to produce the company's full line-up of LCD modules for TV: from 23-inch (24 per substrate), 26-inch (18 per substrate) and 32-inch (12 per substrate) to 40-inch (8 per substrate) and 46-inch (6 per substrate).
Samsung Electronics is at least one year ahead of the competition in terms of using 7 th -generation production technology to make modules of 40 inches, 46 inches and 57 inches. It is therefore in a position to take an early lead in the fast-growing market for large-screen, wall-hanging TVs.
The development of the 82-inch TFT-LCD marks the smooth launch of Samsung's and Sony's joint venture in S-LCD. The 7th-generation line will begin mass production at the end of March.
Samsung Electronics will unveil its 82-inch TFT-LCD at CeBIT 2005, which opens in Hannover, Germany on March 10.
----------------------------------------------------------------------------------------------------
LG.Philips Develops 100-Inch LCD
8 March 2006
Models demonstrate the world's largest 100-inch liquid crystal display panel made by
LG.Philips LCD at an unveiling ceremony at the firm's plant in Paju, Kyonggi Province, Wednesday.
LG.Philips LCD Wednesday took the wraps off a 100-inch thin film transistor liquid crystal display (TFT-LCD) panel, which the company claims is the largest in the world.
The model developed by the world's runner-up LCD producer is about 1.5 times bigger than the previously largest 82-inch product of Samsung Electronics, the global top player.
Our development of the 100-inch LCD panel reaffirms LG.Philips LCD is the global leader in large-area LCD technology,'' the firm's vice president Yeo Sang-deog said.
Technological advances for large-area LCD TVs, such as the 100-inch LCD, will act as a catalyst that accelerates demands for high-quality and large screens,'' he added.
Developed at the company's seventh-generation production lines at Paju, Kyonggi Province, the high-feature panel is a wide screen (16:9) with its width and height amounting to 2.2 meters and 1.2 meters, respectively.
The high-definition model, which offers 6.22 million pixels and can produce 1.07 billion colors, boasts a response speed faster than 5 milliseconds.
That means the amount of time it takes for the LCD TV's liquid crystal cell to go from black to white is 5 milliseconds, lower than previous norm of double-digit milliseconds.
Lower numbers represent faster transitions and therefore less visible image artifacts. Monitors will not create a smear or blur pattern around moving objects.
The LCD panel of LG.Philips LCD, the joint venture between LG Electronics and Royal Philips Electronics of the Netherlands, also has a maximum 3,000:1 contrast ratio and 180-degree viewing angle.
The contrast ratio means that the brightest color on the screen is 3,000 times brighter than the darkest color that the panel is capable of displaying simultaneously. The higher the ratio is, the better the display is.
In addition, the wide viewing angle shows that the images on the monitor will be vivid to watchers at any angle.
The 100-inch model is expected to maintain the summit place for the time being because Samsung Electronics, the cross-town rival of LG.Philips LCD, has no scheme to challenge the product.
Samsung, which developed the previously biggest 82-inch LCD panel last year, has been touted as arguably the only candidate posing a threat to LG.Philips for biggest LCD.
We are not researching any LCD panel larger than 82 inches diagonally and have no plan to develop at the moment,'' Samsung spokesman Shin Young-jun said.
The remark sharply contrasts to that of Samsung's executive vice president, Kim Sang-soo, who expressed confidence in producing mega-sized LCD at an unveiling event of the 82-inch item in March 2005.
Making a 97-inch model is just a matter of time. There is virtually no technical limitation for producing LCD larger than 82 inches,'' Kim said at the time.
Battle for Biggest LCD
LG.Philips originally took the driver's seat in the battle for the biggest LCD by creating a 52-inch panel in December 2002 and a 55-inch one in October 2003 for the first time in history.
Samsung then surprised the world with a 57-inch LCD in December 2003 and a 82-inch product in March 2005.
LG.Philips took the upper hand once again with the 100-inch item, previously regarded as impossible for relatively small size-specific LCD in comparison to the plasma display panel (PDP).
LCD is the first offspring of the flat-screen family, which eroded the long-time dominance of the bulky cube-based monitor that causes eye strain and consumes a lot of power.
As the technology opened the door to flat-panel displays with outstanding advantages, another high-end screen PDP was also brought into the game.
Unlike the fat cube-based TVs, both LCD and PDP are of sleek appearance as they show images via liquid crystal or plasma, which are sandwiched between two thin glass plates.
Technologically, PDP is suitable for large-sized screens since it is difficult to trap plasma between two small plates. By contrast, LCD does not go well with large monitors due to the properties of liquid crystal.
As a result, experts have expected LCD would be the mainstream product for the small screen while PDP would be predominant in the market for screens larger than 40-inches.
However, the uphill battle between Korea's dynamic duo _ LG.Philips and Samsung _ has worked in the favor of LCD by trimming its price and adding seamless technological advances.
The 100-inch LCD is merely three inches shy of the biggest 103-inch PDP monitor, unveiled by Japan's Panasonic earlier this year.
LCD prices halved last year to the level of LCD thanks to technological progresses and rivalry in the 40-plus inch LCD panels market, the major battlefield between the two flat-panel products,.
The prices of large-area LCD panels are likely to drop rapidly this year and beyond, while PDP prices will most probably fall at a snail's pace.
Market observers predict LCD will maintain its competitiveness in even 50-inch display markets, which they initially thought would be flatly dominated by PDP.
----------------------------------------------------------------------------------------------------
Delta Accelerating LED and FFL BLU Development
22 May 2006
Delta Electronics, Taiwan's CCFL manufacturer, has set up an R&D team to develop LED backlight technology and has already delivered some samples to customers, according to company chairman Bruce Cheng.
LEDs may continue to face difficulty in replacing CCFLs as a major backlight source for general LCD displays for the coming four to five years, Cheng commented. However, as LEDs are seen as the future technology for mainstream backlights, Delta considers its initial investments in the area as a first step in a long-term investment, Cheng noted.
Delta currently reaches a CCFL capacity of about 500,000 units per month, according to Cheng. By the end of 2006, when its capacity expansion plan is fulfilled, monthly capacity will extend to 19.5 million CCFL units, said Cheng.
----------------------------------------------------------------------------------------------------
New Concept LCD Drive Chip Developed
23 May 2006
The Ministry of Commerce, Industry and Energy announced yesterday that a domestic venture company has developed a new-concept LCD driver IC (LDI) allowing a reduction of 30% in costs.
The new concept LDI of TLI Inc., a semiconductor design specialist, improves processing speed significantly through higher transmission efficiency, and also allows direct attachment to a panel.
By adopting ternary lines differential signaling (TLDS) technology, which transmits signals through three lines, the LDI delivers significantly improved processing speed with almost 1.7 times higher efficiency per line than the conventional series transmission method using two lines, and this means added value in technology and economy.
----------------------------------------------------------------------------------------------------
Samung Electronics may use LEDs in LCD monitor
23 May 2006
Samsung Electronics may introduce LCD monitors that features LED backlighting, according to industry sources. In addition, ViewSonic is also considering marketing LED monitors, the sources added.
However, Taiwan-based backlight units (BLU) makers are still conservative about the prospects of using LED backlighting in LCD monitors, as the production costs are still too high compared with conventional CCFL (cold cathode fluorescent lamp) backlighting, the makers commented.
----------------------------------------------------------------------------------------------------
LED backlighting for TVs coming faster than anticipated, says Insight Media
26 May 2006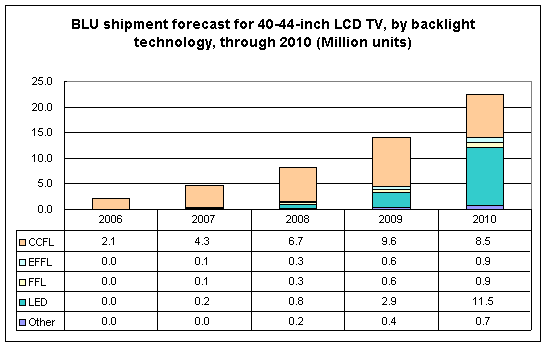 Conventional wisdom sees LED based backlights not making significant inroads into large screen LCD TVs until 2009 or so. But based on analysis done by Insight Media, LED backlighting will be adopted much faster than previously thought.
Driving this conclusion are several factors. First, development of high-brightness LEDs is occurring even faster than earlier aggressive forecasts. These developments promise brighter, more compact LEDs. This will in turn, enable the use of edge-illuminated backlight methods - even for large area LCD TVs. Many developers are focused on direct LED backlights, which will become price-performance competitive any time soon. Edge-illuminated backlights require fewer LEDs, and if forecasts for performance improvements hold true, they will become cost competitive with CCFL (cold cathode fluorescent lamps) sooner rather than later.
A third factor is the groundswell of backlight innovation currently underway to replace films and other light management structures. The combination of these three factors is now likely to lead to cost-competitive LED backlight units by 2007 in 32-inch LCD TVs, with larger sizes competitive in the following years. Couple this with the possibility of a company making a strategic decision to convert to LED backlights, and the factors are all in place to enable a rapid transition away from CCFL to LED-based backlight units (BLUs) beginning in 2008.
Intelligent backlights, particularly dimmable versions, will also make faster in-roads than commonly expected. Additionally, industry growth and technology changes will create headaches for CCFL BLU makers. CCFL shortages are likely to develop in 2007 because CCFL makers will be reluctant to invest in capacity that won't be needed after the transition to LEDs.
The following graph shows the backlight shipments forecast for the 40-44-inch segment by backlight technology through 2010, with the expected penetration of LEDs into the market. While CCFL will continue to be an important and substantial backlight technology, the bulk of the growth after 2009 will be in LED based backlights.
----------------------------------------------------------------------------------------------------
Osram: Efficiency of LED-BLUs to approach that of CCFL starting in 2007
26 May 2006
Osram anticipates the growing adoption of LEDs as a blacklight unit (BLU) light source due to an anticipated increase in LED efficiency, according to Ludwig Ploetz, application engineering manager (OSRAM Opto Semiconductors GmbH) at Osram, on a May 25 2006 Taiwan FPD International Conference event.
Ploetz expects the efficiency of LED-based BLUs to approach that of cold cathode fluorescent lamp- (CCFL-) BLUs starting in 2007. The battery life of a LED-based BLU panel notebook could be extended by 2.5 times, he pointed out. Costs of LED-based products should also decrease with the adoption of high performance LED chips, he said.
LED-based BLUs meet RoHS (Restriction of Hazardous Substances in Electrical and Electronic Equipment) requirements, Ploetz pointed out. Heat dissipation and color gamut, however, could be still improved, he said.
According to statistics from Insight Media, LED-based BLUs will be used in only 40- to 44-inch LCD TVs from 2007.