'The Dexter 2012/2013 Rewatch Project'
Ep.108: 'SHRINK WRAP'
By dad1153,
AVSForum.com
- Feb. 19, 2012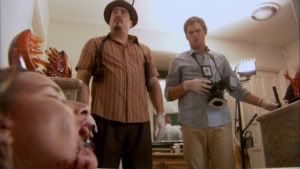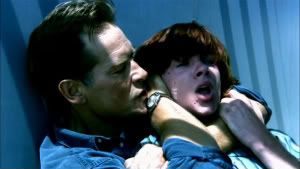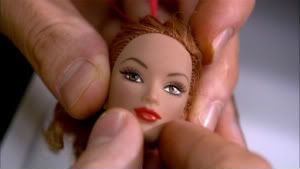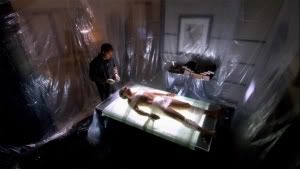 Plot Summary: The strange suicide of a powerful woman leads Dexter to suspect her psychologist, Emmett Meridian, but he gets a shock when a visit to the suspect opens up dark secrets from Dexter's past. Meanwhile, Debra is falling for her new boyfriend, Rudy Cooper, and the true identity of the Ice Truck Killer is finally revealed (to the viewer). (Source: DexterWiki).

Premiere Dates: 11/19/06 (SHO), 4/6/08 (CBS)
Writer: Lauren Gussis
Director: Tony Goldwyn
AVS Comments: ziltomil got the reaction to the ITK identity's reveal rolling (click link to read more).
•
•
•
•
•
•
•
•
•
•
•
•
Yes, that's Eric Carmen playing in the background. What is it to you?
•
This episode aired (edited for network TV) on CBS at 10 p.m. on Sunday, 4/6/08. It got a 2.1 in the demo rating, down a tenth of a rating point from the previous week (
Source: HOTP Thread/Media Life Magazine
).
•
First (of 12) episodes written by
Lauren Gussis
, who started season 1 as 'staff writer' (i.e. dialogue/scene writer for a last-minute rewriten and/or new scenes when the original writer isn't available) and has climbed all the way up to supervising producer/writer in Season 6 ('Ricochet Rabbit'). Except for a brief stint in 2006 on NBC's "E-Ring" TV series Lauren has spent her entire TV career working for "Dexter" (lucky gal!).
•
Second (of four) episodes directed by
Tony Goldwyn
, who is also the first and only person to guest-star on an episode of "Dexter" he also directed. Goldwyn played the bad guy in the 1990 hit movie "Ghost" and, as this episode's director, Tony doesn't give his Emmett Meridian character more time than necessary even though he's the guest 'big bad' of 'Shrink Wrap.' We only see Dr. Meridian through Dex's predisposed-to-judge POV, which also shows that the doctor is as good a shrink as he's a manipulative cold-hearted bastard. The scenes between Dex and Emmett together at the latter's office are fun because they're both a couple of snakes trying to size each other up. The good doctor's inability to make the leap to believe Dex is a killer (Dexter's primary 'modus operandi' to go undetected) ultimately proving to be his undoing.
•
Even though the reveal of the Ice Truck Killer's identity was the big selling point of 'Shrink Wrap' (it was the angle Showtime promoted heavily during the week leading up to the episode's premiere) the once-in-a-series'-lifetime stunt of having Dex go to therapy to not only learn about the above-the-law criminal he's stalking, but also to better himself and his relationship with Rita using the shrink's sound advice, practically sells itself. The little act Dex puts for Dr. Meridian when he fakes relief in telling somebody that he is a serial killer (i.e. Dexter taking total and complete control of the 'session' away from Emmett) rings a little hollow though. Showing his true self is something Dexter does with every victim that winds up in his kill room. Heck, unlike other perps Dr. Meridian didn't even get the courtesy of a chance to talk back to Dex in his final moments (probably because it was an office building, but still).
•
Even at its most dramatic moments "Dexter" has always had a dark comedic streak running right alongside the life-or-death struggles of the protagonist. Gotta say though, between the episode's title (they're all kind-of pun friendly but seriously... 'SHRINK WRAP'?!?!) to the metaphors/dialogue between Dexter and Dr. Meridian (the whole
'befriending one's big bad wolf'
schpiel), Deborah and Rudy (plus the Miami Metro cops taunting Deb about her new boyfriend) and even Dexter and Rita (
'you can never do anything that would repel me'
) the puns/metaphors/euphemisms/contrasts/etc. run wild.
•
That said, when Paul comments about Dexter & Rita
'they don't need a chaperone'
and the soundtrack cuts to a hot salsa tune (prelude of coming attractions later in the episode) one can't help but laugh.
•
As the Craig's List ad correspondence between Dexter and ITK reveal (Barbie:
'Why the cold shoulder?'
Ken:
'We'll share over a cold one'
), bad puns must have run deep in the Mosier family's gene pool.
•
Dexter's alias during his Dr. Meridian therapy sessions:
Sean Ellis
.
•
Nice tip of the hat to the rainy tropical weather and blackouts that happen in Miami. I'm not from the area but anyone reading this that lives in FL/Miami can chime in and tell us how this episode of "Dexter" showcases the weather. Naturally, after the rain is over and the power is restored, the Miami stock footage doesn't show any signs of debris or leftover damage from the storm.
•
The therapy sessions with Dr. Meridian offer a great excuse to flash back to Dexter's childhood, including Harry teaching Dex how to sneak around, how to deal with bullies and (during Emmett's 'regression therapy') Dexter's (and our) first glimpse into baby-Dex-in-the-bloody-container-while-her-mother-died repressed memories. Like everything else in this first season this seconds-long early glimpse at an undefined memory will take shape and have a dramatic impact a few episodes down the road.
•
Harry's
'do you think I want to teach you these kinds of things?'
when teenage Dex enjoys being able to sneak around him (during a flashback in therapy) shows that at least Harry had good intentions when he taught Dex these survival tools/techniques to
'avoid getting the electric chair.'
Our (i.e. Emyach and mine) theory that Harry is directly responsible for denying Dex a chance to be human by teaching him how to become a proficient serial killer still stands, but statements like the one above only highlight the tragedy that the lives of the series' three main characters (Harry, Deborah and Dex) became by the actions and destiny that brought them all together.
•
Dexter's
'when I sleep with a woman she sees me for who I am... empty'
thoughts when running away from Rita's sexual advances, followed by Emmett's on-the-money comments about Dex's fears of intimacy, set the stage for the regression therapy flashbacks that showed little Dex in the blood bath. So, like Rita tipping her boyfriend about her co-worker's missing immigrant husband setting Dex on the path of Jorge Castillo, Batista's casual mention to Dex in the opening crime scene of two previous suicides of powerful women set Dex on an improbable chase that resulted in both his betterment as a boyfriend/person and the trigger of a long-repressed memory. Glowing red blood in rental truck from S5 = business as usual for "Dexter," no longer a standout 'WTF!' moment.
•
Hope you enjoyed the glimpses of love-making nudity from Jennifer Carpenter and Julie Benz in 'Shrink Wrap.' As is the case when a TV show becomes popular and its female stars attain clout, we'd see no more nudity from Carpenter after S1 (except for tame below-the-covers shoulder stuff) and only one more sight of a naked Benz in S3 (the episode in which Harrison is conceived) before we never saw more flesh from either female star.
•
"Dexter" didn't parade its starlets in the buff for show though. The romantic/emotional hook-ups between the Mosier siblings/serial killers (at this point of the story we only know the latter) and their respective ladies are a contrast of one serial killer showing he's human by succumbing to his emotional/sexual needs (prompted by therapy-induced repressed memories) and the other being really good at faking emotion/affection for a person (Deb) that he doesn't see as anything more than a means to an end (getting to Dexter). Throw in Dr. Meridian's sick relationship between him and the powerful women he talked into committing suicide and 'Shrink Wrap' shows three differente faces of male-to-female emotional connection. By virtue of the other two being worse Dex, the serial killer with a growing humanity, ends up being the most 'normal' and 'likable' of the bunch. Yet another (succesful?) attempt by the show to normalize Dexter and make his world likable by making those bad apples around him seem much, much worse.
•
Why the fades to black, then back to the scene (repeat) during Deb's lovemaking moments with Rudy? Other than censorship to keep us from seeing nudity, it doesn't really look or express anything visually.
•
It takes three scenes for LaGuerta to get Neil Perry to confess he's not ITK, setting up the big reveal at the end of the episode. Love the way the show uses the method Perry used to pretend to be ITK (breaking into Miami Metro's firewall protection to peek at the ITK and cops' files) to share with the audience some backstory about how Maria and Doakes, once partners, went their separate ways when the former stole the spotlight during a crime scene.
•
Being tipped that 'Shrink Wrap' would be the episode that would reveal ITK's identity it's possible most people watching guessed Rudy Cooper was ITK based on all the 'body parts' and 'lovely legs' dialogue he uttered (again, a lot of it very 'pun'ny). I wasn't looking at the show with those eyes back then though, and when the camera followed Rudy into that meat locker I remember my jaw dropping to the floor... at the show re-using the same
'Blood Theme' music
twice in a row, once for Rudy's 'big reveal' scene and then the closing credits!
•
When Season 7 of "Dexter" premieres the writers better remember to tell the audience (a) how deep the attachment between Deb and Rudy was (i.e. scenes from this episode), (b) how traumatized/devastated she was at finding out Rudy was ITK and (d) that, by Season 4's 'The Getaway,' Deb knew that Rudy and Dexter were brothers. With these three pieces of the backstory in mind the writers, if they so choose, can ditch the 'Deborah loves Dexter' angle they flirted with this season. Because I don't know you but, if I'm a girl that once dated/slept with a serial killer and then realize my not-related-by-blood-step-brother for whom I have newfound repressed love feelings is a serial killer (just like his brother serial killer I also slept with), then I'm sorry but the bloom is off the romantic feelings. But that's just me.
•

DEBism of the episode

:

. Mazuka (after he sees Rudy drop Deborah off at the crime scene):

'Playing Hide The Salami with Mr. Prosthetics?'

Deb:

'I don't f*** and tell.'

Doakes:

'Since when?'

Deb:

'Can we go inside? I'm kind of wet...'

(Mazuka and Doakes smile a little) Deb:

'Don't'
•

DEX's favorite quip

:

too many to list. Personal favorites: (when grabbing a cookie from his desk drawer while trying to connect the suicides of the three women)

'Nothing like some Little Debbie's and a worthy adversary to clear my head,'

(when breaking into Meridian's office to look at his taped sessions)

'I think I've had a breakthrough in therapy'

and (after Dex runs away from Rita's sexual advances)

'I can't kill Meridian yet, I need another session.'

Again though, every other sentence Dex utters in this episode feels like a clever one-liner to an unseen audience (i.e. us).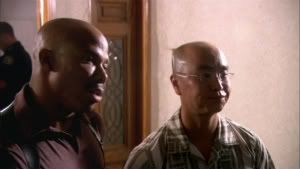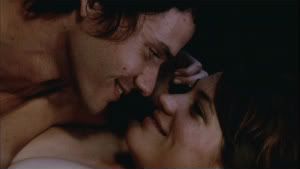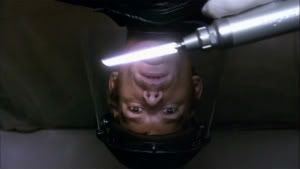 (Pics courtesy of this website)