'The Dexter 2012/2013 Rewatch Project'
Ep.112: 'BORN FREE'
By dad1153,
AVSForum.com
- Mar. 18, 2012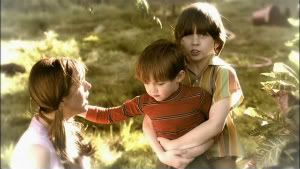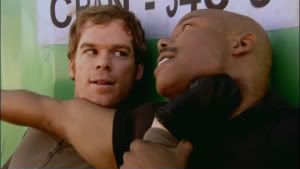 Plot Summary: Dexter and the Ice Truck Killer have a final confrontation. Doakes and LaGuerta investigate the kidnapping of Deborah, and Doakes begins to suspect that Dexter is involved. Meanwhile, Paul Bennett tries to convince Rita that Dexter is not who she thinks he is. (Source: DexterWiki).

Premiere Dates: 12/17/06 (SHO), 5/25/08 (CBS)
Writers: Daniel Cerone and Melissa Rosenberg
Director: Michael Cuesta
AVS Comments: ragedogg69 got this thread started on the first batch of Season 1 post-mortem for posts.
•
•
•
•
•
•
•
•
•
•
•
•
Billions of dollars spent on the AVS Forum infrastructure remake. It couldn't be this easy to recap "Dexter," could it?
•
This episode aired (edited for network TV) three weeks after the previous one on CBS on Sunday, 5/25/08 (Memorial Day Weekend). (
Source: HOTP Thread/Media Life Magazine
). It's the last episode of "Dexter" to be shown on CBS or any other TV channel in the States besides Showtime.
•
Second of six episodes co-written by
Daniel Cerone
, and the third episode (of 11) co-written by
Melissa Rosenberg
. Kudos to both and, based on their future output (and the overall quality of this episode's writing), Cerone and particularly Rosenberg emerge from Season 1 as the "Dexter" writers that really
GET
what the show/character are about. Personally this episode cemented Melissa Rosenberg in my mind (and future episodes confirmed her) as my favorite writer on the show. Shame the money and fame from writing the "Twilight" movies' screenplays (a gig she got when the producers of those movies saw her "Dexter" work) took Melissa away from the show at the end of Season 4.
•
Fifth and final "Dexter" episode directed by
Michael Cuesta
, who left the show after the end of the first season and set the bar for directing episodes for this series extremely high. From 'Pilot' to 'Born Free' Cuesta left a quality legacy that viewers of "Homeland" (where he also directed five episodes of that show's rookie season) are currently experiencing.
•
Perhaps the finest season finale in the show's history (only Season 4's 'The Getaway' can compare), 'Born Free' ties so many loose ends/clues from the entire first season it could have doubled as a series finale had the show not gone on. But, by sticking to landing and leaving enough unresolved issues for Season 2 (Maria losing her Lt. command to Matthews' puppet, Rita finding Paul's shoe, Doakes onto Dexter's scent, Dexter questioning Harry's code after discovering he was lied to, etc.) while resolving the main storyline about Dexter and the Ice Truck Killer ("The Killing" season finale this definitely was not!
) the first season of "Dexter" ends like it started (paraphrasing Emyach): like a finely-crafted hand-made Swiss watch ticking and grinding its gears in perfect synchornized harmony. This is premium cable drama at its finest.
•
Rita still has the red low-rider Dex got for her at the start of the season! It's practically a co-star with Julie Benz in the many scenes in 'Born Free' we see it parked in Rita's driveway.
•
The screensaver of wild animals eating prey set to Sinatra's 'Born Free' (love that the record version found in Rudy's place is an Andy Williams cover song!
) starts an ongoing running gag on "Dexter" involving images of wild animals. It's recalled at the start of the Jordan Chase video montage in the opening of Season 5's 'Take It,' and, for Season 6's 'This Is The Way The World Ends,' Harrison dresses as a lion for the school play.
•
We're introduced to Esme' Pascal (Judith Scott) as Miami Metro's new Lieutenant. Initially pretty good at making LaGuerta feel like the demoted cop that she is, we're eventually shown a softer side to Pascal when she and Maria confide that neither one likes Capt. Matthews very much (sisterhood of minority female cops). Pascal would undergo a rather-drastic transformation during the first part of Season 2 (just like Laura Moser over the next few seasons) that would render her a less strong character that it initially appears.
•
Dexter 'fake acts' (i.e. pretends more than his usual daily routine) to people that know him twice in this episode with different results: when he says
'Oh no'
after Doakes and LaGuerta show up to tell him about Deb's kidnapping, and then when he's pretending that Deb is sleeping in his bed so Brian will break into his apartment. The former totally failed (Doakes smelled Dexter's bull*** and then followed him to the docks) and forced Dex to think quick on his feet, but the latter was totally convincing because the stakes were much higher (a chance to get the upper-hand on his brother) and was pre-planned. Conclusion: when Dex has to improvise (hitting Paul while leaving behind a shoe, lying to a cop that knows he's lying, etc.) there's consequences to his impulsive actions, but when he plans ahead he's as cool as a cucumber and comes ahead.
•
Brian mentions to Deb on the boat that this plan of his (to get to Dex) was years in the making. Later, at ITK's home, Doakes is told that the real Rudy Cooper was a New Jersey plumber that disappeared in '98. So, at a minimum, Brian had been working on his plan for eight years, more if you count his going to Med School and everything he did after he left the State care when he was 21 (per the medical report from the Tampa mental institution Brian was kept in). Speaking of which...
•
...I'd totally forgotten how much Batista figured into catching ITK by the annoying mental patient in his room to get him to compare ITK's fingerprint with that of mental/psychiatric institution records. So, if Batista hadn't shared his hospital room with a mental nut, Miami Metro would have been to late to save Deborah and Dexter from Brian? What a lucky break/coincidence!
Love that the last shot of Batista we get for the season is him staggering into Miami Metro with Brian's name/record, which sends the cavalry over to the property he owns:..
•
... Dexter's (and Laura Mosler's) old address,
1235 Mangrove Drive
.
•
In the report that Batista finds about Brian Moser it mentions that the kid was diagnosed as having an
anti-social personality
. That, right there, proves to be the fatal flaw in Brian's otherwise-stellar (and totally f***ed-up) plan to get his serial killer brother to remember his repressed past via staged murders/body parts/clues. Brian was counting on just the fact they were blood brothers and serial killers for Dexter to discard her 'bull*** foster' sister and go with him. That's because Brian was never loved after her mother died (too old and screwed-up for adoption), thus he was never able to emphatize with others and give something he was not given. He pretend-loved (to the women he murdered, to Deb, etc.) but the only one he truly loved was the memory of his little brother. Dexter on the other hand was given love and care by the Morgans (and an extra-curricular course on under-the-radar serial killing by Harry), so he is capable of giving back (to Rita and her kids, to Deb, to the co-workers on his good side) something akin to the same love that was given to him. Not to mention Harry's code taught Dex that joining Brian would be the surest way to ensure his (Dex's) own demise. What's the point of
'being yourself with me'
that his brother offers if it will wind up with both of them on the run/dead/in deathrow? Brian's plan (kill Deb and run off with convert-brother Dexter) was doomed to failure when Brian didn't take into account (a) the Harry code he didn't know was taught to Dex put self-preservation ('don't get caught') above everything else, and (b) something he didn't plan for because he couldn't possibly understand it given he's incapable of having them:...
•
...
DEXTER HAS FEELINGS!
Sick and twisted feelings at times, but Dex is a feeling creature that needs a kiss/hug from his girlfriend and to protect his only family member (Deb) still alive after she's been threatened. All that
'empty inside... I'm a monster... no feelings'
bulls*** from earlier in the season (and which the character keeps repeating to describe himself in latter season) is Dex inner-talk used as a shield to hide himself from the consequences of his own actions. Because, if he acknowledged he has feelings and is human (both of which are true now more than ever after Season 6), Dexter Morgan would be horrified at what he is and would (should?) kill himself to stop from harming others (guilty criminals as well as innocents close to him like Rita). But then we wouldn't have a show!
•
IS HARRY MORGAN RESPONSIBLE FOR THE DEATHS THAT BRIAN MOSER CAUSED AS ITK?
Brian is clearly still holding a grudge that Harry didn't take him along with Dex (
'I saw it in his eyes... all he saw was a f***-up kid'
... nice recall to
104's 'Let's Give The Boy A Hand'
Harry flashback where he tells young Dex cops remember bullies, who are
'felons waiting to happen'
) and separated him from his only brother. And the series has established Harry completely severed and hid/destroyed (with the help of Camila) almost all of young Dexter's links to his past when he adopted him. Brian turning out to be an amoral serial killer who targets innocent victims validates Harry's cop instinct that the older kid was too messed-up to even bother saving (a split-second decision with ramifications for hundreds of lives throughout the entire series). But, by keeping the two brothers from even meeting again/having a relationship, did Harry help foster the resentment and traumatized anger that turned Brian into the serial killer that slaughtered many people in order to meet the brother he shouldn't have been separated from to begin with?
Did Harry create two serial killers when he took young Dex and left behind older Brian
when, had he taken them both (Season 2 answers why he couldn't take Brian), Harry instead could have prevented both kids from being damaged beyond repair by giving the brothers a chance to channel their love? Or the fact the mental/psychiatric system still churned out a serial killer in Brian while Harry's loving foster home resulted in a controlled-and-targeted-toward-other-killers serial killer proof that Harry did as good as he could with what he was given? The mind boggles at the thought that Harry is responsible for so many deaths... talk amongst yourselves!
•
Love that, after we see a flashback of Harry the old cop that remembers bullies, a bully named Doakes shows up to rough-up his son (who, unlike the flashback in #108 when he was going to stab a bully in the playground, knows how to go mano-a-mano and give as good as he takes).
•
Dexter really takes command of the ITK crime scene, barking orders like a boss to some random forensics woman named Karen that's working with Mazuka (an intern?). Is this under-pressure moment the start of 'rock star' Dexter, showing off when he wasn't even really trying?
•
Again, as in every past/present/future episode of "Dexter," the death/hurt on innocent civilians is overlooked by our concern for the well-being of these monstruous-but-emotionally-arresting characters. We see the named-for-their-victims empty blood containers that ITK used for room 103, but the thought of the women that died never registers. Even Brian, toward the end of 'Born Free,' gets a degree a pity and sorrow from the audience that we don't even think twice about giving to Fred (below, top left pic) the guy that Brian killed so he could transport himself and Deb to 1235 Mangrove Drive on his car. What the hell is wrong with us?
•
Speaking of Deb, poor Jennifer Carpenter really took a ton of abuse in this episode, some of it hilarious (I laughed when Deb was bouncing off walls in the garage while running around blind-folded), some of it uncomfortable (syringe of tranquilizer for her and Dex from Brian... ouch!) and some of it heart-wrenching (breaking down and crying to her brother). Then she's a trooper and, during Dexter's 'fantasy finale' (more below), Deb jumps the highest and looks the happiest that her bro is being celebrated. This is the lowest point for the character until Season 4's 'Dirty Harry' (when she breaks down to Dex and says she's 'broken') but, for S2, Deborah emerges a stronger and more authoritative police detective.
•
Unlike previous flashbacks, in 'Born Free' Dexter literally steps into a fantasy version (not a memory... little Dex couldn't see himself being picked by Harry or a grown-up version of himself step into his and his brother's room) of what he imagines his past was like based on buried distant memories: his childhood home, his room, etc. The 'Alice in Wonderland'-ish CG morph between Dex's fantasy past and present day is stunning, and a wise use of the show's resources for SFX sequences that are both beautiful but also advance the plot/pay off the season.
•
The reveal of where ITK's obsession with multi-colored nail polish came from (close-up of Mom's hand) is also a reminder that, as angelic and saintly as she's portrayed in Dexter's sepia-toned memory (she likes The Doors!
), Laura Moser was a low-life drug dealing prostitute (a hooker wearing the same nail-colored style was approached by Rudy when ITK was getting started). It's a sobering reality bitch-slap smack in the middle of happy time that, in the "Dexter" universe, wearing multi-colored painted nails equals low-life status (and death) for women who appear like that.
•
As promised in episode 108's e-mail exchange, Dexter (Barbie) and Brian (Ken) 'share over a cold one' when Dexter wakes-up tied to a chair while his brother drinks a
Jekyll Island
beer.
Jekyll Island
is a real place in Georgia that at one point ages ago had a brewery, but there's no real beer with that name currently in production. This brand is a sort-of in-joke among TV producers looking for fake brands to use on their TV shows;
"Lost" also had a fake Jekyll Island alcoholic beverage
(except this one was a 'Red Ale').
•
Is Dexter faking being seduced by Brian's family talk at the dinner table so Dex can learn where his brother is holding Deborah? Or is he really buying into what Brian is selling and only snaps back into Harry-made Dexter the moment he sees Brian is about to kill Deb? In the commentary track for 'Born Free' (one of only two commentaries recorded for "Dexter" to date, the other for 106's 'Return to Sender') the producers bring this up and don't answer their own 'what if,' leaving the impression is up to the audiences to decide.
•
Brian's
'like an absurd avenger?'
reaction when Dexter tells him about Harry's code would come back as a full-fledged episode in 205's 'The Dark Defender.'
•
Brian referring to Harry as
'Jiminy f***ing Cricket'
is both (a) precursor of how Harry will appear on the show from Season 3 on, (b) how Brian himself will appear to Dex in two more episodes (one of them pretty soon) and (c) yet another allusion to "Pinocchio" (after 103's Dexter reference of himself as a
'wooden little boy'
).
•
Talk about being two steps ahead. Brian had pre-dug a hole below the property in case cops came busting through? OK...
•
Dexter asks himself (at the ER waiting room of the hospital where Deb is taken... same hospital where Rudy keeps his prosthetics shop?) why would he reject a brother that embraces him for who he truly is for
'a sister that would reject me if she knew who I was.'
This 'what if' will be answered, finally and after years of kicking the can down the block, at the start of Season 7.
•
In the commentary track for 'Born Free' the producers mention that (a) Jennifer Carpenter stood in for the fake prosthetics in Dexter's bed and (b) the leg cast that sticks under the bed sheets is the one Rudy made from Deb's leg after he talked her into it in
108, 'Shrink Wrap.'
This gives Dex's line to Brian when he's putting a choke hold on his brother (
'Your work's so good you even fooled yourself'
) an extra degree of poignancy.
•
Brian breaking into Dex's apartment (at night and pushing lockpicks into the lock) is the complete opposite of what we see Dex doing every episode during the opening credits (pulling the key from his sun-lit apartment lock). The video on TV of Santa Claus in a chimney while Dexter sleeps (yet another prop to remind us it's Christmas time, something that I completely forget about while watching) is too much though, but still hilarious.
•
The final scene between the Mosen brothers crystalized something that always stood out to me about Season 1's end game: even though Brian was the bigger monster because of who/how he killed victims (even though Dexter theoretically has a bigger body count), in their own personal relationship
Dexter was the aggresor and violent of the two toward Brian
. Brian had to sedate and tie-up Dexter to get him to listen, but he did it gently and to minimize pain (contrast that with how Brian injected/kick-dropped Deb to the ground in the garage). When Dexter and Brian fight (to keep the latter from stabbing Deborah) they wrestle a little but Brian isn't really trying to hurt Dex. And, when he has a chance to kill Dex while he's "sleeping," Brian lets Dex be so he can join him after he kills Deb.
BRIAN NEVER PHYSICALLY HARMED, ATTACKED OR WAS VIOLENT WITH DEXTER
, and in the end Dexter's fatal wound to his brother turned out to be the only time either brother was physically violent (i.e. with intent to harm, not to subdue) with the other. Two serial killer brothers that have spilled more blood and butchered more people that most serial killers put together, and yet for the demise of one of them we get a relatively-benign throat slice (same close-up angle as the neck close-up when Rudy injects Deb with the tranquilizer... Ying Yang motherf***er!)
•

I've seen 'Born Free' so many times (three times in the last 24 hrs. alone) and yet I'm still not sure if Brian Moser knows that he's a dead man talking when he's tied to his own contraption. Then again, he wasn't supposed to even be awake when Dex staged ITK's suicide (I always forget this, which makes the final conversation between the brothers truly emotional). The way Chris Camargo plays it it looks like Brian thinks he can talk his way out of this predicament, and the look of shock when Dex slices his throat is as much a surprise that he's dying as to the fact his brother didn't buy what he was selling. But shouldn't the fact Dex didn't go for the whole 'killing the sister' scenario earlier make him think there's more of a chance that he's about to buy the farm?

•

This is Michael C. Hall's finest moment of the season (and he wasn't even nominated for a Best Actor Emmy... seriously, f*** The Emmy Awards circa 2006-07), which is ironic. Dexter's supposed to be an empty monster without feelings but here he show genuine love for both Brian and Deb (

'You're not a trophy, but you need to be put down to keep my sister safe'

) followed soon after by genuine grief (the first time we see Dexter actually shed tears of genuine sadness/sorrow) and even the vanity of the righteous (

'You've done more to deserve

my knife

than anyone'

). Dexter Morgan is a Petri Dish of human/emotional contradictions, and his execution of Brian nicely conveys all of them in one brief (and hype-worthy) crescendo of a finale.

•

Didn't notice this before (because of how emotional/shocking its shown with the edit) but, when Dex comes over to touch foreheads with Brian, he's not only showing him one last sign of genuine affection but positioning the about-to-happen slice to Brian's neck to match the evidence of death-by-suicide that Mazuka finds the next morning. Again, even at his weakest and most emotional, Dexter is the strongest and most calculating SOB in the room. Dex's

'sorry, I can't hear anymore...

(pause for a sick laugh, but there's more)

...because you're right'

, followed by his tearful lifting of Brian (showing Dex was paying attention even when he feigns anger/shock when Vincent made his inappropriate joke earlier) is the character at his most emotionally honest and naked. We wouldn't see this Dexter again until the Lumen rejection of his true self in Season 5's 'The Big One.'

•

The 'fantasy parade' at the end of 'Born Free' is a comedic/fantasy tour-de-force, something straight out of

1963's "Billy Liar."

It looks/sounds terrific and visualizes just how twisted Dexter's ilusions of grandeur truly are, even if we all know they'll never happen and are also meant to make us feel bad that poor Dex has to keep all of these emotions bottled inside him. The final words by Dexter though (

'Yeah, they see me. I'm one of them... in their darkest dreams'

) as a close-up of his deranged facial expression turns toward the camera are stunning, an acknowledgement (IMO) that the producers know and are telling the audience:

THIS WHOLE SHOW IS THE DISTURBED SELF-PERCEPTION OF THIS INSANE INDIVIDUAL WHO IS A DERANGED KILLER.

It remains, along with the final scene of Season 3 (more when we get there), an anchor on which I can't help but base my perception of (Dex-at-his-best-behavior) this character as an insane person. Would the producers have not done this ending if they knew the show would run for at least eight seasons? Probably not, but just

WOW!

•

The outburst when Deb yells at her superiors to leave her brother alone (see below under 'DEBism') is a big payoff to the earlier scene in

106's 'Return to Sender'

when we see Doakes hen-pecked by his all-women immediate family in front of Deb at the dinner table. The moment Deb screams or LaGuerta yells

'James!'

Doakes cools down. This bully macho cop can dish it against other guys, but powerful women (and Deb became one when she stood her ground in this scene to defend her brother) intimidate Doakes into being quiet. Yet another scene in 'Born Free' that pays off for both Deb and Doakes' characters as the show unfolded.

•

Daniel Licht's haunting

'House'

tune is used FOUR times at key moments during this episode.

•

NITPICKS

: (every little nagging thing that makes no sense about this episode in one place)

... how can Dexter and Deborah be riding in the back of an ambulance alone without a paramedic? Last time I checked there has to be one on the back if there's a patient there too... why wasn't Rudy Cooper/Brian Moser's home a guarded crime scene with police tape? Criminals rarely come back to their place after it's been raided by the cops, but this is the unpredictable ITK we're talking about. At least to keep curious people from snooping you'd think Miami Metro would leave a couple of uniforms nearby... Likewise, if ITK just kidnapped one Miami Metro detective (Deb Morgan) and got into contact with her brother for ransom (Dexter Morgan), wouldn't you post police protection to both of them? I get that the big reveal of prosthetics in Dexter's bed answers that Deb is in the hospital (presumably under police protection), but why wasn't a patrol car or a guard stationed outside Dexter's apartment?... so, in addition to owning Laura Moser/his childhood home in Miami, does Brian also hire a cleaning lady and landscape crew to keep the place looking neat year-round? Or did Brian clean/painted/landscaped all by himself in the past few days/weeks as the ITK investigation was unfolding?... if Mazuka is too traumatized by Batista's crime scene blood pool the week before in 'Truth Be Told' to make jokes, why is he OK making sexual device positioning jokes TO DEXTER while his sister is in ITK's hands? Dex quickly and forcefully puts Vince in his place (and the show needed Vince to make the crack about the device so we know how it worked when Dex offs Brian later on), but the Mazuka character is really odd from one week to the next!

•

Even though we see her one more time in Dexter's 'fantasy parade' at the end of the episode Deb's last line of spoken dialogue for the season is to her brother on the ambulance ride:

'Dad would be so proud.'

•

DEBism of the episode

:

(to LaGuerta and Doakes when the latter says he'll ask for Dex to be suspended while interrogating him):

'What did you just say? Back the f*** off my brother! He just saved my life! He's a f***ing hero!'
•

DEX's favorite quip

:

(to LaGuerta after she sees Dex's messed-up apartment when he was looking for an ITK clue about Deb's whereabouts)

'I couldn't find the remote.'
Runner-up

:

(to Doakes after he asks 'You trying to be smart?')

'Not trying, no.'
Can't leave out Doakes' line when he meets Dexter at the shipping container:
'Surprise, motherf***er'
. We'll be hearing that line in about nine or so episodes under entirely different circumstances (wink, wink).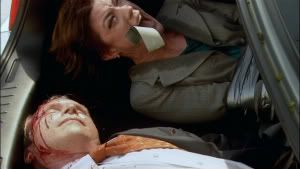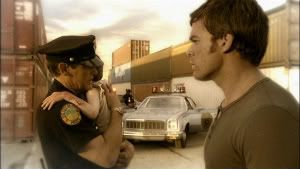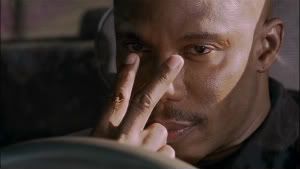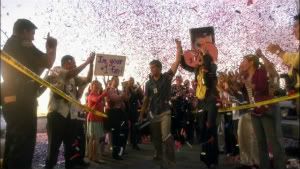 (Pics courtesy of this website)
* * * *


Thanks for reading everybody. See you next week when we start Season 2 of "Dexter" with 201, 'It's Alive.'