In a perpetual state of 99.999% Done.....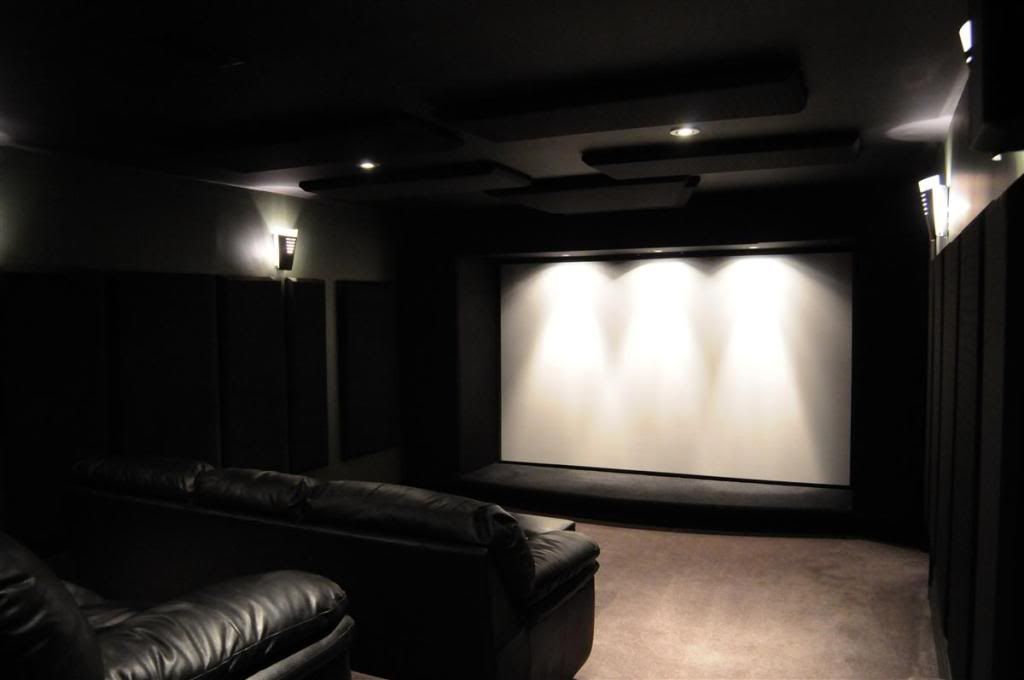 This will be my second HT, but first attempt at a truly 'dedicated HT' - my first setup in our previous home was an X1 in a hushbox shooting onto a 4:3 "poorly finished" drywall screen in the basement. Nothing fancy at all, no room treatments, risers, stages....basically a darkly painted room with a projector and a ratty couch. NOTE: for anyone considering building HT with the option of removing it upon resale - you shouldn't have to....my 1973 middle-of-the-road house sold only after 5 days in a slow February market. First showings were within 4 hours! The realtors went nuts over the concept - I threw in Finding Nemo and buggered off for their appointments, none of which were less than an hour per showing. At the end of the day, I sold for about $14K over the neighborhood average. I kept the audio, but threw in the projector (and the drywall screen too, as they made sure to 'write it into the offer'). I was stunned, to say the least......

I was transferred to another city, and so the new house hunt began. Talk about WAF, but one of the criteria insisted upon by both of us was that the new place had to be able to accommodate a dedicated HT. Strangely enough, HT became one of our family institutions and we could not see living without one ever again! We ruled out a rather lovely updated home instead to go for a 'fixer upper' because it had the most workable floor plan. I love that woman - gave up spiral staircases and a fancy kitchen just for HT


The Plan:

Buildout a modest dedicated HT in the basement, with as much DIY as I can pull of with the least amount of expense.........(sounds familiar, right?). Can lights, sconces, risers, stage, equipment rack of sorts, and definitely some forms of room treatment!

About the DIYer:

Computer geek, happily married dad to two wonderful boys. No trades experience, but willing to tackle just about anything....

The Room:

Basement of a 1967 four-level split in an area called Tanner Ridge (Bud - I followed your thread closely from the beginning, and remembered your naming schema!
). Room dimensions 13X20, with a ceiling height of around 90 inches. The room in its original state began as a quasi rec room, with beat-up old drop ceiling, 70's wood paneling that had been primered, tattered blue carpet, two windows and a lovely concrete block chimney jutting into the finished space. It was a room without a purpose.....

The Budget:

As some of the audio I had already, I will be trying hard to keep everything in or around the $5000 mark. I'm a paycheque to paycheque kinda guy, and my overdraft can be like a Wimbledon game sometimes...

Equipment:

Salvaged from the old place was a Sony STR-DE 925 AVR, Panny RP56 DVD, Paradigm CC270 center, Paradigm PW-1000 sub, a couple of SPL mains and some older Realistic Mach Ones (heading into retirement).

Newly purchased during construction so far has been an Optoma HD72 PJ, Paradigm ADP-170 surrounds, a Sony STR-DE 345 AVR to drive the 4 Bass Shakers that the Mrs insisted I pull the trigger on
, and a Harmony 880 she got me for my Bday.

To get/wish list includes an IR solution (Buffalo or Microsmith), replace the SPL mains with Paradigm Phantoms or equivalent, Insteon or other economical PLC to replace my old X10, considering a BFD depending upon how the final room setup sounds, and likely build a HTPC after the dust settles.



I started demolition of the room in Mid-July this year, and have been progressing using the following formula:

HT = (work+overtime)Xweekend
. family commitments-mental health2


I will be posting some back-dated progress photos in the next few posts, in an attempt to 'catch up' to the current state (riser done, stage not....)

Any thoughts, advice, criticisms are welcomed! I've lurked around these parts for a number of years now, and cannot thank all AVSers for providing me with not only the motivation, but the knowledge to pull something like this off! I sincerely hope that my experiences will be able to 'put back' to the great community we have here!
Edited by YW84U - 6/6/12 at 10:06pm