If using acrylic, you need to back that material with something that can accept the French Cleat. As long as you stay with using a 92" screen or less, a standard 4' x 8' piece of 1/4" Tempered Brown Hardboard cut to 2" larger than your screen material's perimeter will work great. You have then a 2" surrounding boarder to which you can attach the Trim of your choice. (...Well, you'll have 1.5" at the top and bottom anyway. Plenty enough to work with.
45" x 80" = 92' diagonal Cut board to 84" x 48"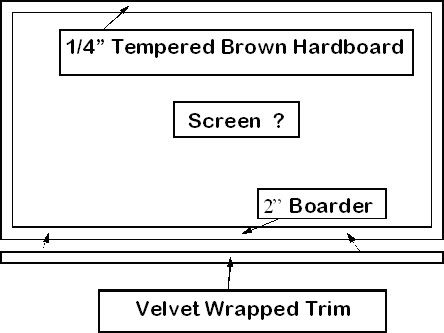 Lastly, affixing 1/2 of your French Cleat to the top "backside" edge of the Brown Board both stiffens up the board as well as allows you to screw through the hardboard into the French Cleat. Just be sure to slightly drill out a "Countersink" depression to let the screw head go flush. Just hand pick a good straight piece of 1" x 8" and rip it in half at an even 45 degree angle. Get a 8' er and you'll have enough left over to use as spacer blocking along the bottom backside edge to prevent the bottom of the board from falling inward against the wall.
(ignore the front cleat....that was for a "Flip" application. )
If you go on to make a 110"er, you have to use an assembly consisting of a composite of Brown Hardboard.