So I just completed my racing cockpit last night. Here are some pics: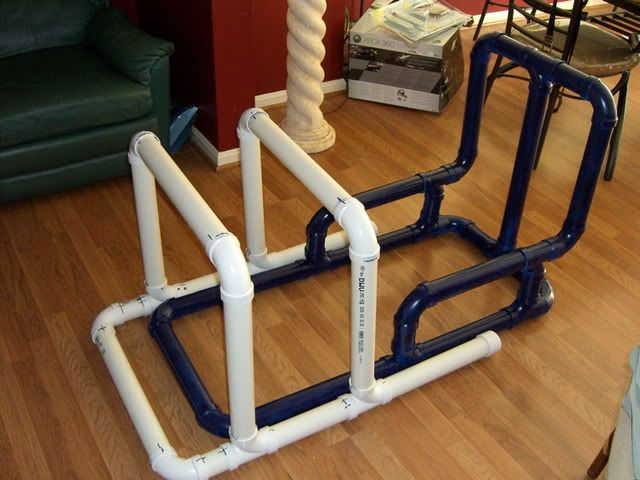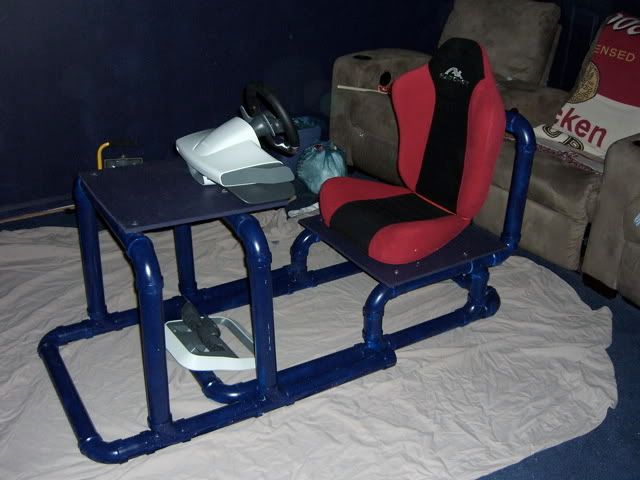 I based my design on a few pictures and plans I found online but heavily modified it. I was worried the steering column, which is completely adjustable (and not attached to the body) would be too wobbly, but it holds up great. My dad helped me put it together and he was surprised at how far I wanted the pedals to be, so we shortened the legnth. That was a huge mistake. I might have to cut the PVC and put in some couplers so I can extend it. My left ankle really hurts going up to the brake and then back down to rest on the ground. Maybe I can drive with one foot like real life. Warning to anyone who wants to do this, the paint for PVC takes a week to dry and they weren't kidding. The chair is an AK Ratcher (now called Racer) because my butt is too big to fit into an AK Rocker, which has the molded plastic bottom. That meant I can only attach it with a bungie cord. Hope to replace it with a real leather bucketseat soon.
Impressions: Wow, I am bad at PGR with this wheel. I only played for 45 minutes and I guess it takes getting used to, but I'm not used to sucking. I'm quite good with the controller. I can see how this will help me in the long run, especially with immersion. The wheel feels good. Going to purchase Test Drive Unlimited today or tomorrow.
I am planning to add a buttkicker to it and I promised in the other thread to include a picture of me driving. I might try to get some screen shots from behind the cockpit, but they probably won't turn out very well.