Well I was able to get the 2.8 material on my frame last night and i'm totally happy with how it turned out!!! The key to stapling without wrinkles lies in having a few friends to help look and hold the screen material why you yourself also hold/tension the material prior to stapling. Also, I had the frame as close to vertical as I could get it to mimic how it would sit to avoid any introduction of wrinkles due to flex.
As far as the picture WOW WOW WOW!!! All the reviews talking about how bright this material are don't do it justice!!! I now have my projector on eco-mode and it's still far brighter than it was in normal mode vivid cinema (normally watch in cinema two which is less bright) with the previous 1.1 gain high contrast matte white material.
The screen is hung with french cleats I created from 2x4s with a 45 degree angle via a mitre box. The bottom of the screen has a 2x4 block fastened on each end also to keep screen from rotating down so to speak. Both the cleats and blocks have rubber mouse pad material stapled to them to prevent rattling agains the wall invoked by my large IB subwoofer.
Pics are with a crappy cell phone cam. I will get screen shots with a much nicer cam soon enough.
Plans: Will be building a border to hide the staples in the black border area which aren't visible during normal watching.
Artifact at top center is from lights which aren't on during viewing. You don't see it with an image on the screen regardless.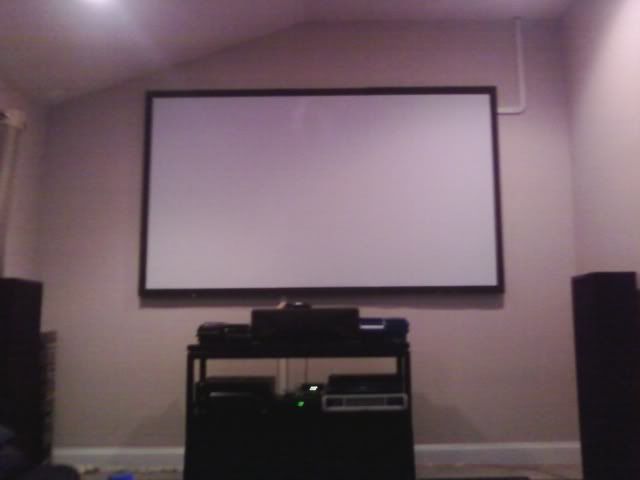 An idea of how low the projector is. Next pick will be from viewing position.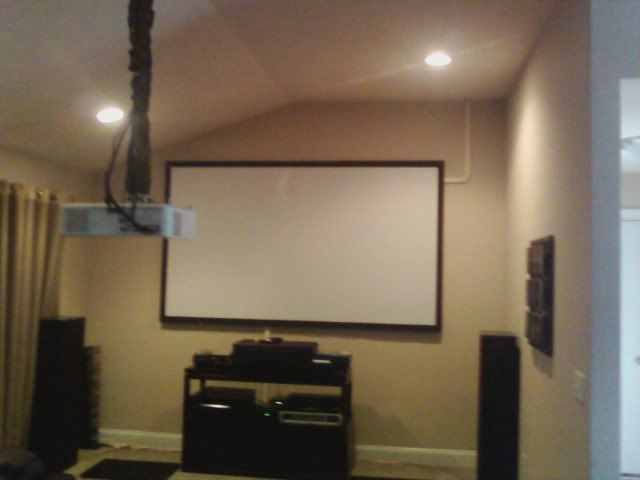 A pic from viewing position. The angle appears more severe than it is for reasons I can't explain. I assure you it doesn't bother me or my viewers one bit!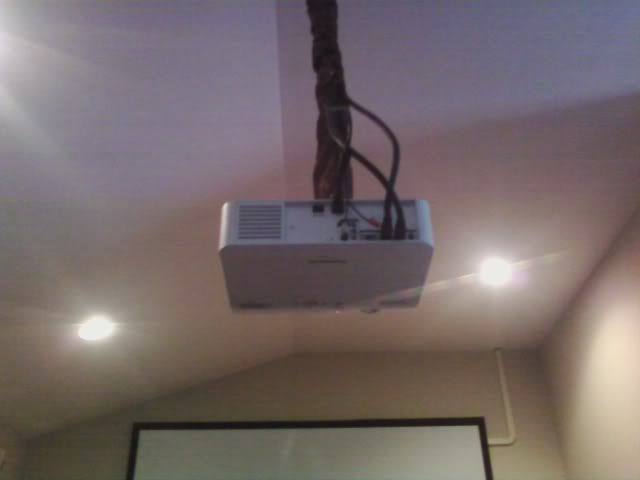 Again I will follow up with screen shots of projected images. Very very happy I decided to go with this material instead of a wilson art screen!!!
p.s. Don't let the viewing angle scare you. It works very well from all of the normal seats in my house!