Hello all:
Please be patient with the pictures, thanks!
I just bought a new house about 6 months ago. The basement wasn't finished, but it was exactly what I was looking for. I've got some ideas as to what I would like to do, and have got some nice ideas from friends, but I want to make sure I cover everything and am looking for any additional ideas or advice. I've used a neat architectural program to design and get virtual images of what the completed project will look like.
First things first, here is a floor plan of my basement (which is already framed out as shown):
Here is an overview of each room...
Rec Room:
The Rec Room is already wired with 4 can lights on a dimmer, switched outlets and a ceiling fan mount. Speaker wire has been run and exits the ceiling in each corner, all run back to a speaker wall plate. I plan on putting a pool table in this room and since I'm a University of Iowa grad, this will be my dedicated Hawkeye room for decor. Cat 5e is run through the walls, phone is taken care of, and cable is run to the plumbing box-out section (to the left of the window). Since the room isn't completed, any suggestions before I gyp it up?
Bar Area / Theater Room:
I don't want a dedicated theater room with theater seating, but I still want the capability to really experience movies or sports. Currently this room is one long open area, and I have it divided by a ~3" high partition wall (see pics below). I plan on having 7.1 with floor standing speakers in front, component rack between the two front speakers, and a 120" screen above on the wall. All wiring will be run through walls or ceiling. For seating I would like to get a corner couch to go against the partition wall.
Each side of the room will be lit using 4 can lights on dimmers, each set controlled from the front or back of the room using 3-way dimmer switches.
On the bar side of the partition wall I plan on having a "breakfast bar" area with bar stools sitting under it. This is also the area that I would like the capability to set a laptop down and have wall inputs that go to my reciever and projector. When installing cables and wall plates, what connections would you be most concerned with?
As for the bar itself, I would like to make it out of Oak, and make the final project to look very nice. The easiest way to explain my concept for the bar would be to check out the pictures, but I would like my bar to include a kegerator, small fridge, sink (location???), large back mirror, etc. I plan on putting in can lights in the bar soffit to shine down on the bar itself, rope lights above the soffit to illuminate the interior of the bar area, and rope lights under the ledge of the bar to illuminate the exterior.... other than that I'm looking for suggestions and direction.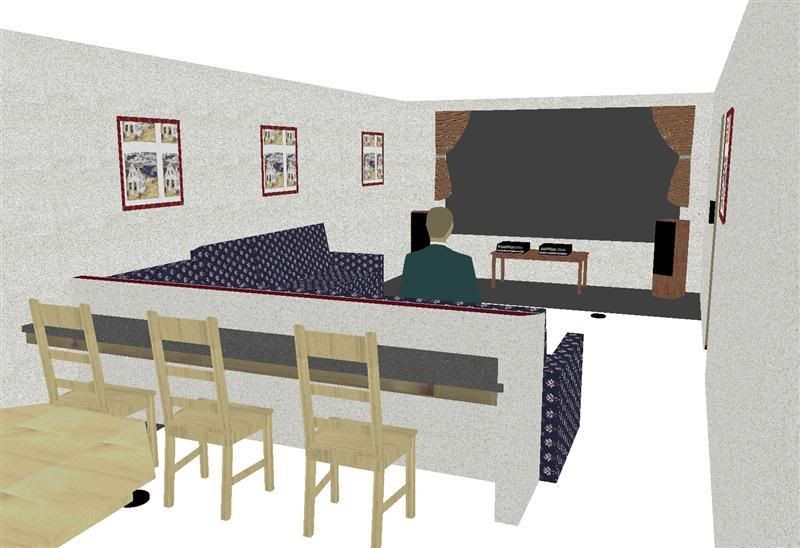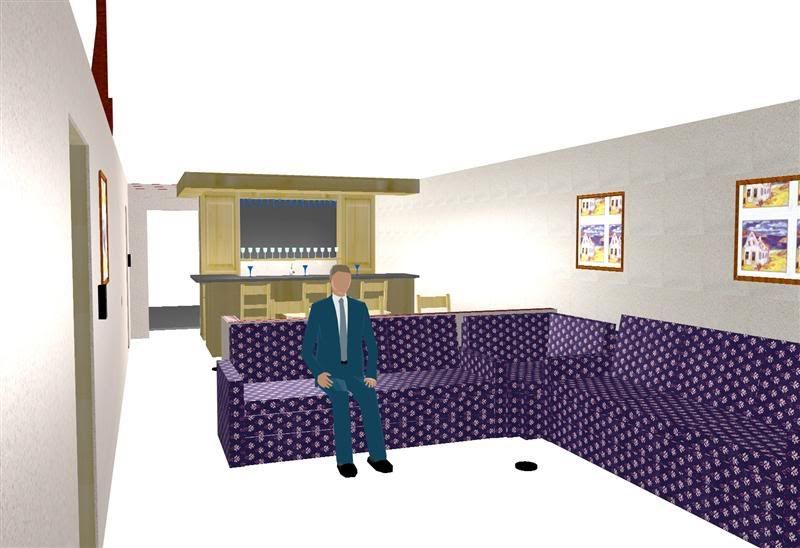 More pictures can be found here:
http://s128.photobucket.com/albums/p197/jmheacock/
If you have any suggestions, please don't hesitate to express your opinion. If you think that I should do something other than what I've shown, let me know.