Hi Everyone,
I rarely make any useful comments on this forum so here's something I've been playing with tonight that I hope my benefit htpc users out there especially those with Nvidia graphics cards, vmr9 rendering and AC projectors.
Since TSE's gamma curve arrived at our doorsteps I've been trying to do the same thing with the nvidia gamma controls to stop the black crush on my BG808s, made worse by the fact its AC and streaks like a b*tch. Which mainly results in light spilling everywhere
My initial experiments in re-creating the TSE curve in the nvidia controls seemed to have no or little effect. My basic procedure was as follows:
1. Put up a full screen video-black pattern (ie RGB 16)
2. Turn down brightness to the point where video-black was absolute black
3. Take a look at the DVE brightness calibration screen, see how bars showed
Even with or without the TSE gamma curve I could only ever very faintly see the brightest of the 3 bars on the DVE test pattern (think off the top of my head its around RGB 25 or so, the remaining 2 are something like RGB 20-22? and the last is less than RGB 16, blacker than black). I could never get that second bar to show against the background, which goes back to the old rule of "With an AC pj you can never have absolute black without crushing"
So why am posting this? After thinking about it for a while an idea came to me, when adjusting the nvida gamma curve, this runs from RGB 0 all the way up to RGB 255, hence the little boost I've been putting in at the bottom has only been increasing the BTB stuff below RGB 16, hence my picture was still crap. Now take a look at this curve: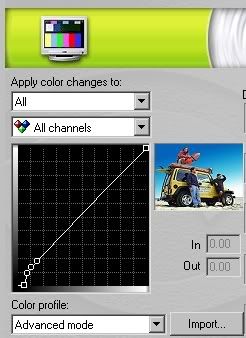 What I've done here is instead of curving straight up, I've come in a few clicks first, then started the incline at around RGB 16. The results are stunning! I've now got RGB 16 at absolute black (ie no light output from my screen at all) yet I can still see RGB 18, and on the DVE test pattern, I can now see 2 out of the 3 bars
If anyone has an Nvidia card and wants to give it a go, try the following:
1. Set up a modified TSE curve like the one I've shown above
2. Put up an all RGB 16 screen (i've attached one if needed) and adjust brightness till its absolute black
3. Put up a screen with RGB 16 background and some RGB 18 content (again one attached) and see if you can clearly see the 18 above the 16.
If its of any help, I'll post the registry keys of my curve so people can just import them directly in. I'm keen to hear peoples thoughts about this "modified TSE curve" and how they find its works for them, especially if you have an AC pj (the curve might be a little steep for LC as they have less light leakage than my sieve of a Barco
.
Hope this is of help to someone,
Jon
I've now attached the registry file for my curve shown above. However you'll need to open up the .reg file in notepad and change the path from "VEN_10DE&DEV_0141........" to your own graphics card's id (just take a look in your registry under "HKEY_CURRENT_USER\\Software\\NVIDIA Corporation\\Global\\NVTweak\\Devices" and you'll see the id for your card there. Once imported it should show up as the "TSE curve v6" on your gamma config (yes I had 5 failed attempts before this one
).
RGB Test Patters.zip

55.87890625k . file
tse gamma v6.zip

3.3779296875k . file