Pear Silver and Platinum are "virtually indistinguishable", not Fashion Grey. FG is 195 188 194, a much lighter gray than the previous two.
While this could be possible, as I have yet to test any type of mica flakes/metal powders, I have doubts. As stated I have no experience with metallics, but I would hazard a guess that if said particles were within said laminate, light reflected upon it would reflect back at many different angles. Unless you're going to tell me next that it's designed with perfectly shaped flat flakes that only direct the light straight back. And if this were the case then I would surmise that said laminate should be expensive to produce. I think I've shown that in the off-axis shots, Pearl Silver blends right in with Platinum and FG for that matter.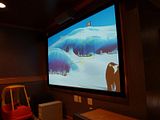 The easiest description of the difference between the two is the finish. One is matte - which has shown itself not only in laminates but in paint mixes to be an excellent finish - and the other is Crystal. Looking at the two finishes (as I have large samples of both), the best way to describe the Crystal finish for me would be to take a gloss polyurethane, load it up in a spray gun and do one quick duster coat. Quick enough so that the poly dries seconds after hitting the laminate forming little flecks of finish upon the surface. The matte finish uses a matte poly and is allowed a bit more time to settle. Now I'm not saying the matte finish is smooth. Cause it's not. I'm just saying it's smoother than Crystal.
The big difference here is that a coating applied afterwards would smooth the surface out. Two coats of poly on my FG made it pretty much flat. It filled in all the valleys knocking out the peaks. While I've always held my theory regarding poly on Pearl Silver to myself, I think it's time to share. If you put two coats of the Behr Poly on your Pearl Silver it will result in a Platinum Laminate - matte finish of course - with no hot spotting. Betcha a lot of folks seen that coming!
Here's a macro of the finishes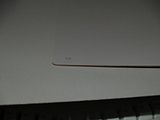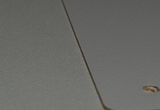 My money's on the folks at Wilsonart...
Again, Pearl Silver
may
be an option for a very low lumen projector or with a couple topcoats. But with what's coming out today projector-wise, and the
fact
that some folks haven't had to topcoat their
matte
finish laminates, why? A similarity would be a new paint mix that let's say pb_maxx comes out with looks very promising to him. Yet after he tests it out he decides it needs a couple of poly topcoats to knock down the hot spots. The resulting screen is identical to a mix he already came out with and yet requires more steps to get to that point. What do you think he'd do?
Now don't get me wrong Bob. I realize that you have an older CRT projector. So this screen may be perfect for yours and others like it. But I don't want the folks using a new 2000+ lumen digital projector thinking that this is the thing for them. Keep up the excellent work and take some good pictures!
mech