Pics of the completed room!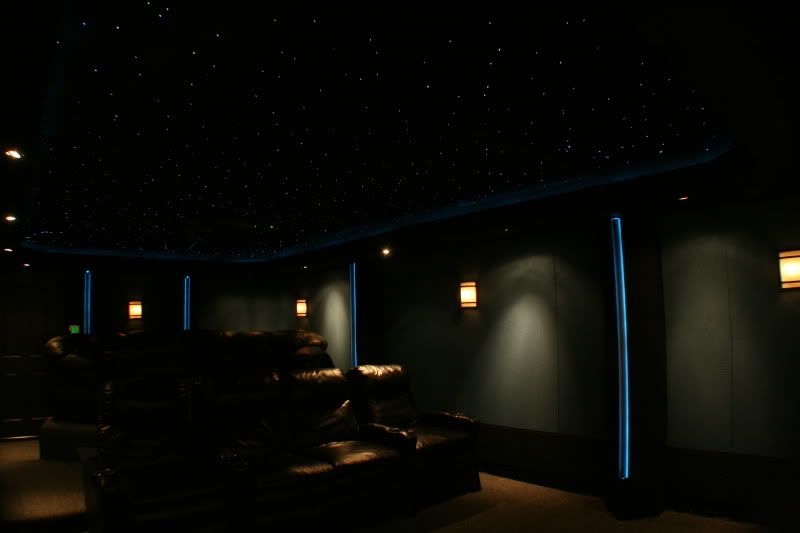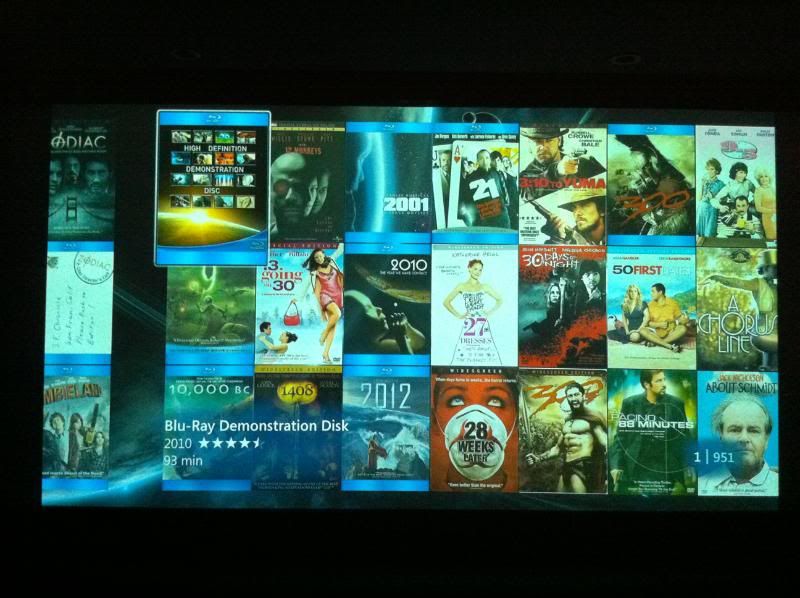 Includes a motorized center lifting console for two LCDs that are used for multiplayer gaming. Closed:
Open: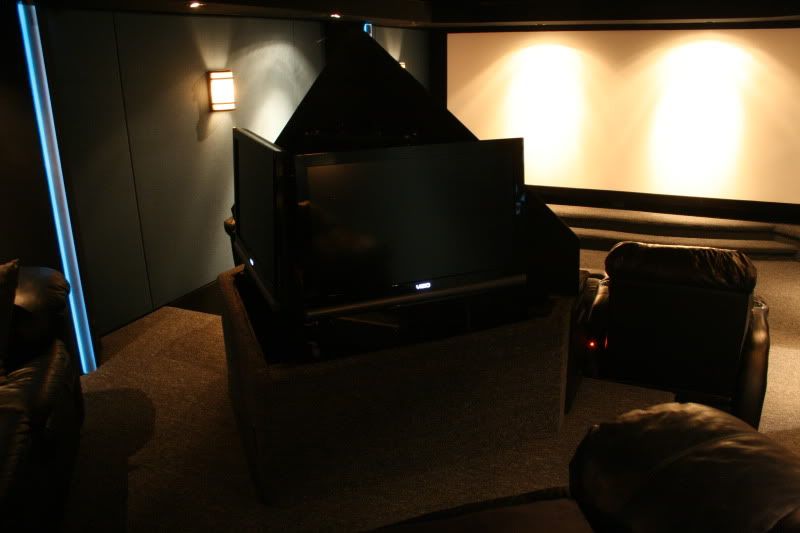 Equipment Room:
Rec. Room: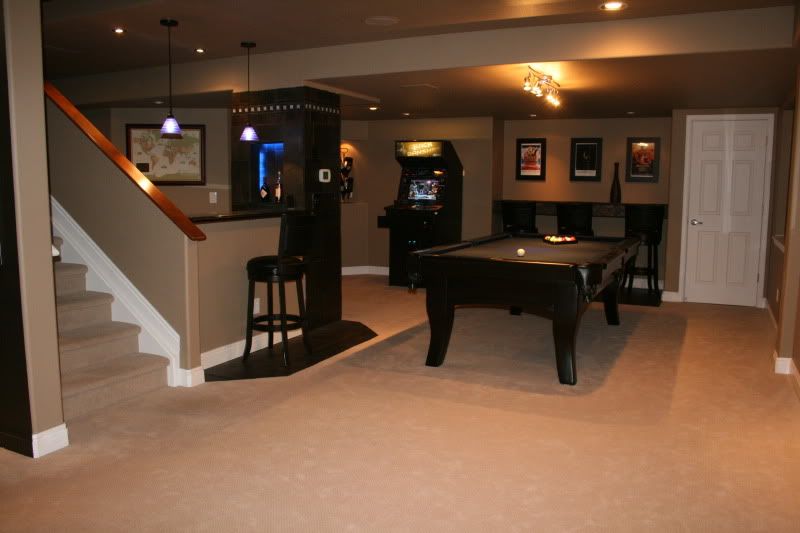 Home-Built MAME Console (7000 games, Arcade, Nintendo, Pinball, Many More):

Final acoustic treatments:
Isomax clips for drywall attachment
Stagger stud walls
Double 5/8" drywall with Green Glue
Sand filled stage
Corner Bass traps
Insulated soffits around perimeter of ceiling
Linacoustic on walls up to ear level
Current Equipment List:
Panasonic PT-AE7000U 3D Projector
Monster Vision 3D glasses
144" wide acoustically transparent custom screen with SMX material
Lutron 6 zone Grafik Eye
Klipsch RF-83 Front Speakers
Klipsch RC-64 Center Speaker
Klipsch RS-62 Side Speakers
Klipsch RS-62 Rear Speakers
Klipsch RT-12D Sub
DENON 2112CI Receiver/Amp
Custom 20TB HTPC using MyMovies 4 and TMT5 for Blu-Ray ISO playback
Xbox 360
PS3
ORIGINAL POST:
I've been lurking on AVS for a year and a half, reading and learning, and am in the planning stages of my dream home theater! My new home is currently under construction (late April finish date) and it has a large basement that I will be finishing with a billiards room, lounge area, home gym, and of course the home theater. Preliminary layout below (after about 15 different iterations):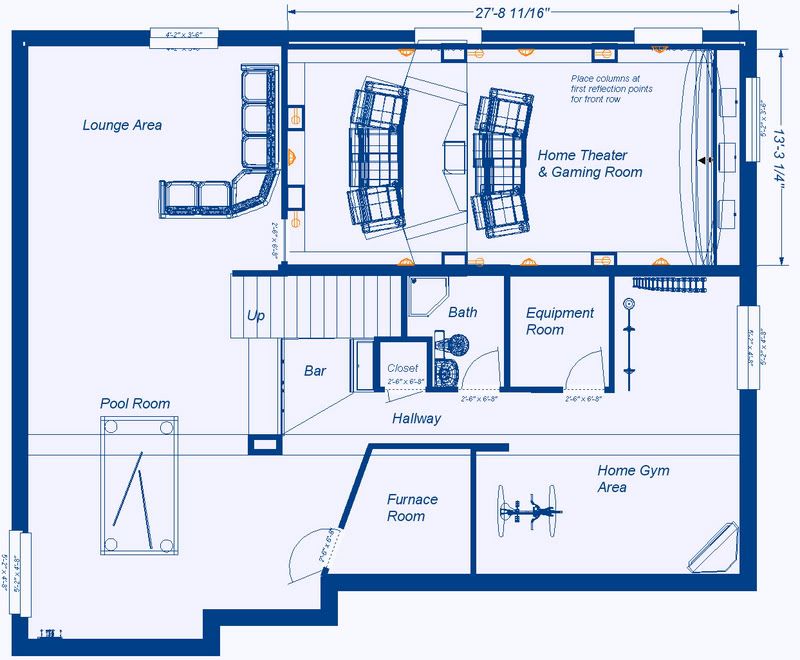 The home theater room dimensions are about 13 ft 3 in wide, 27 ft 9 in long (length is negotiable), and 8 ft ceilings. I plan to do most of the work myself, at least the framing and electrical (I'm lucky enough to have a dad who is a master electrician and also a state electrical inspector).
Preliminary acoustic treatments:
• RSIC clips for the attachment of stud walls to the concrete sides
• Stagger studs on the walls adjoining other rooms
• Double 5/8" drywall with Green Glue on all walls and the ceiling
• Fabric Frame Walls with Linacoustic up to ear level and at the speaker first reflection points
• Acoustimat and Carpet on the floor
• Sand-filled stage
• Corner Bass traps
• Insulated Soffits around perimeter of ceiling
Preliminary Equipment List:
• Acoustically transparent screen (probably SMX material), 2.35:1 Constant Image Height, 12 ft wide
• 1080p projector (TBD model)
• Anamorphic lens for 2.35:1 horizontal stretch (TBD model)
• DVDO VP50 Video Processor
• Klipsch THX Ultra 2, 7.1 speaker system (includes two subs and the sub amp)
• Pre-Amp (model TBD, looking for suggestions)
• Crown Xti Amps
• 8 Berkline seats with power recline, 2 rows of 4. Second row on an 18" riser.
• HTPC (details in work, but must be capable of 1080p processing)
• Terabyte server for all DVDs (server details in work)
• Cinemar software and touchscreen mobile PC for control of all equipment
• Lutron lighting control system
• Xbox 360
• Nintendo Wii
• Playstation 3
• 1080p HD-DVD player (model TBD)
Here is a render of the room from just behind the second row:
Here's a picture of the actual basement from about the same spot: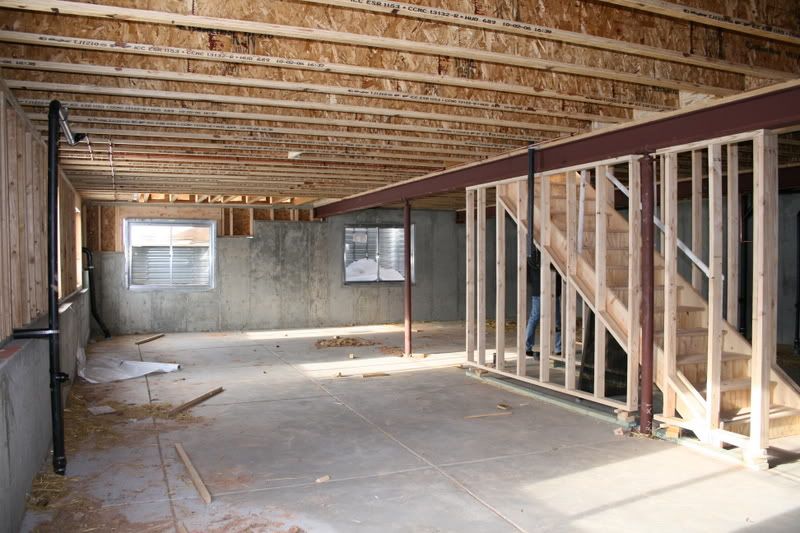 Here's another render looking from the screen position: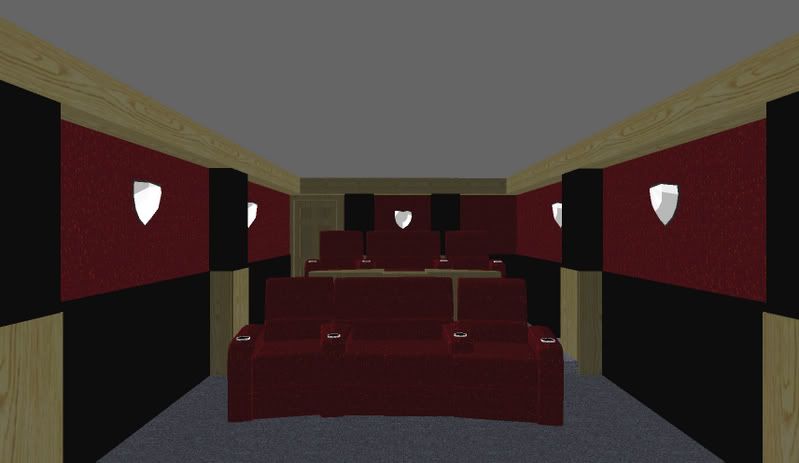 Now in case you didn't notice from my equipment list (or the title of my thread), I also intend to make this room a dedicated gaming room, particularly for on-line multiplayer gaming like Xbox Live games (PS3 and Nintendo are still catching up to Microsoft, but they'll get there). I love to have friends come over and we all hook up our systems to separate monitors for some late-night gaming. So to obtain this feature for the room, I'm planning on building a custom gaming cabinet between the two rows of seats. Below is a slightly better view of the theater from above showing the gaming cabinet:
Now the cool part – when I want to play games with buddies, I plan to place two 32" LCD's in the cabinet that will have motorized lifts. Each screen will have its own dedicated Xbox 360, so with someone playing on the main projector and one person on each monitor, then 3 people can play together on-line:
The cabinet can also be used for storing equipment, or when the LCD screens are retracted, you can simply place appetizers on it for Superbowl Sunday!
If the room looks a little like Sandman's, it's no coincidence. I've always loved his design and am a big fan of the dark red and black color scheme. Haven't decided on the type or color of wood accent but it will probably be something close to the design pictures.
I have many questions on my room design, but to keep from overwhelming everyone I'll start with two related questions:
1) My current seating distance for the front row is about 13 ft 6 in. For a 2.35:1 movie on my 12 ft wide screen, that's a 47 deg viewing angle. For a 1.78:1 movie, that's a 36 deg wide viewing angle. This sitting distance meets the THX recommended range for both aspect ratios per the calculator at
http://www.carltonbale.com/home-thea...er-calculator/
. I plan to have a 1080p projector, but most source material will be DVD (at least until the HD format war is finished) and 720p video games. Need opinions if this is too close?
2) How are the room dimensions for acoustics? The various online calculators say that a room with my width of 13 ft 3 inches shouldn't be longer than 22 feet or so for optimal acoustics, but I can't fit both rows of seats plus the gaming cabinet within this length. The minimum comfortable length that will fit all the furniture is about 26 feet long, but that's too close to 2X the width, so I increased it to the 27 feet 8 inches you see in the layout. What are the disadvantages of this room length if any?
Thanks to all the amazing folks on this forum! There are so many experts and resources here I feel truly humbled. I plan to post all my future progress for feedback and reference.
Any other comments/suggestions are welcome!
-Lance